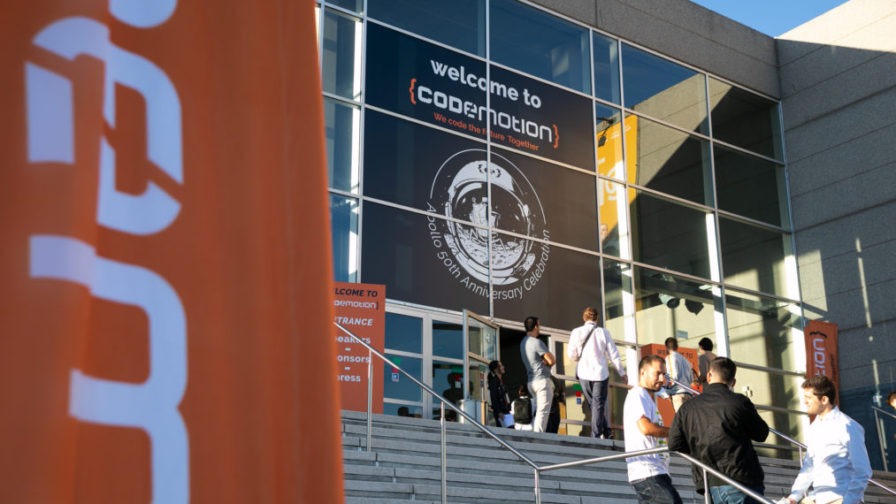 Codemotion Madrid 2019 was a blast! On September 24th and 25th, more than 2.000 attendees from all over Spain (as well from others parts of the globe), assisted to a two full-day conference with more than 80 talks that covered several topics.
This year we had talks that covered AI to hack the universe, to how to not do Diversity. A truly transversal conference with the hottest trends in the Tech environment in Spain.
The venue also gives a great look to the event, since not always you can speak and show your slides in a cinema screen. This is particularly great for speakers that want to show some code.
We would like to thank all the attendees, as well as all the speakers that sent their submission for the 2019 edition. However, we would like to highlight 3 talks from this year, that we think are key to understand the success of Codemotion Madrid.
We hacked the universe
Clara Luis and Nerea Luis (yes they are sisters), covered how the Artificial Intelligence is being used to deliver success on some space missions like creating the first and detailed image of a Black Hole, so people can better understand their power and magnitude, or how AI can help us to calculate a Space rocket launch to avoid Space garbage.
Nerea is also organizing TechFest Madrid (among other groups of people), one of the biggest volunteer event in Spain. Their talk was super inspiring for people that are starting on the AI field, but also a boost for people that are familiar with some of the advantages of this technology.
We scaled and didn't fail
On the Cloud area, we had Chema Roldán, that delivered a talk in front of a packed room about how to scale a product in an efficient and clean way. It's always nice to see a talk that covers a real example. The way he presented the talk also helped to catch the eye of the audience.
He explained how they managed to handle more than 20 million new petitions, from over 100 countries, and how they avoid failure, something usual on these type of scaling.
Cloud and anything related to serverless is trending in Madrid, and the number of people attending his talk proved that there are a lot of developers interested in this area, and how they can take advantage of using cloud services like AWS, Lambda and Elastic.
Pipelining the microservices
We also had some familiar faces in our lineup this year. Mark Heckler was impressive and captivated the audience (like he did last year) in the main stage.
This time he delivered a talk about Building Reactive Pipelines, explaining how to go from a blocking code to a reactive programming model, that help us to scale our apps. He started to explain how Project Reactor builds on reactive streams to help you create performant and scalable reactive microservice.
He had time to demo some fascinating examples of scaling using Open Source software. It's always a pleasure seeing a speaker who knows his topic and the audience so well like Mark.
If you want to know about how modern technologies and tools can support you for – and during – the organisation of a virtual event, don't miss this article showcasing the best tools we used to host our online conferences since the COVID-19 outbreak.