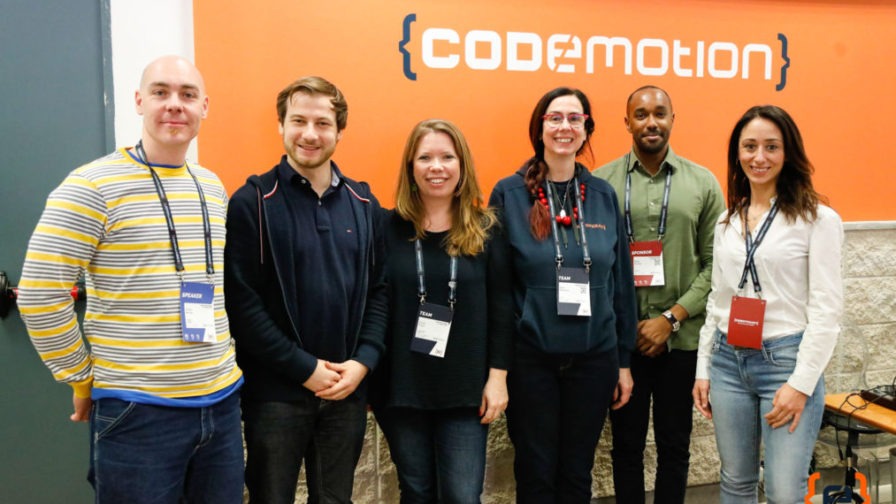 Google, Facebook and Nexi are focusing on the Italian company to activate free tutored training courses with videos, demos, case studies, Q&A sessions and even bootcamps. All qualified professionals will receive a certificate issued by both Codemotion and one of the tech giants.
Italian companies struggle to find qualified professionals in the ICT field: Data Scientists, Web Developers, and System Engineers are just a few examples.
With a dropout rate of nearly 60%, engineering graduates are still too few. Europe laments the absence of a strategy on the digital skills front. In the area of human capital, Italy ranks 25th out of 28.
Google Cloud, Facebook Developer Circles and Nexi have chosen Codemotion to launch an innovative project that will see the introduction of free online training courses dedicated to developers from all types of companies.
Codemotion strongly believes in the social value of its communities.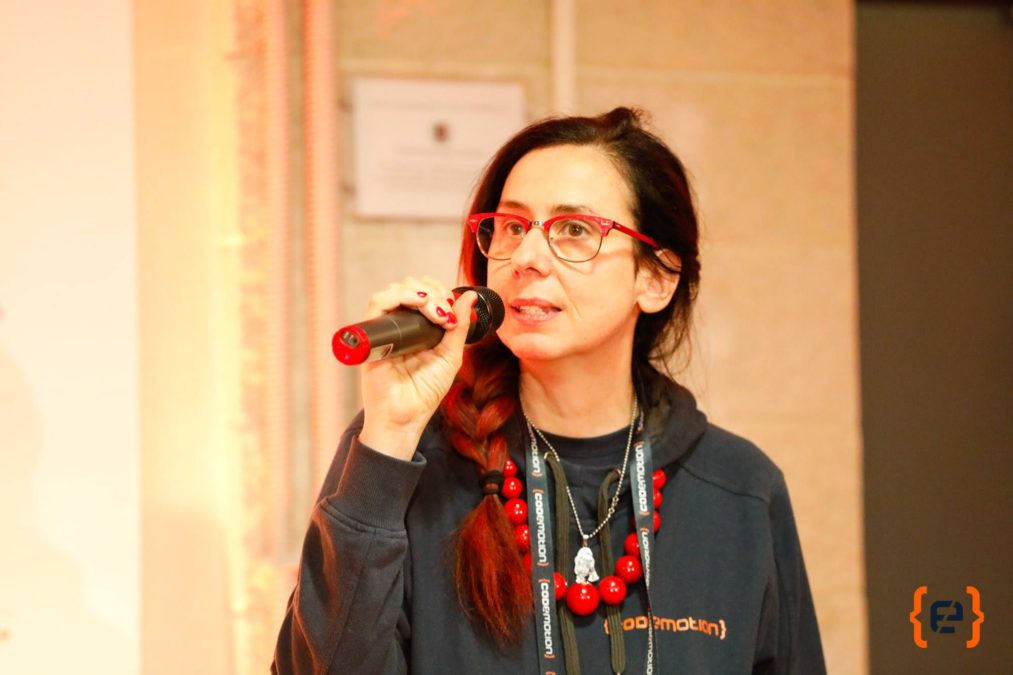 With a network of over 500,000 developers worldwide, Codemotion is the multi-channel platform that supports the professional growth of these figures, connecting IT professionals, technology communities and companies, thanks to online services (training, recruiting, magazine) and events (conferences, Meetups, courses).
The developer training programs are being launched in Europe to respond to the growing demand for developers and connection figures such as Tech Leader, CIO (Chief Innovation Officer) and CTO (Chief Technical Officer).
The figures that guide the future are the developers; most companies now understand the importance of their role in carrying out innovation processes.
Codemotion

, the certified learning website

This is why the Codemotion web platform is the ideal place to host innovative training programs starting with Codemotion Rome 2019. The current developer training program has been designed with Google Cloud, Facebook Developer Circles and Nexi. All classes are available online in the Learning section of the Codemotion website.

We are proud to announce these new training programs today, together with three great partners Facebook Developer Circles, Google Cloud and Nexi.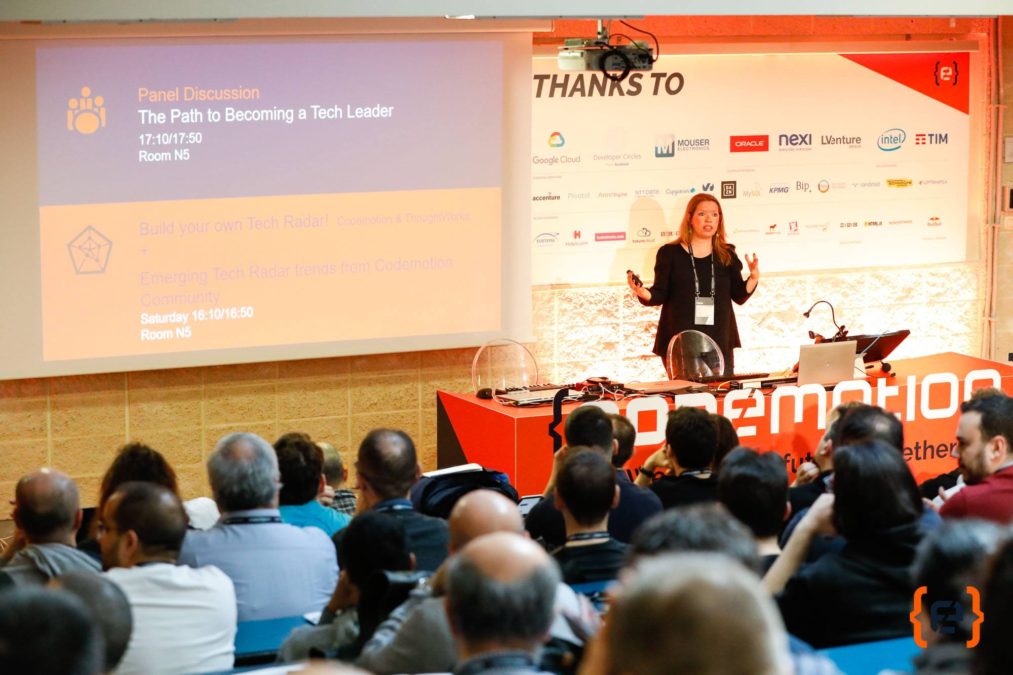 During the opening press conference of the IX edition of Codemotion Rome 2019 at the Faculty of Engineering of Roma Tre University, Codemotion CEO and Co-Founder Chiara said:
"The three training programs, totally free and aimed at developers, are born to respond to specific market needs. We hope to support the growth of IT professionals, developers, CTO, and Tech Leaders, thanks to these projects shared with Facebook Developer Circles, Google Cloud and Nexi."
The two qualifying elements of excellence of Codemotion's training programs are the tutorship and the final certificate. The average MOOC (massive open online courses) we currently have on the web often lack fast tutorship. What's more, the final certificates are normally issued by the learning organisation, without the grant of a recognised tech leader. All Codemotion Training Programs come with a certificate given by both Codemotion and a tech giant, thus giving a higher value to the final accomplishment.



A path towards
excellence
Let's take a closer look at the three training programs: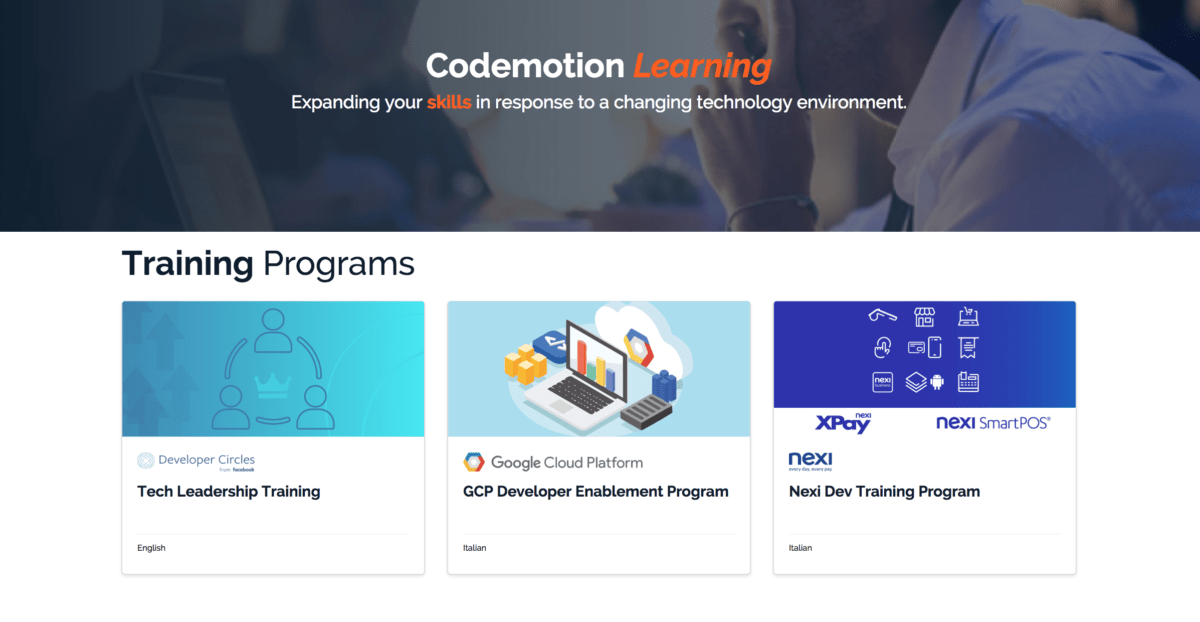 1. GCP Developer Enablement Program
This path is dedicated to the Google Cloud Platform services. It includes three courses (Core; Big Data; Kubernetes), in which two Google Cloud certified trainers will go deep into the platform and its services through presentations, demos and case studies. All modules will consist of videos, descriptions and tests. At the end of the program, all participants who have followed the three modules and passed the relevant tests will receive a certificate issued by Google and Codemotion.


2. Tech Leadership Training
This 10-week training program is meant for senior developers who want to take a tech leadership path to become tomorrow's CTO. The selected candidates will meet with CTO of important business entities to discuss how new technologies can be integrated into companies and what leadership attributes are needed in a CTO.
The program consists of three modules (The Role of the CTO; AI/Machine Learning; Software Architecture/DevOps), which will be divided into videos, online Q&A sessions, and Meetups, all in the English language.
At the end of the three modules there will be a two-day bootcamp, where all participants will interact with expert CTOs and deepen the themes of the program.
Upon completion of the course, all participants will receive a certificate.


3. Nexi Dev Training Program
This multichannel learning program aims to disclose all the services developers can use on Nexi's Platform.
This training course gives developers access to videos, tests, technical articles, a coding challenge and Meetups to deepen the use of the platform and test its different functionalities. The program consists of four modules: Simple payment + invisible payment; Smart POS; XPay Build, custom UX and back office; mobile SDKs.
All those who finish the program will receive a certificate of participation. The four best participants will be selected by Nexi to become a Tech Ambassador.