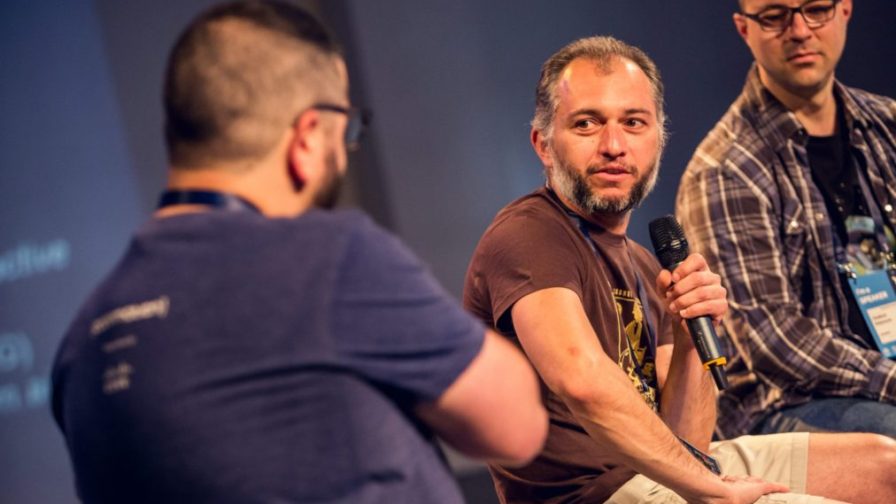 Sometimes you hope a meetup will be special but instead it ends up being magical. Our latest Codemotion meetup was such a night to remember. Instead of having speakers who shared their stories and insights, we organized a panel on a very interesting topic: how to become a good tech lead.
Our community members came in large numbers to WeWork Amsterdam and the pizzas were gone in the blink of an eye. After the introductions by Codemotion and WeWork, Thiago kicked off the evening and introduced our 3 panelists:
Etienne Gerts – Head of Development at Adyen
Roeland Kuipers – CTO at Schuberg Philis
Nikola Yovchev – Head of Engineering at Relay42
Thiago prepared a lot of questions for the panelists, but so did the audience. What transpired was a packed room, with many people asking questions then listening intently to the responses without making a sound. The time passed at the speed of light.
Each panelist introduced themselves and their company. Although the 3 companies are different in size and type (product and service companies) they all have a similar team structure (also called circles/streams) which are self-steering, independent and self-sustaining.
What is technical leadership?
We can think of roles like hands-on tech lead, CTO, CIO, head of development and VP of engineering. Are you involved in innovation and new technology? Involved in day-to-day? Are you moving away from technology and become a facilitator? What is technical leadership? What does it mean?
Bugs are always there; you and your team will fix it.
The panelists agreed that the role is related to the size and growth of the company. When a company is younger and smaller, a technical leadership role involves more technology. You have to be highly technical and understand alternative technologies. With growth, the role changes and becomes more facilitating is required to help teams by empowering them and and challenging them to come up with new solutions and help them innovate. A technical leader also needs to stimulate team to find new ways of doing things.
Sometimes you hope a meetup will be special but instead it ends up being magical. Our latest Codemotion meetup was such a night to remember. Instead of having speakers who shared their stories and insights, we organized a panel on a very interesting topic: how to become a good tech lead.
Introducing change
When a company grows, it becomes more difficult to introduce changes. You can no longer have intimate talks with each individual member of the team. You can try to to convince all stakeholders separately or use big company meetings. Another way to introducing changes is by introducing changes in a single (pilot) team and then scale to other teams when they recognize the benefits. A company's culture is crucial for making changes; the quieter people must also be heard. When change is required in the whole company you can do all-hands or find consent. Another way is to form a team which is trusted to lead a company-wide initiative to introduce such a change.
New skills
When you want to become a technical leader new skills are required.
When it comes to soft skills for a technical leader, learning to listen is a key skill to master. You need to learn how to manage a team and be self-steering. Learn how to facilitate a team in coming up with the technical solutions. A technical lead has the desire to understand what the business/client is moving. If you've been the most technical guy and grew into a leadership position, it can be difficult to let go of the "I'll do it myself" mentality and understand the bigger impact you can have. You won't help the company if you are the only person who can do a certain task.
Another one is to involve more people in making technological decisions. Technical leaders can be the ambassadors of the company culture and should be technically capable. People who are very technically capable might have problems with including other people.
As a technical person, you might need to find other ways to find your satisfaction and where to get your energy from. That can take some time and soul-searching.
Each person is different and not each person will feel have the ambition to become a tech lead. If you like being hands-on and get the most energy from that, don't change. In the end it is about impact. There are multiple ways of growing and having impact in modern companies.
I needed terminal-time, my drugs, going into my bubble, my comfort-zone. I needed to learn where else to get my energy from.
Hiring
As a technical leader, you become more involved in the process of hiring new people. In our age technologies come and go. Look for good, common-sense engineers; if you know one programming language, you can learn five other languages. Look for an engineering mind. You can also consider the intelligence level of a candidate; are people smart? When hiring a
technical leader, be on the lookout for people who can think in patterns and abstract concepts instead of brands and certain technologies. These people should also understand the dynamics of day-to-day work.
Stress
Many people depend on the opinion and guidance of technical leaders. As technical leaders, there is always too much work and too many projects to work on. Always make the priorities clear. You can work 24/7 but you have to set boundaries. If things drop off, that's the way it is. You need to learn how to delegate more work. A company culture can protect people from working too hard. In order to succeed as a technical leader you need to learn how to cope with pressure and the art of time management. By making yourself replaceable and not being the key person in all decision making. Make sure there is somebody else or a group of people who can replace you. When you get into a situation where you are the only person to fix it, make sure that this situation will not happen another time.
Trust and freedom
People are able to raise kids, buy houses and pay mortgages. These people should also be able to organize their own work and shape their agendas. Technical leaders help shape a culture where the teams are responsible for their people and the results. When someone is slacking, the team recognizes this first and acts on it. The downside of giving people this trust and freedom is that people tend not to take holidays and keep on working. If people want to work from home or abroad or work different hours, this is all possible as long as the team agrees to it. Though flexibility is important, communication between team members should also be encouraged by working together in the same office. When people do not fit into the company culture, there are HR coaches to help. When people are not performing, the team and buddies can help them to do a better job through advice, coaching and training. When the company culture changes, as you can find in fast-growing startups, sometimes you have to accept that people no longer fit in at the changed company.
The need for terminal time: get some time off, build prototypes and get high.
Leadership development
Leadership is not organically growing or growing fast enough or the way you like to see fit. Companies should actively invest in skill development in way that it fits the company culture. In traditional companies, the relationship with a manager can be described as a parent-child relationship where the manager explains how stuff works. An equal adult-to-adult relationship is required to develop leadership in an equal fashion where responsibilities should also be made clear.