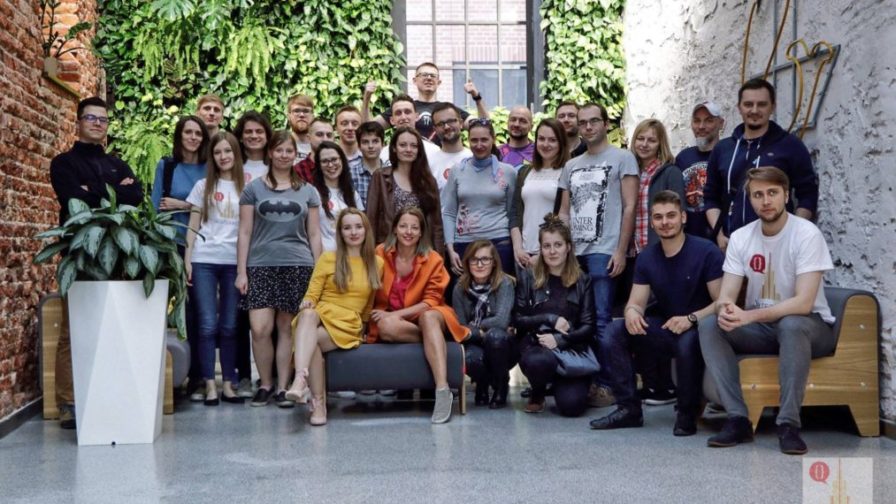 WarsawJS is a local community of JavaScript professionals and enthusiasts based in Warsaw, Poland. They meet every month to talk and debate about JavaScript, of course, their favorite programming language. This community is focused on sharing experience from different fields on which JS is used, from web browsers, to servers, dev tools, mobiles, smart tvs, micro controllers, databases, video games and so on. Their aim is to increase their collective knowledge, by building integrated network of skilled individuals and local companies.
We have met Katarzyna Grabowska, Piotr Kowalski and Piotr Zientara asking them about this vibrant tech community.
Hi Katarzyna! Which community do you belong to?
The only one: WarsawJS!
You seem very proud to be part of this community! Was has been the path that brings you here?
I'm a graduate of philosophy at Warsaw University, later I finished PhD studies on Education at the same university but haven't completed the degree.
Piotr, in which company do you work? Why did you choose this job?
I work at App'n'roll, and I choose this job because of excellent programmers and people, young and ambitious environment sharing my values.
What's your role?
I'm the CTO (Chief Technology Officer), my duty is to help programmers to develop and achieve their professional goals. I choose best clients whose products correspond technologically to these goals and find solutions for them.
Do you enjoy your work? What changes would you like to make in it?
I'm absolutely fulfilled with my work! It totally matches my expectations and it's already a challenge, so it's too early to change anything about it.
Coding, coding, coding! How do you spend your time when you are away from the computer?
I fulfil myself in the role of father, I love to spend time with my older son and answer his questions which always surprise me. Parenting a 3 month old can't be honestly called a passion, but that's what I do in my free time. I also like playing chess, learning languages and running.
Which technologies do you generally use in your daily work?
I still work as a developer and as such I use React and React Native, so JavaScript in general.
I recently use AWS a lot, I also like to write code in Ruby and some backend in Rails but I do it rarely nowadays.
Looking behind, are you satisfied about what you have done so far with WarsawJs?  What's the plan for the future?
I did a lot of good work together with the WarsawJS team. We were brave enough to start new challenges, Workshops, Hackathon and now a Conference. People followed us just because they believe in what we do.
When did you realize for the first time that your future could have been in coding?
When I was 9, I was fascinated about computers and pair-programmed in Turbo Pascal with my friend. After 10 years I had a greater fascination with philosophy, so I followed this path and… failed at trying to reform the education system. Then I discovered that my old passion can be also my work when my school mate from my high school class announced that his startup can prepare a junior programmer in 2 months of an intensive course. He succeeded with opening currently the biggest school of programmers in Poland (Coder's Lab) and I succeeded with starting my career.
Do you think that it is possible that you will change your role in the future? Or even work?
It is possible is that all of my memories are fake and my intelligence is artificial. I have no idea what can happen in the future, but my current plan is to give my best at the company I'm working for.
Do you have a side project? Do you want to talk about it?
At WarsawJS we have a lot of side projects. Topics Manager is one of them where I create with my colleagues a tool for Workshop subscriptions (as trainers and attendees).
IT is a fast paced environment. How do you keep yourself updated if it comes to the latest technologies?
I read a lot, hackernews, JavaScript Weekly, various blogs. I would suggest Piotr Kowalski's one (aka piecioshka)!
Could I expect to meet you at meetups, webinars, online courses? Which would you recommend to your colleague?
Usually I only visit WarsawJS meetups, workshops and other. Our community releases also Webinars and online courses. Try with our WarsawJS youtube channel and Kodologia as commercial, but affordable learning platform.