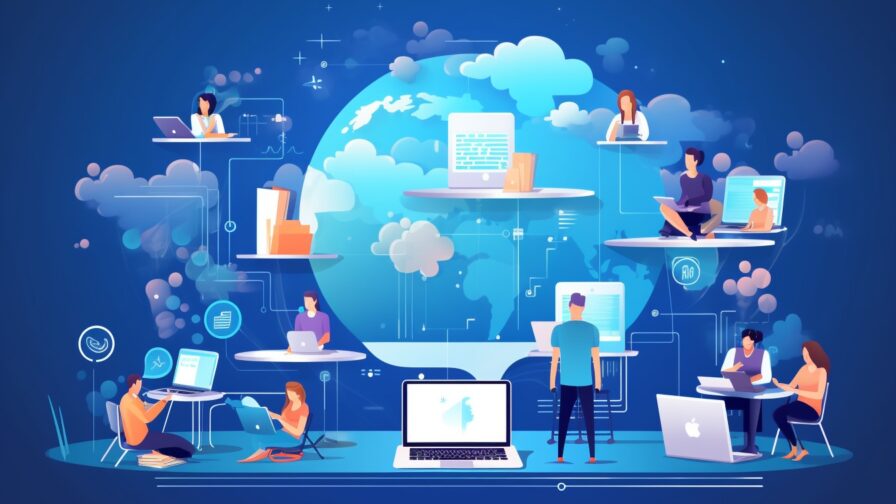 Over the past three decades, Linux and open source have transformed the world of computing and technology in surprising and revolutionary ways. In this article, we will explore the history of this OS, examine its impact, and look at the future of this influential operating system.
Invention and Evolution
So let's take a big leap into the history of this mainstay of computing, on the anniversary of its birth. Here is an overview of the history from its origins to today:
The Foundation (1991-1994): Linux was created by Linus Torvalds, a Finnish student, in 1991. His idea was to create a free and open-source operating system, inspired by the Unix system.
The Spread (1994-1999): Linux began to gain popularity among developers and technology enthusiasts. Linux distributions, like Slackware and Red Hat, began to emerge.
The Role of Distributions (2000-2005): Linux distributions like Ubuntu, Debian, and Fedora played a crucial role in making Linux more accessible and user-friendly.
Linux in the Business World (2006-2010): Linux made great strides in the business world and data centers. Large companies like IBM, Red Hat, and Novell invested in Linux.
Expansion on Various Platforms (2011-2015): Linux began to be used on a wide range of devices, including smartphones (Android), embedded systems, and even control systems in cars.
The Growth of Android (2016-2019): Android, a Linux-based operating system, dominated the smartphone market.
Linux in the Cloud and Edge (2020-today): It has become the dominant operating system in cloud computing, with many companies using Linux distributions to power their online services.
Continued Contributions and Future (2023 and beyond): Linux continues to evolve thanks to the work of thousands of developers around the world.
---
Recommended read: How to Find Cool Open Source Projects
---
The Transformative Impact of Linux and Open Source
Linux is important in the computing industry for a number of fundamental reasons that have helped make it an essential element in many areas of the technology and computing industry. Here's why it is so significant and useful for devs:
Technology Within Everyone's Reach: Linux is distributed under open source licenses, which means that its source code is freely available to everyone.
Flexibility and Customization: Linux is highly flexible and customizable. Users can choose from a variety of Linux distributions, each of which can be adapted to their specific needs.
Stability and Reliability: Linux is known for its stability and reliability. It is often the preferred choice for servers and embedded systems, where reliability is critical.
Security: Linux is generally considered more secure than other operating systems. Its high-permission architecture prevents the propagation of malware and viruses.
Community and Industry Support: Linux has a very active developer community and a large user base that provide support and solutions for problems. In addition, many important companies, such as Red Hat, IBM, Google, and Amazon, support and contribute to its development, ensuring solid industrial support.
Economy and Innovation: Linux has stimulated innovation in the IT industry, allowing many organizations to save on operating system costs and invest in other areas of technology. It has also created an ecosystem of open source software that has led to a wide range of free applications and tools for developers.
Environmental Sustainability: Its in embedded devices and servers contributes to environmental sustainability, as it can be used efficiently on less powerful hardware, thereby reducing energy consumption and environmental impact.
The Importance of Open Source Developers
The history of open-source projects is long and fascinating, with many initiatives that have helped shape the open-source ecosystem as we know it today. Linux is certainly one of the most important open-source projects, but to understand its importance, it is helpful to take a step back and look at the general evolution of open source projects through the years.
While the open source culture as we know it today did not yet exist, between the '60s and '70s there were developers who shared their software and work with others, often within academic and research communities. During this period, software was considered more as a public good than as a commodity. In 1985, Richard Stallman founded the Free Software Foundation (FSF) and launched the free software movement. The FSF created the GNU General Public License (GPL), a license that guaranteed the freedom to use, study, modify, and distribute the software. This was a crucial step towards promoting free software and open source. The FSF began to develop an operating system called GNU (GNU's Not Unix), which was composed of free software. However, it lacked a key component: the kernel.
So, in 1991, Linus Torvalds created the Linux kernel and distributed it under the GPL. This completed the GNU operating system, giving birth to GNU/Linux, often simply called Linux. The union of the Linux kernel with GNU software created a complete, stable, and highly customizable operating system. It quickly gained popularity and attracted a large community of developers and supporters. Distributions such as Red Hat, Debian, and Ubuntu helped make Linux more accessible and adaptable to a variety of uses, from managing servers to supporting embedded devices and much more.
Its rise helped promote the adoption of open source in general. Many other open-source platforms and projects emerged in areas such as office software (LibreOffice), the web (Apache), databases (MySQL), virtualization (KVM), and much more. In summary, Linux is one of the most important open-source projects because of its fundamental role in the IT world and its contribution to the promotion and evolution of open-source in general. Its history is an example of how open collaboration and software sharing can lead to significant innovations and the creation of powerful and accessible solutions.
The Current and Future Impact of Linux
According to data available today on the spread of operating systems, Linux is used globally by about 42% of the market, followed by Windows at 28%, iOS at 17%, macOS at 7%, ChromeOS at 1.3%, and desktop Linux at 1.2%. However, these seem to be mostly mobile systems, as according to another measurement from June 2023, Linux has only reached 3.07% of the global market share of desktop operating systems. It is interesting to note that there are about 32.8 million Linux users worldwide. These data show the widespread and continuing importance of Linux in the global IT landscape. But what does tomorrow hold for Linux and open source? The future is promising, with an increasingly central role in global technological infrastructures.
In conclusion, Linux and open source have changed the landscape of computing and programming in deep and lasting ways. They have made computing more accessible, economical, and innovative. While the future is always evolving, it is clear that it will continue to be a fundamental pillar in the tech industry, driving innovation and providing powerful solutions to a wide range of applications. Web developers and the tech community can look optimistically at what the future holds thanks to its transformative power and open source.