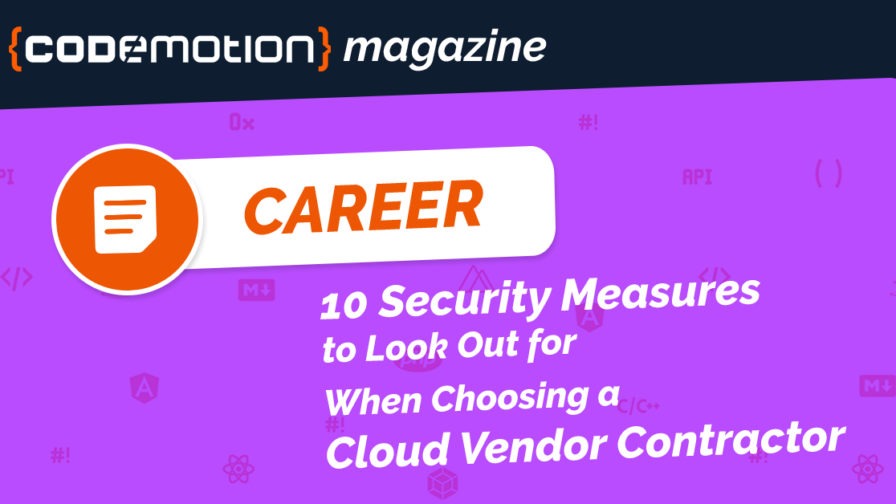 Cloud vendor contractors offer you the chance to buy computing infrastructure. In other words, they help you keep data in the cloud instead of on your computer's hard drive, which means you're able to access anything stored this way through the internet.
As a CTO, you know that while this comes with many advantages, there are also risks associated with cloud storage.
That's why it's important to pay close attention to the security measures that any potential cloud vendor contractor employs before making your final choice about which one you want to opt for. The idea is to make sure all your bases are covered.
When it comes to businesses, there are more of these to cover than a single individual would need to consider. For example, almost no solo consumer would have to think about enterprise network security, but this is a paramount concern for any business that has its own network.
To put it simply, small businesses have to consider the specific kinds of threats they're at risk from when choosing a cloud vendor contractor. For that reason, it's parte of your CTO job to know what sort of security measures any good contractor employs to protect your business' cloud data.
Below are the 10 most important factors to consider in terms of cloud vendor security measures.
1. Data access policies
These constitute perhaps the most important security measure to consider. All major cloud computing companies will have policies that deal with who can access cloud data, how, and when. You've got to make sure those policies match up with your company's needs.
For example, if your company deals in creating web apps, you'll need to make sure the cloud vendor contractor you're planning to work with has a data access policy that suits your app coders.
They'll need to be able to continuously upload chunks of code to the cloud for collaborative work, and they need to know that code can only be accessed by their team and other authorized company employees. It's the cloud vendor's responsibility to ensure these needs are met.
When you're considering which cloud vendors would suit your business, it's important to consider their policies for whether they can access your data too. You don't want cloud vendors to look at your confidential information, especially if it pertains to clients.
In a nutshell, the cloud vendors' data access policies should allow access to the groups and individuals you grant access to, exclusive to everyone else. Ideally, this should be possible for those designated individuals without needing to get in contact with an administrator every time, as this can slow down a business's internal processes and clog up employees' schedules.
2. Clear communication
This is another crucial security measure; after all, if a cloud vendor isn't transparent in their communications with you, there's no solid guarantee they'll deliver on their promises.
Cloud vendor contractors should tell you in no uncertain terms exactly what they're planning to do, as well as whether those plans are liable to change. How they handle your cloud data should be made clear at every stage. If you have questions, they should be able to provide answers, whether in the form of an extensive FAQ or an excellent customer service team.
If you're wondering: what is a communication plan, it's simple. The term refers to a business approach structured around providing stakeholders with the information needed to understand a business' position. A good cloud vendor should be keen to set up a communication plan with you, so your business is kept up to date on their progress.
Communication plans should involve demonstrating how the company ensures that it continues to comply with current data safety regulations. You'll want to opt for a company that updates its policies as quickly as possible when new data regulations are made legal. Additionally, you will want to make sure your chosen cloud vendor contractor is transparent about implementing these updates and changes.
3. Progress transparency
This security measure builds on the previous one. In addition to being clear in their communications with you, a cloud vendor should ensure they're transparent about their progress. You should be able to access information regarding any changes they make easily. A company that doesn't make its progress entirely transparent could be hiding other things and, as such, is less trustworthy.
They should let you see exactly how they're improving their strategies and fine-tuning their approach. This includes being open and honest when things are not progressing as expected.
If your cloud vendor can't openly tell you how effective their performance management is, you can't be expected to build a relationship of trust with them. Trusting the company that will be handling your private data is crucial; if you don't feel your data is safe while under their protection, look elsewhere.
4. Data encryption
If your business uses conference calling phones, your cloud storage solution partner company should encrypt technology to protect data from calls. After all, it can be helpful to have access to these recordings, just as it can be disastrous for hackers to tap into them and learn sensitive information.
That's what makes good data encryption a crucial security measure to watch for when you're choosing a cloud vendor contractor. A reliable data encryption strategy should ensure that, even if the worst happens and hackers can access your cloud storage, the data within is still inaccessible to them thanks to the encryption.
5. Strong data breach policies
Continuing from the previous point, a good cloud vendor contractor should have measures in place for the worst-case scenario (in which a data breach occurs).
Your cloud vendor should inform you immediately if something like a breach or loss of data happens. Their transparent policies should absolutely extend to this subject. If they aren't clear about the established microservices architectures they have in place to handle this sort of crisis, they are creating the potential for your company to be left hanging in the event of an emergency. This should never be the case.
A trustworthy cloud vendor makes no secret of their data breach policies. They also ensure that these policies are both conducive to rapid response and helpful in the immediate aftermath of personal data loss.
This relates to our earlier point about transparency. If a cloud vendor contractor doesn't transparently disclose their methods for handling data breaches, you will not know whether you can trust them to manage such a situation.
6. Providing excellent customer service
This might not be the first thing to come to mind when you consider how a cloud vendor contractor can provide you with the safest way to store your data; nonetheless, it's a critically important factor to consider.
The key thing to bear in mind here is that a business can't be truly transparent if its customers can't easily ask questions. If you query data to their servers, they should provide a quick and satisfying response.
Make sure you remember you are the cloud vendor contractor's customer. Knowing the contractor provides an excellent service to its customers means knowing they'll provide you with that service.
This once again helps with building a relationship based on trust with your cloud vendor contractor. When they provide you with great customer service, you can feel confident in your choice, knowing the company will be there for you if any trouble arises.
7. Cross-platform protection and access
One of the benefits of using cloud-based storage is that the data kept in the cloud is accessible from anywhere so long as you have an internet connection. This is why cross-platform considerations are important.
Your chosen cloud vendor should protect your data no matter which device you access it from. Your cloud vendor contractor should also facilitate your use of the best VoIP phones for your business since, with appropriate cloud protection, these can be a great asset to your company.
Continuing in this vein, your cloud vendor contractor should clarify that they cover as many types of communication channels as your business regularly uses. If the cloud vendor's coverage doesn't extend to all the channels your employees use, then the best choice would be to find a different cloud vendor that does cater to your needs.
8. Adaptability to remote workplaces
With the COVID-19 crisis still ongoing, it will be some time before most of the workforce returns to business as usual. Indeed, not every employer even has plans for their employees to stop working from home, so software and accessories need to be optimized for home-office use.
Great cloud vendor contractors will ensure their products enable business continuity. All security features and measures should combine so that any employee working from home can access the data they need to within the cloud. At the same time, the cloud software should ensure any data they upload is kept secure.
Put simply, the goal is to allow a seamless transition between working from home and being in the office. This means the cloud vendor contractor should make it clear to you that their safety measures rely on more than a local firewall and can be applied to private computers in addition to company-owned ones.
9. Top-of-the-line programming
The cloud vendor contractor should be able to demonstrate that their software runs on the newest, most up-to-date programming if you want to trust that it will keep you protected from new viruses and hacking strategies.
The programming should be functional and then some. If its building blocks aren't as strong or as up-to-date as they could be, you'll essentially be subscribing to software that doesn't protect your data as effectively as it should.
10. Compatibility with SD-WAN
SD-WAN (software-defined wide-area network) technology is becoming ever more popular. It's more efficient than its router-centric network counterpart, as well as boasting better overall performance on the applications it supports.
That's why your cloud vendor contractor should be able to assure you that their software gels well with these useful SD-WAN features. Whether your business currently works with SD-WAN tech or not, you'll want to ensure you can either continue to use this or else can swap over to it at a later date.
Closing thoughts
These 10 security measures are the most important ones to keep in mind when selecting a new cloud vendor contractor, as they will help ensure your data is safe and accessible (to those you wish it to be accessible to).
In broad terms, there are two things you should make certain of. The first is that the company is an ideal fit for your business. At the end of the day, a given contractor could be perfect for every business bar. On the other hand, one that meets your needs might be unpopular with other companies for various reasons. The important thing to look for isn't status or reputation, but whether a given service is perfect for you and your company.
The second factor is flexibility. Your data is always going to be updating, growing, and changing, just like your business. If your cloud vendor can't guarantee security for new technologies, then your business must grow according to your cloud vendor, not its potential. This can be limiting at best and actively detrimental at worst. That's why it's vital to opt for a contractor that can promise flexibility in addition to the other features you need.
On top of this, you've got to focus doubly on transparency. A company that doesn't want to share its reports with you is not one you should be entrusted with protecting sensitive information. Transparency is a requirement, not a preference.