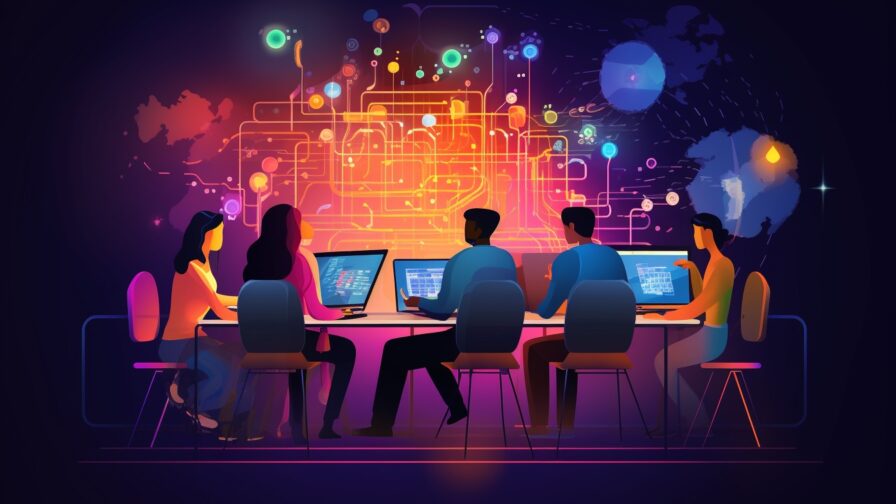 LinkedIn, the social network designed to create professional connections and job opportunities, is often criticized by developers.
LinkedIn, the well-known professional social networking site, is a platform that divides the opinions of many professionals, especially in the programmer category. Some embrace it as a networking and career opportunity tool, while others see it as an annoying cluster of spam, self-glorification, and digital distractions.
In this article, we will explore the reasons why some programmers may dislike LinkedIn, trying to shed light on the phenomenon of "why programmers hate LinkedIn".
Why LinkedIn is not working for developers
LinkedIn needs little introduction. Founded in 2002 and acquired by Microsoft in 2016 , LinkedIn is currently one of the main professional social networking platforms in the world, with over 775 million users worldwide. The platform itself is designed to allow professionals to connect, share information about their careers, and establish professional contacts. However, the reality that many programmers experience on LinkedIn is very different from this initial vision.
The social network is primarily used to establish professional connections. In fact, many people use LinkedIn to look for job opportunities and to present their qualifications to potential employers. This is why so many companies post job ads on the platform, and there are just as many, if not more, users who decide to apply directly via LinkedIn.
But then why is it so often seen with sufficiency and often even with annoyance? The war for tech talent is surely one of the reasons, but not the only one.
The Invasion of Spam
After understanding what the social network really is and its intent in the web panorama, we now start examining the sore points that act as a deterrent for devs and professionals.
One of the major causes of frustration among programmers on LinkedIn is the high number of unwanted messages. Receiving connection requests from strangers followed by aggressive sales messages is a common experience for anyone that creates a profile and shares a working experience on software developent.
Programmers often receive connection requests from people they don't know and who then follow up with aggressive sales messages, as well as unclear job offers. This phenomenon is so widespread that according to a study conducted by the email management company Superhuman in 2020, about 35% of LinkedIn connection requests were followed by sales messages.
Irrelevant Content
Another sore point is the algorithm that is not yet optimized at its best: in fact it is not rare to come across a series of contents not strictly related to the professional world or to one's own interests.
Cute kitten videos and humorous memes can be intrusive for those looking for content relevant to their field of work. The lack of effective moderation can make LinkedIn look more like Facebook than a professional network.
Excessive self-promotion
Another issue that irritates some devs is the continuous and often nagging presence of posts aimed at self-promotion. Some users indeed seem to be involved in a constant competition to show how extraordinary they are, posting every professional success, even the most irrelevant, and a few hours apart from each other. This attitude can be annoying for those who prefer a more modest approach to the profession.
In a survey conducted by Jobvite in 2019, 33% of tech industry professionals said that excessive self-promotion is what annoys them the most on LinkedIn.
The lack of technical depth
LinkedIn, being a platform for networking and personal promotion, can have strong shortcomings in terms of in-depth technical discussions. For programmers looking for specific technical resources and discussions, it can be difficult to find significant value on LinkedIn.
In support of this there is a survey conducted by Stack Overflow in 2020 that revealed how only 12% of devs use LinkedIn as the main source of technical information.
Job offers are not always clear Another sore point is the presence of job offers that are not at all explanatory: often pieces are missing or there are tactical omissions on the part of companies. In fact, it is not rare to see job advertisements without GROSS (Gross Annual Remuneration), or with the annoying and irritating phrase "GROSS commensurate with experience", a rather absurd statement since most companies have, or should at least have a clear idea of how much they intend to invest on each single resource.
There are also job proposals within which there is only listed an innumerable number of skills, certificates, and experiences required, without then making it clear to the potential candidate what his actual job will consist of.
Managing Connections
For some developers, managing connections on LinkedIn can become a burdensome task. Indeed, it's not at all taken for granted to be able to maintain a large-scale professional network, and ensuring that this is fruitful and useful can involve a myriad of notifications, updates and connection requests to manage, creating a sense of overwhelm.
Conclusions: Positives and Balance Seeking
Despite the criticisms, it's important to recognize that LinkedIn also has numerous advantages. Many devs successfully use it to expand their professional network, seek new job opportunities and share their knowledge with other industry experts.
Ultimately, the relationship between developers and LinkedIn is complex. While some find value in the platform for networking and professional advancement, others see it as a digital annoyance. The key is to find a personal balance and use LinkedIn strategically to achieve professional goals.
So yes, LinkedIn can be a useful resource for programmers if used intelligently, but it's important to be aware of its negative aspects and possible solutions to mitigate them. The real secret to a more harmonious relationship with LinkedIn lies in finding a balance between professional networking and managing digital distractions.
But if LinkedIn is not convincing as a professional platform to look for the next step in your career, Codemotion comes to the rescue of devs in this area through its matchmaking platform designed to help developers and tech talents.