When people think of cities of tech innovation in East Germany, Berlin is inevitably the one that springs to mind. But travel an hour east and you'll find yourself in Leipzig, a city that is home to a lively corporate and startup scene as well as the vibrant higher education system that fosters highly-skilled talent: a third of residents have a university qualification. It offers a vital space to build vibrant volunteer lead developer communities Further, it enjoys an entrepreneurial ecosystem that is tech-driven and mainly designed by engineers, computer scientists, and creatives. The city has only 250 startups, as well as an impressive reputation for all things tech, mobility & logistics. The city hosts Industry giants such as Siemens, eBay, BMW, Porsche, DHL and DB Schenker.
At our last Codemotion Berlin, we interviewed Simon Johanning, the founder of Code Camp Leipzig  Simon also works as a research assistant at Leipzig University in the WindNODE project with a focus on peer-to-peer energy trading respecting grid-critical states. 
What is Code Camp Leipzig?
Code Camp Leipzig has designed a 13-week full-time intensive coding school where Simon explains " We teach you all the skills you'll need for your future job and set you up for a lifelong career as a professional software developer." Graduates leave the program as Full Stack junior software developers. "We connect talent to companies. Graduates enjoy warm introductions to a network of companies and are guaranteed paid work after graduation."
How to create your volunteer community?
To make Code Camp possible, they welcome communities volunteers including local devs and alumni from the program. Simon notes that the building of communities is " A very human thing. It's lots of ways of interacting and a lot of thinking about how can you communicate this? How can you make it happen? What do you need in order to engage people? Because communities only work when you're engaging." There's also a fine line between 'build it and they will come' and a 'free for all'. Simon learnt that while many community organisers try to create a space where people can create their own ideas and decide what is needed, people need a framework to be able to anchor their thoughts to: "One of the big things that you need to keep in mind when you build communities, it's not enough to like throw money and event forms on something. You need to really convey something. To really engage people, give them something concrete to, to work with, like to have concrete meetups, to have some projects that they can participate, but also leave them some space for them to develop something themselves.
After the kickoff event of the open tech community, I sketched this more abstract vision that people could fill that was supposed to motivate people to contribute their ideas. Because I didn't want to normatively put some idea of community, some idea of this is how things have to be, these are the formats, these are the projects. Um, I wanted to create this open space, but I think there's, there was not enough structure. People fell a bit into a hole."
Therefore it's helpful to have a structure to which people can build infrastructure, plan events, and connect people together. Code Camp Leipzig is currently building a virtual community hub, a web app where people meet, plan and start projects, and access useful resources and tools.
Facilitate don't prescribe
It's easy to enter a community and feel like it has all been figured out. It often appears that the decisions and agenda are made by the same people and it's not always clear how new people can get involved or have an impact. Simon stresses the need to create a space where people and their ideas feel valued: "We need some structure but it also needs the open space that people can fill themselves, can shape themselves. People have to feel that they have some influence as well. That what they do actually matters. That it counts, that it contributes something and that is not simply doing someone else's tasks or the hard work for someone else's project because then it doesn't work."
Respect your volunteers and their energy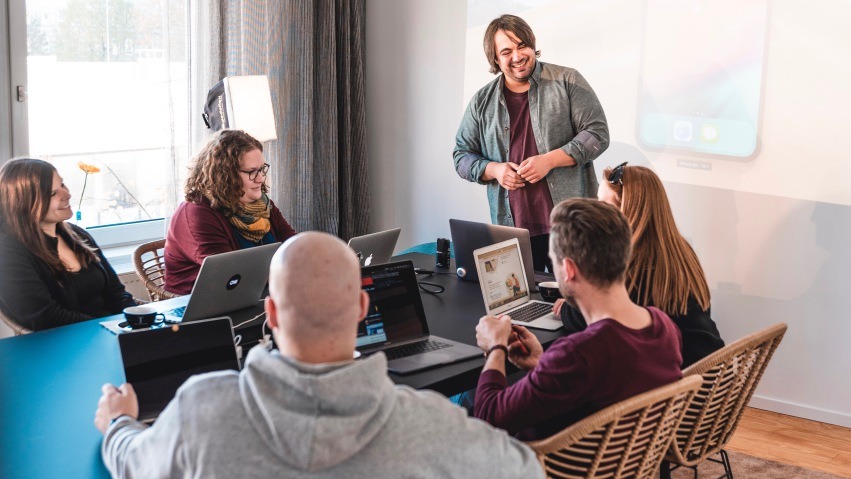 Volunteering is something that people do in their free time, without the expectation of remuneration. People volunteer for a variety of reasons. It can be an opportunity to meet people, increase skills but also volunteers want to make a difference and give back to their community. However, it's important to ensure that volunteers are supported to avoid burnout and disengagement. Simon explains:
"This is something you really need to be very respectful of and to really understand how people take what they need, what they thrive on and what kind of educated moments you can create"
Happy volunteers will always be great ambassadors for any community organisation and will draw people in. There's it's crucial to ensure that volunteers feel recognised, resourced, appropriated trained, and supported in all that they do.
Community management resources from Codemotion
Ladies That UX Creates a Vital Space for Women in Tech: Ladies that UX creates a space for women to meet up to support each other, push the UX boundaries, and promote female skill and talent. We speak with Lucija Sicenica, one of the organisers, who also works as an Experience Researcher at GameDuel.
18 tips to run a good tech meetup: Do you want to run a great tech meetup? Have no idea where to start? In this article, you'll learn 18 tips to organize it in a proper way.
COVID-19 emergency: A Community Manager's Diary – a 6 part (and counting) series: Francisco Picolini, Codemotion's Community Manager, shares his personal experience and advice on how to cope with and adapt to working from home during COVID-19 emergency lockdown.
How to reach a wider audience for your tech community using Social networks: Managing a community includes a lot of things, from writing articles to promoting a new feature or release, to make all members comfortable and safe. But what happens when we are trying to improve our social presence? Are we going in the right direction? Are we reaching the intended audience? Are we using all the resources we can?