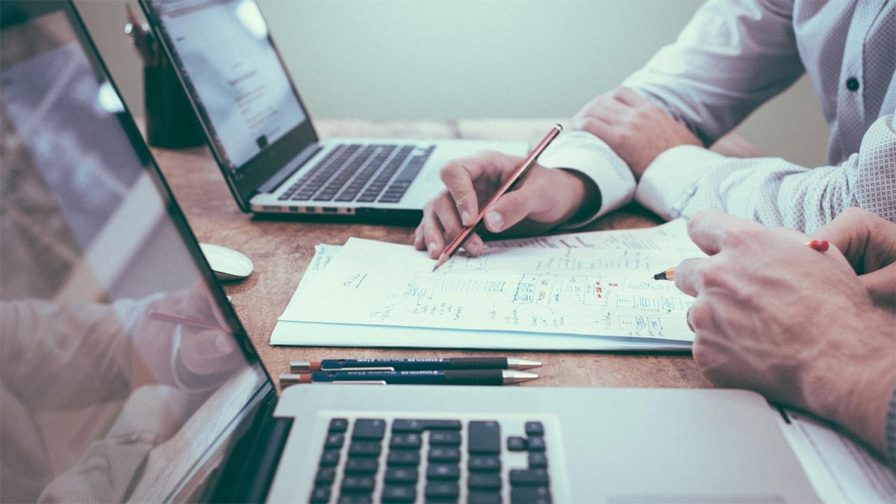 Earning revenue through big data is a fast-growing industry that all businesses need to be a part of. With more than 2.5 quintillion bytes of data created every day, a good data monetization strategy is crucial for any business, including those involving developers and tech companies.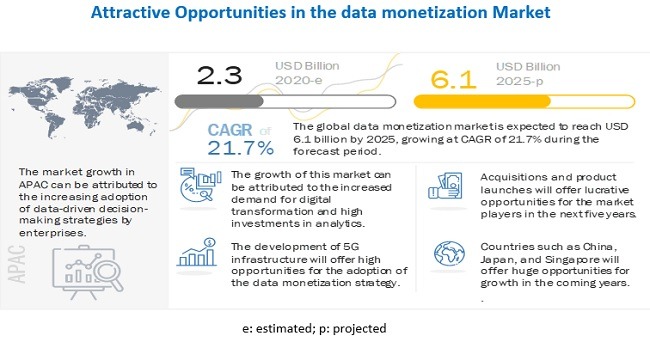 Companies that have the expertise to collect, analyze, and produce insights for their data can experience a massive boost to their company earnings. Data can create money for your company both now and in the future. 
In this article, we will be exploring various direct and indirect data monetization techniques that can help to grow your business.
Selling your data
Licensing your company data to external parties is known as direct data monetization or data syndication. For example, let's say you're a company that provides communication software such as a virtual phone system for small business. 
Throughout your selling history, you have collected data on consumer behavior and preferences. This data would be incredibly valuable to a company that does not carry out this collection process.
Many companies have capitalized on direct data monetization, especially in retail, where data on consumer habits is invaluable. So it's no surprise that the size of the big data market is set to increase from around $140 billion in 2020 to around $240 billion by 2025.
Right now, you might be thinking that data is a goldmine, but before your company begins cashing in, you first have to prepare a strategy. Organization and identification of the data are where its value lies. 
Not only should you collect, identify, and organize the data from sources such as email and social media pages, but you should think about how companies can use this information. This will help you market it.
In many cases, consumers, aka the companies you're selling the data to, don't just want raw information. They want you to provide valuable insights that relate to their specific industry and/or business.
Another aspect of direct data monetization you have to consider is the quality of your data. If you're a gamification company that has only sold two virtual reality headsets, it's going to be hard to produce consumer data that is representative. This means you can't, at this stage, begin to analyze, create insights, and sell your data.
One of the biggest concerns with selling data externally is the privacy and security element. Companies that give out sensitive information can damage their reputation with customers and face legal repercussions. 
This is why any company looking to sell data must acquire the correct authorization. Also, some data may require you to anonymize it, which can be done through encryption or masking. This process will differ from business to business.
Now finally you're ready to sell. You've collected, analyzed, gained the necessary permissions, and set your price point. Here are your options:
Partner up and sell 
This process involves going directly to a company and selling them your valuable insights. This buyer can be anything from an existing partner to any vendor along the value chain. It's also important to note that the buyer doesn't have to directly relate to your company's industry. 
There are a variety of useful insights that can be drawn from various data points. For example, Nike is collecting sports data that insurance companies are interested in because it can help to predict health insurance needs.
Get some help selling
If partnering up is proving difficult, you can join a data marketplace. This will allow you to carry out transactions with companies that you normally wouldn't be in contact with. 
Alternatively, if you want to sell your data quickly, you can trade it with data aggregators. These are companies that will then sell your data to other businesses. This third-party option is a simple way to sell a large amount of data, but the price you will receive will be less.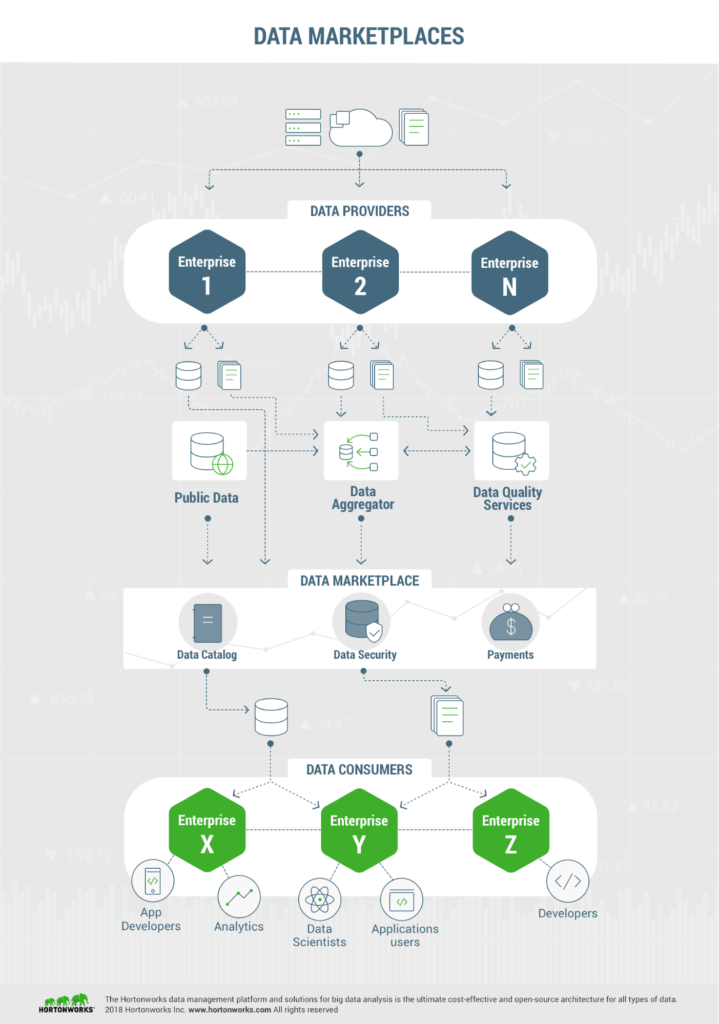 Using data monetization to increase sales
One of the most important factors that decide whether or not a business will grow is sales. If you looked at a guide titled "how to manage a small business effectively", getting more sales would probably be step number one.
Increasing your sales will increase your revenue, which will cover your expenses and allow you to attract more talent to your business. This will, again, help it to expand.
In the previous point, we discussed direct data monetization. An effective way for you to indirectly monetize your data and grow your business is by using it to increase your sales.
Research shows that big data is responsible for generating almost $190 billion in revenue in 2019, and this is expected to rise to $274 billion by 2022. Companies that adopt big data practices can increase their retail sales by up to 4%. 
Here are some of the best ways you can use data to increase your sales: 
Collect and analyze traffic analytics
This technique can provide a business with detailed information about their specific audience or audiences. The more information you have about your customers, the more you can target them specifically. Useful data points could include age, gender, geographical location, interests, and preferences.
Collecting and analyzing who your audience is will enable you to identify specific niches within this. This is known as segmentation. Research shows that segmentation generates around 58% of all company revenue.
Collect data to show off
Data isn't just for back-office internal use. Data can be exactly what a customer wants to see to make them purchase a product or service. Presenting data from a plethora of positive customer reviews is a great way to distinguish yourself from the competition and increase your sales.
Research shows that:
Over 90% of customers read reviews before purchasing a product or service
Over 70% believe that positive reviews can increase their trust in a company
88% say that reviews affect their purchasing decisions
Collect data to improve your engagement
Natural language processing (NLP) is AI-powered software that analyses customer behavior and uses it to inform businesses about the best way to respond to and engage with their audience. 
This can be anything from when businesses should reply to how to respond during customer conflict. This is particularly useful as research shows that a lack of or incorrect customer engagement accounts for 25% of lost sales every year, and an engaged customer can spend up to 300% more each year.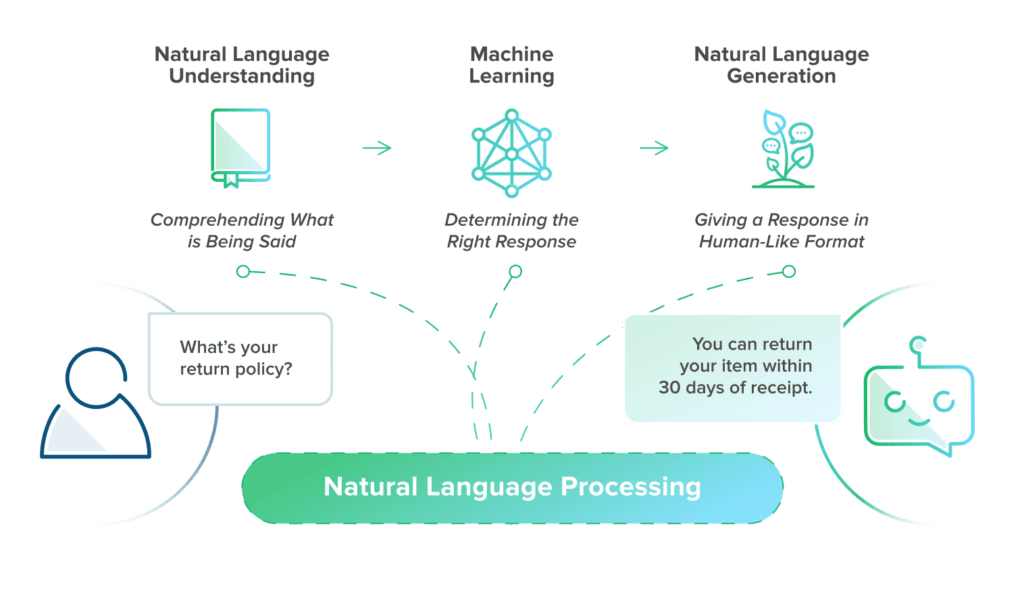 Using data for risk management
Risk is a big part of business; successful companies are constantly translating risk into huge profits. But it is also the biggest cause of company uncertainty. Without identifying and neutralizing internal and external risks, companies can face a variety of negative impacts. This process is known as risk management.
Risk management is crucial because it allows companies to prepare for the future. A company that sets goals without considering the risks is unlikely to experience growth. Risk management is particularly crucial because over 60% of companies have faced a critical risk event in the last 3 years.
Indirectly monetizing data through effective risk management is one of the useful things a business can do to elicit growth. Collecting and analyzing data can also help to improve a company's decision-making. 
This is because you can use past examples to provide insights into the future. Using third-party data is all well and good, but each company is different and nothing will beat producing your own insights and making your own smart business decisions.
Data will also allow you to justify any "risky" idea or project. This means that companies can use data to predict and flag any potential issues with their new idea. That can be anything from a decision to use different project management software to a big shift in company strategy.  
Your business can, therefore, potentially save a lot of money on what could've been a detrimental idea. Using data for preventative measures can also be used in audits, taxes, and stopping future lawsuits or fraud.
Data monetization and marketing
Marketing is a fundamental tool for business growth. It allows you to deliver a specific and engaging message to your audience that informs them of why they should choose your company. This is important for your existing audience and allows you to attract new customers which is the essence of business growth.
Research shows that:
A business that develops a strong marketing strategy can achieve an annual growth rate of 20%
Companies with poor marketing can see a 4% loss in revenue every year
Similar to the methods mentioned in the sales paragraph, data acquisition and analysis allows you to create targeted content for your audience. These insights will enable you to produce highly-specific marketing campaigns.
Consider this scenario. You're a company that creates cloud-based communication technology and you also collect data on your customer's behavior. A customer has been looking at one of your products titled "Contact Center Reporting: A Complete Guide" but did not purchase. 
Using targeted marketing you then show the customer the product again on another platform such as social media. This is effective as statistics show that targeted marketing campaigns and advertisements are almost two times as effective as non-targeted ones.
Another important benefit of data acquisition is finding out which marketing channel is best for your business. This is particularly useful because almost 30% of all marketing budgets are wasted due to poor planning and focusing on the wrong channel.
Data-driven marketing takes the guessing out of the equation. Your business can use insights to replicate successful campaigns and learn from less successful ones. For example, collecting data on age demographics can help inform which social media platform you should spend more of your budget on. Younger audiences tend to spend more time on platforms such as Instagram and TikTok.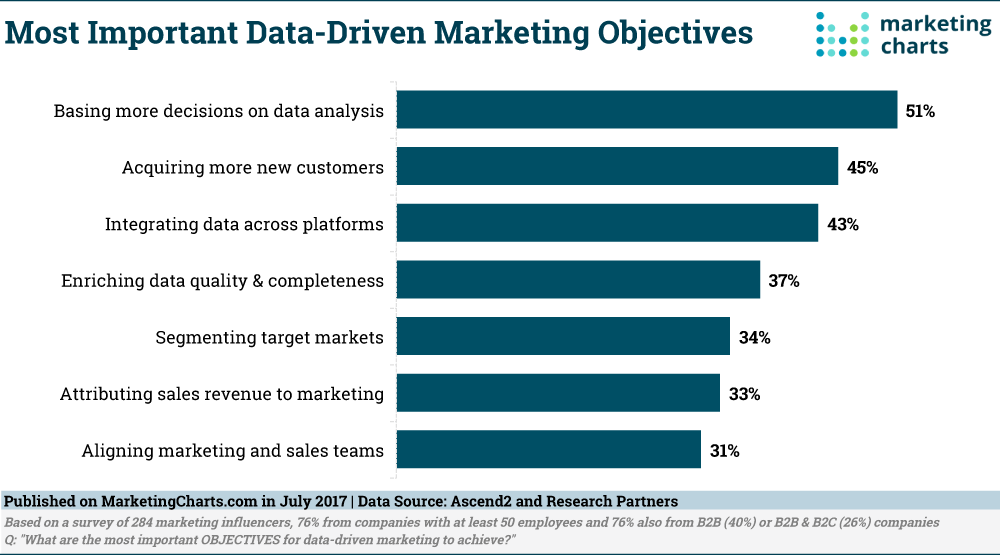 Using data to improve the customer experience
Customers should be the number one priority for a company. Without loyal and repeat customers, a business cannot experience sustained growth. Not only do customers purchase your products or services, but, if they have a positive experience, they can become advocates for your brand.
Statistics show that:
Consumers care about their experience. 96% of them say it is very important in deciding whether or not they will stay loyal to that brand
84% of companies that actively work to improve their customer experience report an increase in revenue
Companies that focus entirely on their customers are up to 60% more profitable than ones that do not
Data can be used in many ways to improve the customer experience. One of these techniques is using data to assess your company's customer service team. Data such as customer resolution rates and communication scores can help you to decide whether or not improvement needs to happen. 
For example, let's say you're a call center company owner and you're not satisfied with your customer contact center data results. You can acquire agent supervisor tools that will assist your contact center employees in the future.
When it comes to customer experience, a customer wants to feel like a human being, not number 14 in the queue. This is why it is important to analyze both quantitative and qualitative customer data. 
Qualitative data analysis can provide insights that help you connect to your customers on a more emotional level. Research shows that companies that connect with customers emotionally outperform competitors by up to 85%.
Connecting emotionally can include:
Providing personalized communication and interactions such as birthday discounts or reminders
Improving your company employee's soft skills such as tone of voice
Constantly adjusting to customer needs based on the suggestions they have provided.
Data has the potential to open up a variety of new opportunities for companies. This is why understanding the value of it is crucial to business success. Having the knowledge and company capability to harness this information allows you to profit immediately and make smarter decisions to continue profiting and growing in the future. 
Data monetization: recap
So, let's quickly recap how you can, both directly and indirectly, monetize your company data:
Direct monetization is more than just selling numbers to companies. The value of the analytics is the actionable insight that can be produced from it. Producing insights that are specific to certain industries will increase the value of your data
Sales are crucial to company growth and leveraging your customer data will allow you to understand your audience and up your revenue
Risk is unavoidable in business, but what is avoidable is being unprepared for it. Use data to help you create the best risk management strategy
Without marketing, no one will know about your business or product. So when you're given the opportunity to showcase your company, make sure you use data-driven methods to ensure you're not wasting your efforts
A successful and customer-centric company should constantly be using data and monitoring metrics and adjusting their methods accordingly to optimize the customer experience