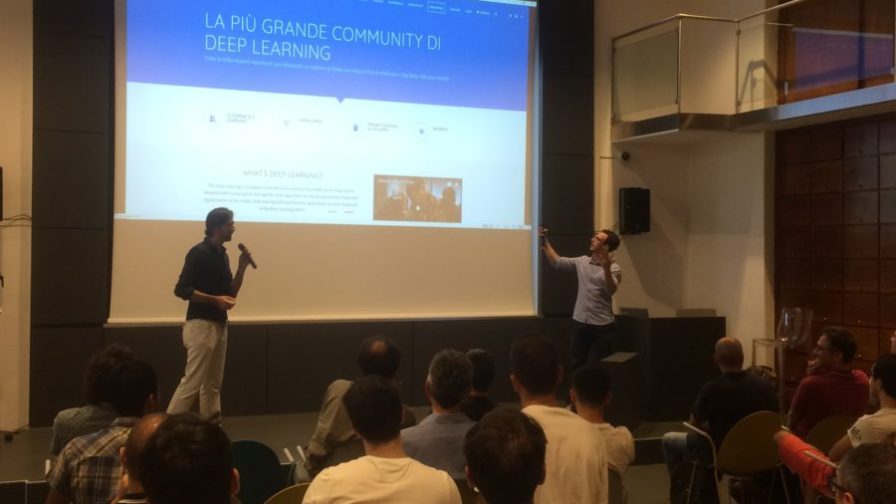 Matteo, could you start by introducing yourself?
My name is Matteo Testi, I'm 28, I live in Rome and I'm the Founder of Icaro Artificial Intelligence and Deep Learning Italia. My hobbies are sports and writing. After a few years in Italy for a three-year course specialising in psychology and neuroscience, I went to Scotland to do a Master's Degree in Artificial Intelligence. I program in Python and use Hadoop as my main storage.
Could you tell us why you chose to become an AI developer?
I chose to be an AI developer mainly because I can be my own boss. I chose the area of Artificial Intelligence almost by accident. About ten years ago, before I'd even started university, I went to AI seminars with my father, and I was fascinated by everything I saw there. And then the university courses I've done, especially the master's degree, increasingly convinced me that this was the path for me. I've never thought about changing my job, I really love what I do.
As the founder of Deep Learning Italia, I'm convinced that our platform is an excellent source of information on Artificial Intelligence since one of our main interests is always staying up-to-date with the latest discoveries. It's possible to do so through different social channels, from LinkedIn to WhatsApp. The opportunity to share ideas with other experts in the field allows the whole community to continuously improve. Personally, I also go to many conferences and every one or two months I buy a course on different online platforms such as Udacity or Udemy.
The title of your talk at one of the #AperiTech meetups was "Introduction to the Deep Learning Italia platform". What was it about?
Deep Learning Italia is an e-learning platform where you can take advantage of articles and tutorials, watch videos of our meetups, have discussions with other users, connect with the Godfathers of AI, the world's leading experts in this branch of technology. Now we're adding the option to download data sets for those who want to start working in this area, a code-sharing section where you can program collaboratively, and we'll add the opportunity to do research on Google Scholar. Our ideal audience comprises both experts and newcomers, so we want to provide as much access as possible to the basics of Deep Learning technology.
Do you think Deep Learning has any drawbacks on the technical side? And on the ethical side?
On the technical side there's its complexity: you need to know mathematics, statistics, programming languages and systems. It's a new and very complex subject which requires constant updating. My advice for those who want to get into Deep Learning is to choose their own specialty because it's impossible to have a full knowledge of every aspect. It's impossible to be an all-rounder in AI.
On the ethical side, it always depends what use is made of this technology, which in any case is never going to replace humans. For example, in the medical field, many studies show that AI is superior in recognising diseases. On CAT scans with tumours, the percentage of correct diagnoses by AI is 85%, while humans score 63%. Deep Learning adds a parameter to the overall framework of human knowledge, without radically changing it or impeding it if it's removed from the equation. It's a very accurate indicator, thanks to the immense amount of data and case studies analysed, which supports human knowledge and intelligence.
Would you like to present the same talk again?
We repeat this specific talk once every two meetups, so as to make the new participants aware of the platform and explain the community's learning objectives.
The difference compared with other communities is that we don't restrict ourselves to discussing information taken from other sources, but we produce content and tools on Deep Learning. Soon we'll also publish a book.
How has participation in communities and conferences influenced your professional development?
Nowadays it's become essential to network with and collaborate with other developers. It's impossible to have complete knowledge of any topic, especially if you study it on your own, without ever having a constructive exchange of ideas with other experts.