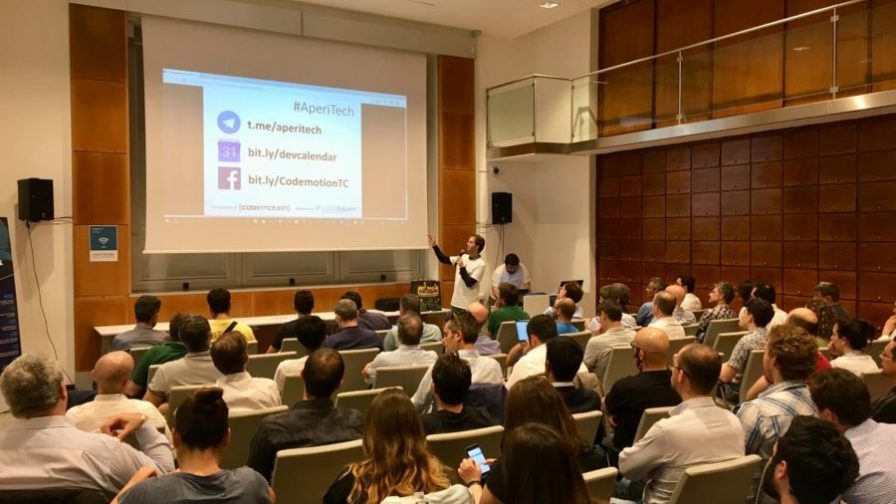 Simone Scardapane is a very talented AI and machine learning researcher and developer. In this interview he told us what are TensorFlow Eager and TensorFlow Lite.
Hello Simone. At one of the AperiTech meetups you presented your talk "Let's all discover TensorFlow Eager and TensorFlow Lite". Could you tell us what motivated you to talk about this issue?
Rather than a talk, it was more of an introduction to the meetup given on the occasion of the TensorFlow Dev Summit. I wanted to stream this conference, which I participated in person and with some very interesting news. The year before, I was a guest of GDG Rome at TAG Cinecittà, and many of the participants, more than 60%, had never had the opportunity to approach TensorFlow, and thanks to a very punctual and precise keynote, many developers were happy with the evening. This year we've had consistently excellent feedback, with a good percentage of new faces. We've also dealt with the issues surrounding the development of various technologies planned by Google, commenting on them together.
You're an active member of many communities and you're often a speaker at different tech conferences. For those who don't know you, could you tell us a bit about yourself?
I'm a researcher at Sapienza University and I deal with machine learning. In my free time, I actively participate, including as a speaker, in some communities on this topic. I also manage the Machine Learning Data Science community and a cultural association, the Italian Association for Machine Learning to promote some initiatives.
I studied computer engineering and then I did my Master's degree in artificial intelligence and robotics. I worked a bit as a developer for a company in Rome, but I realised that my passion was research, which is why I decided to do a doctorate degree before becoming a researcher for Sapienza. When it comes to my hobbies, I love reading, watching movies and TV series.
Last but not least, why did you decide to become a researcher?
This field of research is very special, as anyone who's got involved in it can confirm. I really like working alone, both for theoretical and practical research. I wanted to stay in Italy, because I love Rome and choosing this kind of career was a wise choice.
In the first year of my studies, I mostly read foreign books and research. Now the situation has improved and it's possible to find some good material in Italian, both articles and books. I also participate in a couple of conferences a year, especially for networking and getting to know other developers interested in machine learning. The main source of information for me is the internet, thanks to the incredible speed of publication on a global scale.