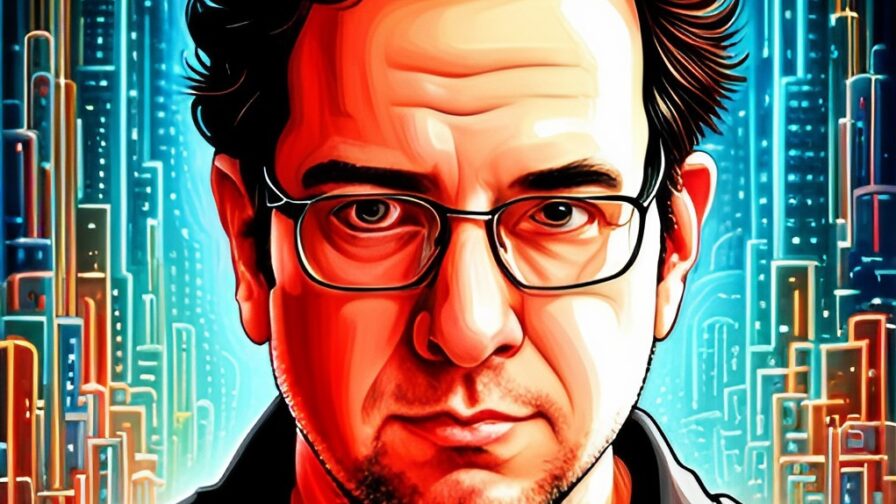 While hacking is deemed illegal, there are still hackers who manage to leave a mark in the industry. Perhaps the most prominent figure in the world of hacking is Kevin Mitnick, a man whose decades-long career as a computer hacker earned him worldwide notoriety. Mitnick's unique brand of hacking involved social engineering aimed at tricking people into giving him information and access, eventually leading to his arrest and imprisonment. In this blog post, we'll delve into the amazing facts of the life of Kevin Mitnick, the man who set the tone for modern-day hacking.
"You can't download a patch for human stupidity"

Kevin Mitnick
The Early Life of Kevin Mitnick
Kevin Mitnick was born on the 6th of August, 1963 in Van Nuys, California. His parents divorced when he was quite young, and he was brought up by his mother. Kevin was known to be a smart kid and developed a passion for electronics from a young age. In his teenage years, Mitnick learned about ham radios, and eventually obtained an unrestricted FCC license and used the radio to listen in on local police calls.
Mitnick's First Hack
Kevin Mitnick's first hack was in 1979 when he broke into The Ark — a computer at the University of Southern California (USC) that handled the school's administrative functions. Mitnick utilized a software vulnerability to gain access and continue his subterfuge in private.
Over the next few years, Mitnick would continue to hone his social engineering skills and grow his reputation as a hacker. Mitnick's methods of gaining access were legendary and were a key part of what made him so successful at infiltrating systems.
Mitnick's Infamous Arrest
In June 1992, Mitnick was arrested by the FBI in North Carolina, which marked the end of his hacking career. Mitnick's downfall was a result of his own hubris, as he had carelessly left a trail of evidence leading right to him. Once caught, he was charged with multiple computer crimes and sentenced to five years in prison. Mitnick pled guilty to all the charges which earned him a reduced sentence. He was released in January 2000 after serving five years.
Mitnick's Life after Prison
After his release from prison, Mitnick changed his ways and used his expertise to turn his life around. He now works as a cybersecurity consultant, speaker, and author. Mitnick has written multiple books about his time as a hacker, and he's often called upon to speak on topics related to cybersecurity.
The Legacy of Kevin Mitnick
Kevin Mitnick's story is as fascinating as it is cautionary. It highlights the fragility of computer systems and the vulnerability of human nature to social engineering. Mitnick's exploits helped pave the way for the cybersecurity industry we know today and serve as an important reminder of the need for robust cybersecurity protections.
Despite his infamous past, which led him to be one of the FBI's Most Wanted, Mitnick managed to transform his narrative into something positive. He served five years in prison, after which he became a renowned security consultant and global authority on social engineering. His intelligence, humor, and extraordinary technological skills are still remembered today. Mitnick authored several best-selling books providing valuable insights into the world of hacking and advice on cyber threat protection. Today, his work as a white hat hacker and founder of Mitnick Security Consulting continues to influence the cybersecurity industry
Mitnick died of cancer at age 59 on July 16, 2023.
Books by Kevin Mitnick
Kevin Mitnick has authored several books that capture his experiences and insights into the world of hacking and cybersecurity. His books include:
"The Art of Invisibility" – In this book, Mitnick shares tips on how to stay safe in an age where data privacy is increasingly compromised.
"Ghost in the Wires: My Adventures as the World's Most Wanted Hacker" – This is an autobiographical account of Mitnick's hacking exploits that led him to become one of the FBI's Most Wanted.
"The Art of Intrusion: The Real Stories Behind the Exploits of Hackers, Intruders & Deceivers" – Mitnick offers a collection of true stories about the art of hacking.
"The Art of Deception: Controlling the Human Element of Security" – This book focuses on the human element of security and emphasizes the importance of social engineering in cybersecurity.
"Transformational Security Awareness" – Mitnick shares his understanding of security awareness and provides guidance on creating a successful security awareness program.
It's also worth noting that although there isn't a movie specifically about Mitnick, his story did inspire elements of the film "Takedown"
Conclusion
In conclusion, Kevin Mitnick may have been one of the most notorious hackers of all time, but he has since used his skills for good. Mitnick's life and career are a testament to the importance of cybersecurity and the need for vigilant protection. His story serves as a valuable lesson for developers and anyone interested in computer security. We must stay on top of the latest security measures to protect against those who seek to exploit our systems and gain access to our private data.