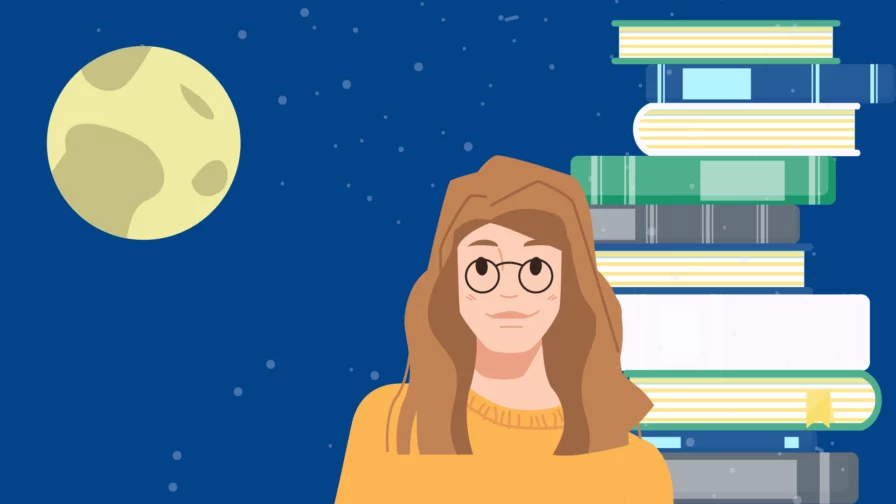 However, not everyone knows that behind this exceptional achievement was the involvement of a great mind, Margaret Hamilton, an American computer scientist, engineer, and entrepreneur. Thanks to her tenacity and ability to foresee even the most unforeseeable contingencies, she made it possible for Armstrong to take that famous step for which he is still remembered today.
On the anniversary of the moon landing, which occurred on July 20, 1969, at 20:17:40 UTC, we decided to pay tribute to Margaret Hamilton, the woman behind the code that made the success of this great mission possible.
Who was Margaret Hamilton and how did she contribute to the moon landing?
Margaret Hamilton, born in Paoli, Indiana, in 1936, was an enlightened woman of science who made significant contributions throughout her career. She published over 130 articles, papers, and reports on various subjects, worked on 60 projects, and was involved in six major programs.
She also served as the director of the Software Engineering Division at the MIT Instrumentation Laboratory, where, under her guidance, the onboard software for the Apollo program was developed. In fact, Hamilton's team resolved the complications related to the Apollo 11 moon landing, ensuring the success of the mission.
She graduated in mathematics from the University of Michigan, but not only that, a few years later she also obtained a degree in mathematics and philosophy from Earlham College in 1958. Until her graduation, she briefly taught mathematics and French at high schools to support her husband's first-level studies at Harvard, with the prospect of pursuing a second-level degree herself later on.
---
Recommended read: Discover the life and discoveries of Alan Turing
---
However, she later moved to Boston with the intention of conducting research in pure mathematics at Brandeis University. It was there that her career truly took off when, in 1960, she got a temporary job at the Massachusetts Institute of Technology (MIT) to develop weather prediction software for the LGP-30 and PDP-1 computers for a project by Professor Edward Norton Lorenz of the meteorology department.
At that time, computer science and software engineering were not yet established university disciplines, and programmers gained experience through practical work. Thus, from 1961 to 1963, Hamilton worked on the Semi-Automatic Ground Environment (SAGE) project at Lincoln Labs. The SAGE project was an extension of the Whirlwind project initiated by MIT, aimed at developing a computer system for weather forecasting and simulations. The SAGE system was later developed for military use as an anti-aircraft defense system in anticipation of possible Soviet attacks during the Cold War.
It was thanks to her contribution to the project that Margaret Hamilton, at just under thirty years old, became a candidate for the position of head of flight software development for the Apollo program at NASA.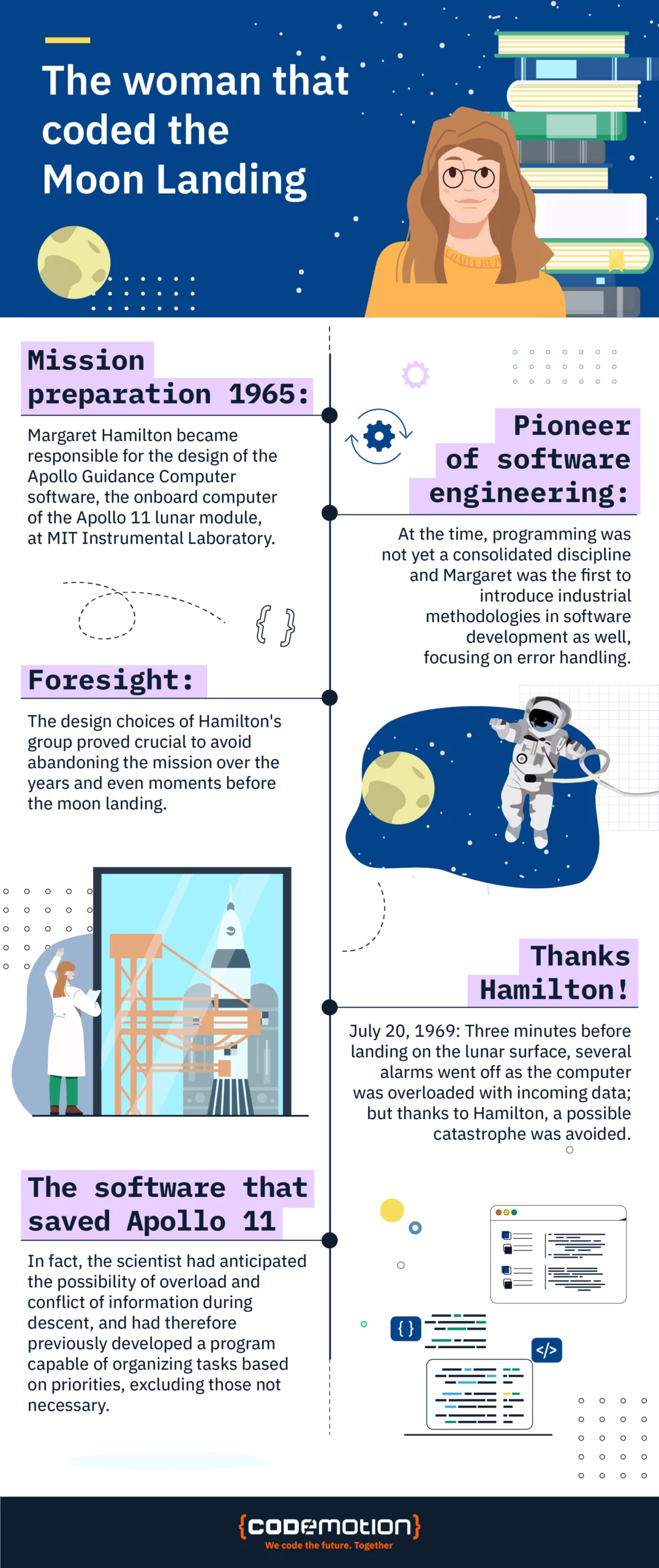 Development of the Apollo 11 software
After working on SAGE, Hamilton joined the Charles Stark Draper Laboratory at MIT, which was working on the Apollo missions at that time. In a short period, she became the director and supervisor of software development for the Apollo and Skylab programs. At NASA, Hamilton's team was responsible for developing the software that would guide the Apollo program capsules in navigation and landing on the moon, as well as its various versions used in other subsequent projects, including Skylab.
Hamilton's real breakthrough was in her insightful design choices concerning J. Halcombe Laning's operating system, which proved crucial. In fact, during a critical moment in the Apollo 11 mission, it was Hamilton and her team's foresight that prevented the mission from being aborted.
Not everyone knows that, just three minutes before the lander's touchdown on the lunar surface, several alarms were triggered because the computer was overloaded with incoming data. This happened because the rendezvous radar system, which was not necessary during landing, was updating a counter, occupying the computer in cycle stealing.
However, thanks to the pre-emptive priority scheduler developed by Margaret and her colleagues, the processes involved in landing, with higher priority, interrupted the lower-priority processes. This allowed full control of the mission to be regained, and the flaw was later attributed to an incorrect checklist.
This is how Margaret Hamilton herself described the situation:
"Due to an error in the manual checklist, the rendezvous radar switch had been placed in the wrong position. This caused the computer to receive erroneous signals. As a result, the computer was required to perform all its ordinary landing functions while receiving an additional load of spurious data that absorbed 15% of its resources. The computer (or rather, the software it was running) was smart enough to recognize that it was asked to perform more tasks than it could handle. It then sent an alarm, which meant to the astronauts, 'I am overloaded with more tasks than I can perform at this moment and I am going to continue running only the most important ones'; that is, those required for landing… In fact, the computer was programmed to do more than recognize error conditions. A complete set of recovery procedures was incorporated. The action it took, in this case, was to eliminate the lower-priority processes and restore the more important ones… If the computer had not recognized this problem and reacted accordingly, I doubt that Apollo 11 would have been the successful moon landing that it was." Margaret Hamilton
In conclusion, Margaret Hamilton's remarkable life journey as a pioneering computer scientist and her pivotal contributions to the Apollo 11 mission will forever be celebrated as a symbol of dedication, innovation, and ingenuity. From her early days in mathematics and philosophy to her groundbreaking work at MIT and NASA, Hamilton's brilliance and forward-thinking mindset paved the way for humanity's historic journey to the moon.
The original Apollo 11 software source code
As we commemorate this extraordinary woman and her indelible impact on space exploration, there is a unique opportunity for all technology enthusiasts and history aficionados. The original source code for Apollo 11's guidance computer, painstakingly developed by Margaret and her team, has been preserved and made publicly available on GitHub. Delve into the lines of code that played a crucial role in shaping the course of history and experience firsthand the brilliance of Margaret Hamilton's work. By exploring this fascinating piece of technological heritage, we pay homage to a true trailblazer whose legacy continues to inspire generations to reach for the stars. Discover the remarkable journey of the Apollo 11 mission, powered by Margaret Hamilton's genius, by exploring the historic source code repository on GitHub.
---
You might also want to read about Nikola Tesla, a controversial genius!