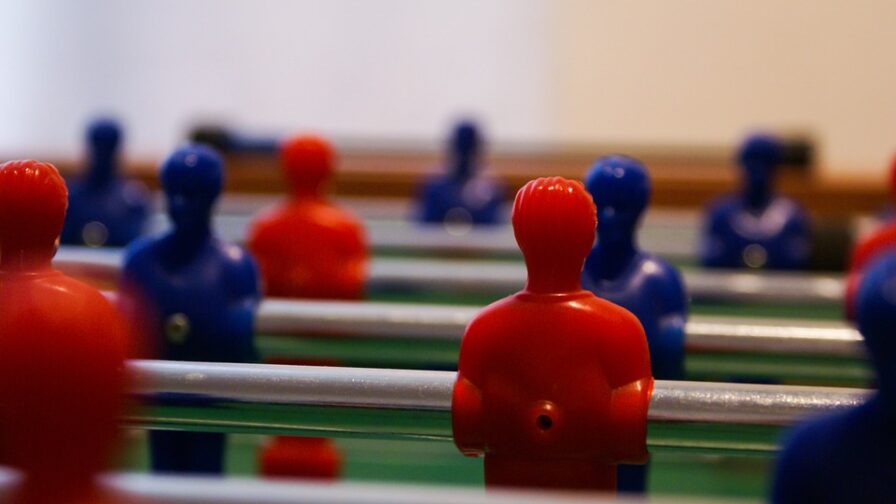 What Is the Red Team Vs Blue Team Exercise?
The red team vs blue exercise is an industry-standard exercise for testing security processes. It originated from a military 'wargames' model. The strategy pits the teams against each other in simulated attempts to breach or defend a company's security systems.
The red team is usually made up of professionals with experience as ethical hackers. It attempts to find and exploit flaws in a security system. They will assess vulnerabilities and plan simulated penetration tests against cybersecurity systems.
The blue team handles maintaining the security systems defences. They will proactively attempt to strengthen systems against attacks. Protecting critical assets and data.
The system also includes 'purple teams'. These mix red team and blue team members to share knowledge and develop more advanced attack and defence methods.
The philosophy of the method is like the idea behind production tests. In that, you don't always know what might break until someone breaks it. Hence, the red team tries to 'break' security systems, malicious-attacker style.
So, what are the exact benefits of this colour-coded team exercise? Let's take a closer look and find out more.
It Provides Your Team a Bonding and Training Experience
The experience of dealing with a cyber threat is invaluable to a defence team. A business often doesn't know its vulnerabilities until they're exposed. Gaining the knowledge of how to deal with and even detect these threats in a non-critical environment is a great training tool.
The adversarial nature of the roles encourages competitive drive in both red team and blue team members. The addition of purple teams allows red and blue team members to bond over shared experiences. Developing even more advanced attack and defence strategies together.
It Helps Identify Your Weak Cybersecurity Points
There's a truism that applies here, 'we don't know what we don't know.' Often, a hack or data breach in a real-life scenario will bypass security systems. This means that the vulnerability is only detected after the fact.
Reviewing, refining and testing defences helps to build systems that preempt developing threats. The world of cyber security is ever-changing. The red team vs blue team exercise can help security firms stay at the cutting edge of cyber defence.
Introducing the Red Team
The Red Team Task
The red team's task is to identify vulnerabilities in a security system and attempt to exploit them. This might include software-based attacks on data centres. And physical strategies using cloned access cards. Even phishing attempts to attract information from employees.
Essentially, the red team will use any means necessary to probe possible weaknesses (within a predefined set of rules). Of course, the ultimate goal is to identify these weak points so they can strengthen them.
The Must-Have Skills
Red team members will need both technical ability and creative thinking skills. They need the software development knowledge to uncover and exploit backend vulnerabilities. They also need the creative thinking skills that will allow for developing new methodologies in exposing weaknesses.
It's also an advantage for the red team to have operating knowledge of social engineering techniques. These psychological tactics exploit vulnerabilities in the employees or procedures of a business, rather than using direct system exploits.
Anything that a malicious attacker would use to exploit security weaknesses, a red teamer should have the ability to a. understand the problem and b. know how the methods used to disrupt software quality. It's also necessary for them to keep up with the changing tactics of these real-life cyber threats.
3 Common Red Team Exercises
Penetration Testing
This is what you might think of as "traditional hacking." The red team will often utilise software tools like password crackers or malicious programs (malware). To attack a security system at the network level.
Automation testing can simulate Bot behaviour like DDoS attacks. This allows for continual probing of security weaknesses without direct intervention.
Phishing Attempt
Just like the phishing emails we often receive in our spam folders but a bit more sophisticated. Red teams will often send legitimate-seeming emails to other employees trying to get information. Usually, these will attempt to deceive the staff member into revealing access credentials.
Vulnerability Assessment
These teams are often third-party security companies or independent contractors. This means the first step is to familiarise themselves with a security system. Then they can use this information to identify potential vulnerabilities. This can include:
Identifying operating systems in use
Creating network maps
Identifying specific makes and models of network equipment
Gaining an understanding of physical security systems. Ie. cameras, alarms and electronic locks
Scanning for open network ports
Introducing the Blue Team
The Blue Team Task
The blue team acts as the first line of defence against intrusion. They work in tandem with a company's IT security team. Their task is to identify threats and solutions while IT security implements the long term defence measures.
This can include anything from basic automated website testing with RPA tools. As well as assessing physical security measures and reviewing on-site processes. The exact needs will vary by business, it could even include advice on how to set up video conferencing software securely.
The blue team will identify network vulnerabilities proactively to prevent attacks. Of course, in the world of cybersecurity, 100% threat prevention is all but impossible. The blue team also needs to be able to detect and remedy any and all security breaches.
The Must-have Skills
Blue team members are highly skilled security professionals, often specialising in incident response. They need to be able to carry out comprehensive risk assessments. They cover all potential vulnerabilities. This means for networks, assets and people.
They must have in-depth knowledge of the organisation's security systems and security strategy. Technical knowledge of network protocols and DNS is also required. They may have had experience as a manual tester, identifying software security flaws.
Blue teamers are normally proactive individuals with an analytical mindset. This is essential as they'll be working to preempt threats and detect vulnerabilities before they're exploited.
3 Common Blue Team Exercises
Firewall Access Control Configuration
A firewall identifies and tracks incoming and outgoing traffic on a network. The access controls determine the rules for which traffic gets filtered out. One of the first steps for the blue team is to configure these access controls securely.
SIEM Solution Implementation
SIEM (Security Information and Event Management) systems are a data collection and analysis tool. They monitor, collect and report data on security incidents and other events. It's a highly valuable example of how automated process mining tools can help IT security.
The blue team utilises SIEM solutions to identify security breaches in real-time. This allows blue teamers to respond and remedy incidents quickly. SIEMs also keep logs of historical incidents, making them a valuable analytical tool.
Using Vulnerability Scanning Software
One of the most basic tools for the blue but also one of the most frequently used. Vulnerability scanning software detects and categorises common vulnerabilities in a security network. This will highlight basic issues like unnecessary SCADA network connections.
Blue team security experts assess this information to create reports and a remediation plan. They then work with executive decision-makers and IT security to install solutions.
How Does The Red Team Vs Blue Team Exercise Work?
Before the exercise begins, it's important that both teams know the objectives and the rules of engagement. The objective and rules of the exercise are set by the business. The objective could be specific, like assessing a certain part of a network or physical access location. Or it could have more general goals, like assessing the business's security rating.
The rules of engagement define the limits of the team's actions. This is important. To simulate real-life threats as closely as possible, the red team often takes actions like those of real-world hackers. Setting rules lets a company separate these from malicious attacks.
The first stage of the process for both teams is information gathering. For the red team, this will mean vulnerability assessments and strategic planning. For the blue team, this means identifying and strengthening any existing vulnerabilities.
The next phase is implementation. The blue team's network strengthening pitted against the red team techniques. Per the predefined rules, the blue team may be aware of the red team's intentions or they may be totally in the dark.
Once the implementation of attack and defence strategies is complete, the teams move on to debriefing. This is possibly the most important phase of the exercise as this is where both teams can share experiences and information freely. It's also where the purple team come to the fore.
Introducing the Purple Team
Purple team, admittedly, is a slight misnomer. While they can act as a separate team, the purple team is usually made up of a mix of red and blue team members. The purpose of this team is to share operating knowledge between teams in a non-competitive environment.
Due to the nature of the roles, there's no incentive for red and blue teams to share knowledge in the field. On top of this, a truly successful red team offensive will get past the blue team's detection.
This is why the purple team is an integral part of the red vs blue team exercise. They take the results of the exercise and turn this into useful feedback for the business.
Purple team analysis and information sharing can lead to improved security processes. As well as advancing future attack and defence strategies. They can also provide feedback on how to increase employee security compliance to enhance your company's quality culture.
Conclusion
The most important thing to remember about the red team vs blue team exercise is that it should be an ongoing process. As soon as they fix one vulnerability, the blue team should be looking for the next one.
In tandem with this, the red team needs to be constantly updating their attack protocols. This means keeping ahead of real-life adversaries. As well as updating knowledge using databases like the MITRE Att&ck Framework.
Combine this iterative process with information sharing and data analysis on completed exercises. This will allow your business to develop the robust security protocols required to stand up to ever-evolving threats.
Discover more about cybersecurity in this Codemotion video with Kim Van Wilgen