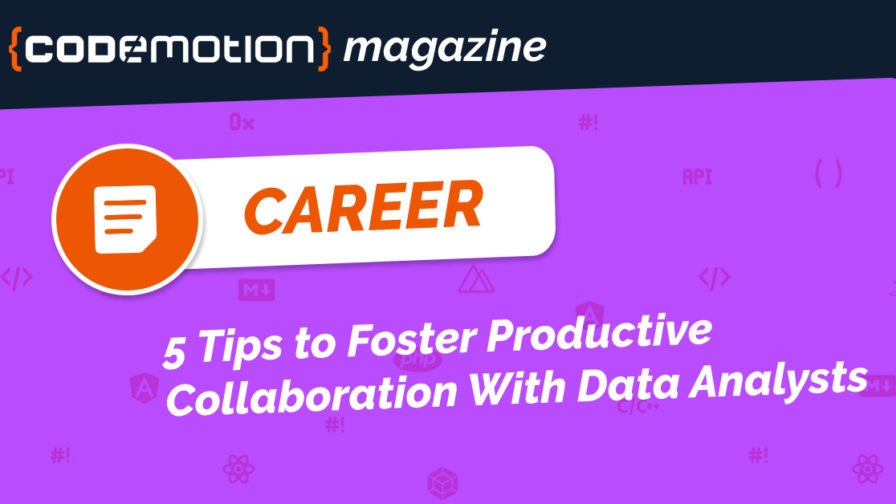 Nowadays, we are all fully aware that data analysis is an excellent tool for digital companies. Thanks to the rapid increase of data storage, computing power, and machine learning that creates complex algorithms, businesses can gain a deeper understanding of what they need to do to get where they want to be.
In the current digital marketplace, many eCommerce businesses, like SaaS (software as a service) brands and online shopping sites, have implemented data analysis to see how they can better their performance in areas such as sales, customer service, marketing, and client retention.
However, due to a lack of teamwork or poor cooperation, sometimes the work of data analysts cannot reach its full potential and the benefits that come with great analysis are wasted.
Collaboration
Collaboration between different departments and teams is always essential for a company's success. The case of data analysts, however, is a bit different, since data scientists sometimes seem to speak an entirely different language.
When the knowledge gap between analysts and business owners is too big, this lack of understanding between parties can lead to disastrous results. Luckily, this can be easily avoided.
Whether you are a stakeholder, a team manager, or a data analyst, you know just how difficult it is to develop a working relationship with other employees outside of your department, no matter how essential to the team.
If you are reading this, that's probably the case for you, and you're currently trying to improve your relationship with either analysts or business owners. Well, we have good news, because this article is specially designed to make the collaboration between both sides of the equation as smooth and productive as possible.
With that out of the way, let's cut to the chase and go over these five top tips designed to foster productive collaboration between your team and data analysts.
1. Distribute work
Let's start by tackling the most obvious first step. One quick and simple way to help analysts is by taking some of the weight from their shoulders. Basically, you should avoid overwhelming them with repetitive assignments.
To do so, you can offer your staff some basic training regarding data analysis. Let's be clear about this: nobody is expecting your staff to become data analysts overnight. However, having some knowledge of data, like understanding the differences between data mining and data analysis, is a good place to start.
Data analysis can be described as the process of applying statistical and mathematical techniques to better illustrate data. Data mining, on the other hand, is one of the aspects of data analysis that revolves around finding patterns in raw data sets.
By making sure your team understands this nuanced but key difference, actual analysts can focus on more demanding tasks, instead of having to invest time in explaining what they do or performing easier and less important assignments that could be carried out by someone else.
It's important to note that this approach goes both ways. Most often than not, analysts lack experience in other areas or disciplines. For example, sometimes they struggle to put into words what their complex analysis means for a company. Other times, perhaps, they're not familiar with marketing concepts like gamification or storytelling.
It makes no sense to expect data analysts to become marketing experts, but teaching them how to create marketing website content fit for translation or the nuances of neuromarketing could help them implement that knowledge and augment their already impressive skillset.
The idea of designing content that can be easily translated is especially useful for big conglomerates and multinational corporations that branch out across multiple countries. We're used to thinking data cannot cause translation problems. Some would say "25% is a fourth of the total in every country". However, sometimes miscommunication happens during translation and the power of the data is lost.
Lastly, we should point out that to develop this strategy successfully, it's important to set limits between what analysts should and shouldn't do. For example, you'll naturally want to avoid giving staff members data analysis tasks beyond their skillset.
Finding this balance may take time and test runs, but in the long term, it's an important element that will help you manage team tasks according to your staff's respective levels of skill and knowledge.
2. Nurture a collaborative environment
It may seem obvious but improving communication and collaboration between different departments and teams can boost your company's productivity and efficiency. Sadly, nurturing a collaborative environment is not as easy as most business owners would like it to be.
Thankfully, there are many ways to improve communication between your team members. The web is full of tools that can help businesses like yours create a more cooperative environment. Investing in communication tools that include different types of features, like a collaborative chat, can do wonders in this regard.
A quick look online will probably overwhelm you with search results. Collaboration apps like Twist, which is specially designed for companies, will usually do the trick. However, there are better options. Twist is somewhat limited in areas like life storage, but luckily, the market is full of Twist alternatives, and finding the optimal app for your company should be a breeze.
If you're not ready to embrace this approach, don't worry: you don't have to shift towards instant chat or video conferencing tools right now. There are other communication methods that can be easily implemented.
An email client, for example, can be useful in this regard. These software programs not only allow users to access their emails from their desktop, but they can also be easily integrated with other apps like WhatsApp, Google Calendar, or Dropbox. This can help you manage tasks better and keep everybody in the loop.
You can nurture a team culture within your company by creating special occasions where different departments can share their progress and experiences during a project. Settling on a weekly or monthly update call can help you keep all your workers on the same page.
3. Provide analysts with the proper tools
Sometimes, companies expect analysts to bring their own assets and tools when they are hired. However, this mentality is a very bad start for digital businesses looking to nurture strong and positive collaboration with their data analysis experts. Providing them with computers, smart devices, or cloud automation tools is a smart investment that will pay dividends in the long run.
Embracing an RPA (robotic process automation) approach will help boost the speed of analytics. In this day and age, thanks to the computing power of cloud automation, data mining and data analysis tasks, for example, can be carried out faster than ever before.
The importance and effectiveness of the cloud cannot be understated. Nowadays, cloud-based solutions are used to help businesses in many different areas, not only with data analysis. CDNs (content delivery networks) are a popular cloud-based data service that helps digital businesses and eCommerce companies to avoid website crashes.
Additionally, sometimes analysts require specific customer data to better do their job when analyzing purchase patterns, pain points, or needs. You can track your clients' journey and design a customer journey map to retrieve this data.
For this reason, it's essential to choose the best customer service software. Remember the ultimate motto of customer service solutions: choosing the best software is the top priority. With that in mind, it's important to know that the best customer service solutions should track your clients' journey and gather data instantly.
The importance of these software programs cannot be overstated. According to a survey conducted by machine learning company CrowdFlower, the majority of data needed to create data sets (78%) is generated from internal systems, and 68% of all data is gathered internally.
4. Keep your data updated and organized
One of the simplest and most effective ways to make the analyst's job easier is keeping your data updated. This not only helps analysts directly, but it will also help you. Data analysts can do their job faster and more efficiently when companies take their time doing some basic data cleaning.
No, we're not talking about soap and water here. Data cleaning is a process by which digital businesses fix their data. It's mostly carried out by removing incorrect, duplicate, and outdated information.
This data can be problematic in many ways. It does not only slow down an analyst's work; more often than not, it can lead to incorrect calculations and altered analytic results.
Data cleaning is not necessarily part of a data analyst's work, even though many digital companies think it is. As we mentioned before, eCommerce brands should tackle some of the analysis work themselves, and this is one of those simpler and more basic tasks you can do on your own.
It doesn't take much to be organized and clean with your data and it can help analysts to do their job better, leaving them free to handle more complex tasks.
According to a survey conducted in 2017 by data scientists and analysis experts from CrowdFlower, a whopping 60% of data analysts cite "cleaning and organizing data" as their least favorite part of data analysis.
Additionally, over half of those questioned claimed they have to deal with unstructured and unorganized data, as well as other roadblocks like the inability to access stored quality data.
Now we know how important it is to ensure your analysts are happy, let's tackle what you can do to keep your data clean and help them do their job. The single most important aspect of data cleaning is to keep an updated record of your website performance data.
This aspect of website maintenance is more important than you think. Analysis professionals need this data to be as up-to-date and organized as possible to develop sharp and accurate algorithms, as well as more robust dashboards.
5. Don't shoot the messenger
Sometimes, it can be hard for business owners to listen to an analyst tell them their company is doing badly. However, the frustrations inherent in such situations can lead to poor collaboration. Remember, data analysts are there to improve your business – their job is to tell you how to be better.
Additionally, many digital entrepreneurs feel the need to implement dashboards and other tools without considering how necessary they are. Yes, dashboards can help analysts do their job, but if your data expert tells you there's no point in using one, you'd do well to listen to them.
Don't lash out and demand things you don't know enough about; listen to the experts.
The takeaway
Now we've gone over some of the vital aspects that help companies foster a productive collaboration with data analysis experts, let's do a small recap to help digital businesses like yours. Here are the main points we've learned throughout this piece:
Share your skills, train analysts in other aspects of business, and give staff members some basic data analysis notions so both sides of the equation can help each other.
Be realistic regarding your expectations. Manage and distribute team tasks according to the skills of your team members.
Develop a collaborative environment with organized calls and use communication tools like chats, video conferencing software programs, and email clients to keep every member of your team in the loop.
Give your analysts the necessary tools to make their job easier for them. These investments will pay dividends in the future.
Implement cloud automation to make data analysis faster and avoid website crashes.
Improve your website maintenance and keep data updated, clean, and organized to make the analysts' work easier.
If you follow these simple tips, your chances of fostering and developing a more collaborative working relationship with your data analysts will drastically improve. Now you know all you need to, it's time to take these tips and run with them!