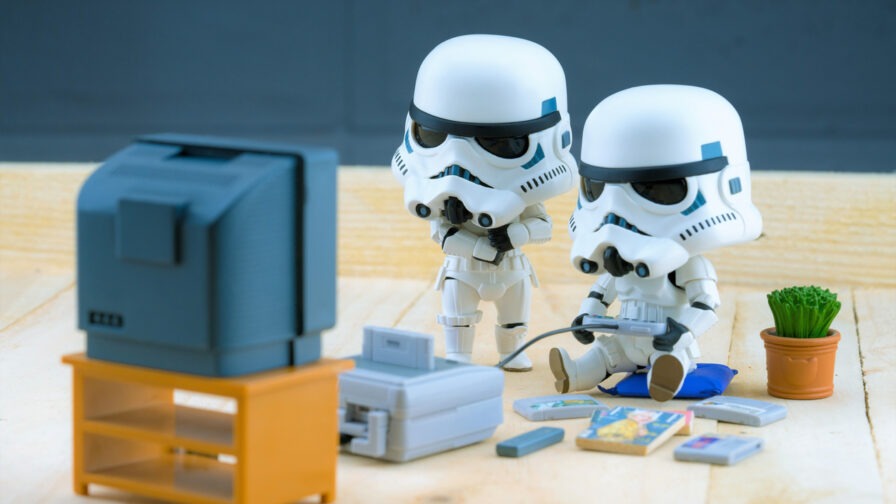 May 4th is known worldwide as "Star Wars Day" where fans from all over the planet come together to celebrate everything related to the iconic science fiction franchise. From cosplay events and movie marathons to merchandise collections and discussions on social media, the Star Wars community continues to thrive even after decades since the release of the first film. But there is one aspect of the celebration that combines the power of the Force with the magic of programming — Star Wars Coding.
How Fans Can Learn Programming Using Star Wars
Code.org's Hour of Code
Code.org's Hour of Code is a great place to start for beginners. The free online activity, "Building a Galaxy with Code," allows users to learn basic coding concepts while creating their own custom Star Wars game. Users start by choosing a character, such as R2-D2 or Princess Leia, and then progress through a series of challenges where they program their character to navigate through a Star Wars-themed world.
Moreover, users have the option to choose between two programming languages: Blocky, a visual programming language that uses blocks to represent code and is designed for beginners, or JavaScript to complete the different challenges in the galaxy.
Kano Star Wars The Force Coding Kit
The Kano Star Wars The Force Coding Kit is the perfect tool for young programmers. The kit contains everything needed to build a wireless motion sensor and program it to perform various Star Wars-inspired actions. Using Bluetooth technology and the Kano app, users can control their sensors using hand gestures, just like a Jedi Knight.
DK Publishing's Star Wars Coding Projects
DK Publishing's Star Wars Coding Projects is a book that teaches kids how to code using Scratch, a beginner-friendly programming language. The book includes step-by-step instructions for creating 15 different coding projects, all inspired by the Star Wars universe. From programming R2-D2 to navigate a spaceship to Robot Wars-style battles with lightsabers, the book is a fun, hands-on introduction to basic coding concepts.
No matter which option you choose, each tool offers a unique and fun way for fans to learn programming skills while engaging with the Star Wars universe.
The Connection Between Star Wars and Coding
Star Wars has been inspiring generations of fans for more than 40 years with its amazing storytelling, fascinating characters, and unforgettable music. From the galaxy far, far away to our world, the franchise has become an integral part of our culture, even in the tech industry. In fact, Star Wars was one of the first films to make use of cutting-edge technology in creating special effects, and its impact on visual effects in cinema is still felt today. But beyond that, Star Wars has also inspired programmers to explore innovative ways of using technology to create new adventures in the Star Wars universe.
The links between Star Wars and programming languages go beyond just names, as the popular sci-fi franchise has inspired various programming projects and tools. For instance, the "Jedi" library offers Java developers a range of utility classes and functions to aid their coding, while the "Star Wars API" allows programmers to access a vast collection of Star Wars-related data programmatically.
Furthermore, the use of programming language names in the Star Wars universe adds a fun touch of geeky humor to the franchise. The droids in Star Wars, for instance, use a language called "BASIC" (short for Beginner's All-purpose Symbolic Instruction Code), which is also a well-known programming language. Similarly, the Pyke Syndicate, a snake-like species in Star Wars, shares its name with the popular programming language "Python".
The Importance of Learning Programming
Programming is not just a buzzword but an essential skill that will shape the future of our world. In a world that's increasingly driven by technology, programming skills can empower individuals to turn their ideas into reality and create their own universes, just as George Lucas did with Star Wars. As technology and programming continue to transform industries, acquiring these skills can provide a competitive edge in the job market and make individuals more valuable to employers.
If you're looking for a fun and engaging way to introduce your kids to coding, why not try Star Wars-themed coding lessons? With a focus on programming fundamentals and engaging storylines, these lessons are a great way to get kids excited about coding and technology. By using popular characters like Darth Vader and Yoda, kids can learn how to write basic code while learning about the Star Wars universe.
The Future of Star Wars Coding
As the Star Wars franchise expands with new movies, TV shows, and games, the opportunity to learn programming using Star Wars will only get better. With the integration of new technologies such as virtual reality and augmented reality, fans can expect more exciting projects that merge Star Wars with the world of coding. Who knows, the next generation of programmers could be the ones who build the next Death Star or create the rebel alliance's next strategy using technology.
Conclusion
May 4th is a special day for Star Wars fans worldwide, and it's also an excellent time to celebrate the power of coding and its intersection with the iconic franchise. Whether you're a seasoned programmer or a beginner, Star Wars Coding offers a fantastic way to learn new skills and engage with the Star Wars universe in a fun and creative way. It's an opportunity to celebrate the past, present, and future of Star Wars while exploring new horizons in software development. So, May the Fourth be with you, and may the Force of coding be with you always.