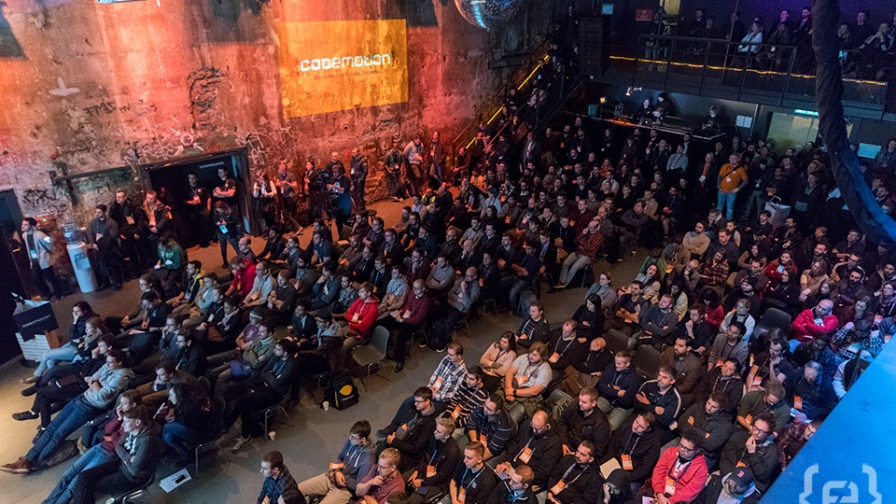 Day 1
The curtains rolled down on the first day of Codemotion Berlin!
We had an incredible first day rich with Speakers, People, Code and of course Emotion!
The Conference has been opened by the inspiring talk of Christian Heilmann, a living legend of the IT sector. He shared his thoughts on the future of AI, a great chance for humans to deal with machines and interfaces.
In the afternoon, the very first CTO meeting of Berlin took place and it was a great success: Thomas Holl – CTO at Babbel, Omosola Odetunde CTO at Legal OS and Alessandro "Cirpo" Cinelli Engineering Manager – DAZN. The meeting was moderated by Marco Casario, Chief of International Business Development at Codemotion. They talked about the evolution of the role of CTOs in a data-driven world.
In this roundtable, we wanted to create an environment where attendees can discuss their day to day challenges together and work on finding solutions to what keeps them awake at night!
Among the most interesting speakers that took the scene at Codemotion Berlin day 1, we need to mention the incredible performance of Bruce Lawson, Shokunin of the web, Stève Sfartz of Cisco, who explained how to provide modern user experiences using IoT and a bit of Javascript, Max Körbächer who gave an introduction on AWS EKS (Elastic Container Service for Kubernetes) and how you can reach a production readiness and Nandini Chauhan introducing the interesting topic of Banking of Things.
Finally, we cannot miss mentioning the amazing after event drinks all on the house. We saw many of the most talented developers in Berlin attend our event and then let go and have a cold beer with their peers.
Diamond ticket holders, Speakers and the Program Committee enjoyed the traditional Speakers' Dinner after all the networking sessions. The food was amazing and the drinks were just right for the occasion: hot and plenty!
We are dead tired and super excited to continue to today session at 8:30!
Day 2
The second day of Codemotion is now over, we are very happy to have delivered to you what we promised: the best Codemotion Berlin since 2012!
We started our second day with a fantastic morning keynote. PicNic's CTO, Daniel Gebler gave us an idea how IOT, AI, autonomous vehicles and drones turned 'grocery shopping' into a smooth, healthy, efficient, cheap and stress-free experience for many of us. Following a quick coffee break, we had the pleasure to enjoy Cristiano Rastelli's thoughts on the exciting journey developing a Design System for Badoo.
Dora Militaru who works at Financial Times gave her insights on diversity in tech. She talked about the advantages and dilemmas concerning diversity in tech and gave us plenty of food for thought.
Fabio Tiriticco and Ádám Sándor then went into a full showdown between Akka Cluster and Kubernetes. The picturesque Terminator analogies did magic on the audience I must say!
Just before the closing keynote, we had a very engaging panel discussion amongst many other parallel events. Thiago de Faria (LINKIT), Daniel Gebler (PicNic), Alessandro (cirpo) Cinelli (DAZN) and Armagan Amcalar (unu GmbH) discussed several crucial Technical Leadership challenges and roles, such as how do they set an example for hundreds of developers, and make choices that shape the whole of their organization.
Our closing keynote by Ashi Krishnan (GitHub) was truly unique. Are we building things that will matter, that will last? Are we creating something that will make our children proud? We developers have a responsibility- she said. How do we navigate our incredible responsibility as creators as our creations begin to grow minds of their own? This keynote was a worthy closing of our conference. Developers DO code the future, and so we DO have a responsibility to make this world a better and livable place for all.
Looking back at Codemotion Berlin 2018 we can say that we delivered outstanding content to 800 developers in a wide range of topics. The audience was very active and eager to share their knowledge and questions. By all accounts, this makes our 2018 conference edition the largest and most engaging of all our Berlin events EVER. We hope to see you at our Meetups in Berlin, Amsterdam, Rome, Milan, and Madrid!