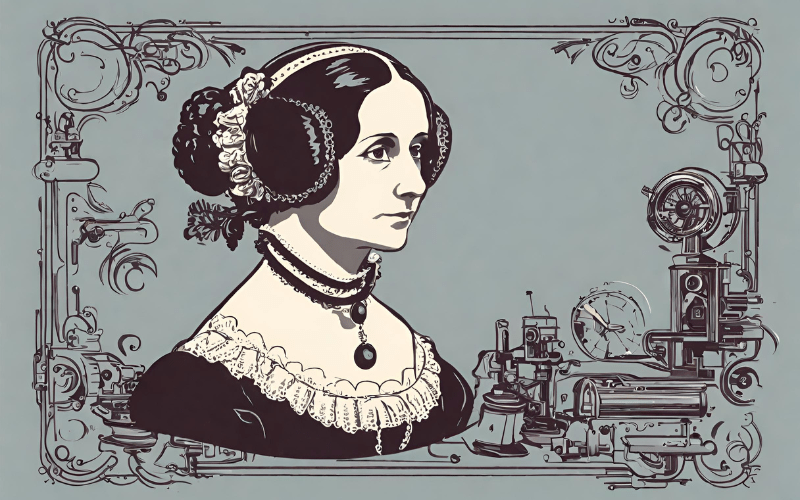 In the vast universe of programming and software development, there are figures that shine like bright stars, guiding the path toward innovation and technological excellence. Among these prominent figures stands Ada Lovelace, considered by many as a cornerstone in the history of technology and the world's first programmer. In this article, we will explore five reasons why Ada Lovelace is a crucial figure in the world of development.
The First Programmer
Ada Lovelace is renowned for writing what we now consider the first algorithm designed to be executed by a machine. This remarkable contribution to programming was made in the 19th century when the concept of computers was still far from existence. Collaborating with Charles Babbage, a visionary English inventor, Ada developed the algorithm for Babbage's analytical engine.
Ada's algorithm was designed to calculate a series of Bernoulli numbers. What makes it even more extraordinary is that it was not just a sequence of calculations; it included instructions on how the machine should interpret the data and produce results. In other words, Ada Lovelace gave birth to programming, anticipating the advent of modern computers by decades.
Visionary and Innovator
Ada Lovelace had a bold and prophetic vision of the future of technology. In her writings, she didn't merely see computers as mere calculation tools but imagined they could be used to generate any form of content, including sounds and music. This vision was incredibly advanced for her time and anticipated concepts that we now take for granted, such as the multimedia capabilities of digital devices.
Ada's idea of using computers for creative and artistic purposes is a clear precursor to what we observe today in generative art and algorithmic music. Her intuition and foresight paved the way for the creative use of technology.
A Mathematics Enthusiast
Ada Lovelace had a profound understanding of mathematics, which was an integral part of her education from childhood. Her mother, Lady Byron, concerned that Ada might inherit her father Lord Byron's poetic nature, instead encouraged her to study mathematics and sciences. This exceptional education made Ada a brilliant mind capable of analyzing and grasping the most complex mathematical concepts.
Her passion for mathematics led her to translate into English a text written by an Italian mathematician, which explained Babbage's analytical engine. During this translation, Ada added notes and explanations that significantly enhanced the understanding of the device. These notes proved crucial in comprehending the potential of computers and established Lovelace as a pioneer.
Ada Lovelace's Vision is Still Relevant
Despite more than two centuries passing since her time, many of Ada Lovelace's ideas remain relevant. For example, the concept of creative programming and the use of computers to generate art and music has become a field of study known as "generative art" and "algorithmic music." These fields are experiencing exponential growth today, demonstrating how ahead of her time Ada's vision was.
Furthermore, Ada understood the importance of fully understanding the machines one works with. This idea underpins modern cybersecurity, where in-depth knowledge of technologies is essential to protect systems and data from external threats.
Her contribution to cybersecurity is also reflected in her early recognition of potential risks associated with the misuse of machines, emphasizing the importance of using technology responsibly and ethically.
Inspiration for Women in Tech
Ada Lovelace has become an icon for women in the technology and programming fields. Her story demonstrates that even in an era when women were often excluded from areas like science and technology, a brilliant mind could emerge and leave an indelible mark. Today, women are a fundamental part of the tech industry, and Ada Lovelace remains an inspirational role model for all women seeking a career in this field.
Her legendary contribution to technology not only opens doors for women but also for all curious and creative minds aspiring to contribute to the world of programming and computer science. Her pioneering spirit continues to shine as a beacon of hope for those who aspire to realize their technological dreams.
In conclusion, Ada Lovelace is a key figure in the world of development for many reasons. Her brilliance, futuristic vision, and passion for mathematics made her a programming pioneer and a source of inspiration for future generations. Her impact endures today and will continue to illuminate the path of technology for generations to come. Ada Lovelace is undoubtedly a figure to celebrate and honor in the world of development. Her legacy lives on through every line of code written and every mind inspired by her extraordinary story.