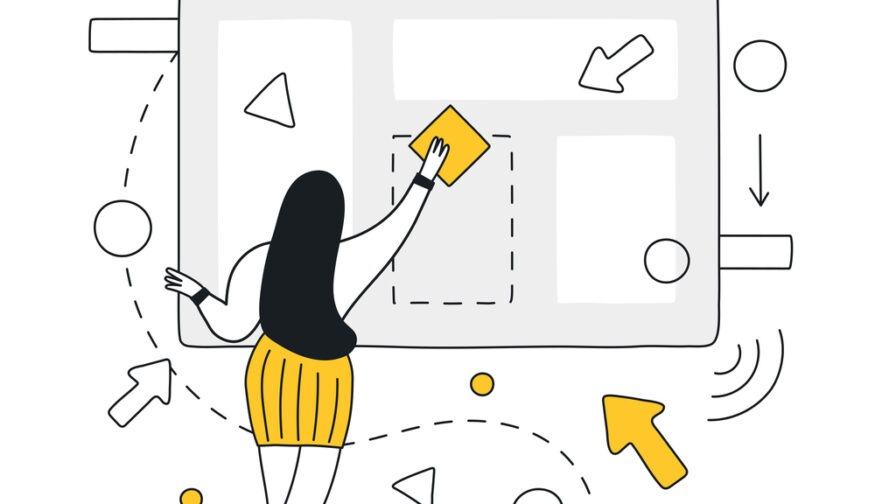 Creating an engaging and interactive experience on your website is crucial if you want to attract and retain visitors. One of the best ways to build this kind of experience is to use web animations. Web animation keeps your visitors engaged, helps them make decisions, and can make your website more accessible and entertaining.
We're going to take a look at some of the kinds of web animations you can use, the benefits they can bring, and the best ways to implement them for maximum success.
What is website animation?
Web animation is a blanket term that covers a variety of different animations that can be used on a website. User interface (UI) animation, JavaScript animation, and CSS animation are all examples of web animation.
Web animations can be set up as independent elements or to trigger in response to the actions of visitors to the website. For example, animated backgrounds will constantly provide a sense of motion to a website, while elements such as shaking buttons could trigger when a user hovers over or near them with their mouse, encouraging them to click.
What are the benefits of using website animation?
Web animation brings websites to life, which helps to capture the attention of viewers, keeping them engaged and increasing the likelihood that they'll perform the actions you want them to. Here are just some of the benefits of website animation.
Help customers make decisions
Rotating 360° views of products on an ecommerce website gives prospective purchasers a better look at the item they're viewing, helping to convince them to make a purchase.
Keep visitors engaged
Web animations can be used to convey information to website users in a visual manner, keeping them engaged in the content. You've heard the phrase "A picture is worth a thousand words"? Well, it's true. Images help users feel more connected to the material they're consuming without feeling overwhelmed. It's one of the reasons that many organizations will carry out a video conference call rather than sending lengthy emails.
Guide visitors around your website
Developers can also use web animation to direct users to particular website sections or subtly hint to them about where they should proceed next. For example, small sliding animations near the bottom of the page can indicate to viewers that they need to scroll down to see the entire webpage, ensuring they don't miss any important context.
Reduce bounce rate
Animations such as loading bars can help encourage website users to stay on your website while content loads for them. A small element like this may seem insignificant, but it could mean the difference between a website user waiting for content to load or giving up and navigating away from your webpage.
Without website animations, all the work you've put in to attract visitors from around the world, such as buying domain names or investing in a CMS solution, won't mean a thing, as visitors will simply navigate away from a bland and boring website.
Examples of website animation you can utilize
Web animation can appear in a variety of different forms. Here's our rundown of some of the most commonly used website animations you're likely to run into when surfing the web.
Infographics
Infographics provide a concise, visually pleasing method of conveying large amounts of information to your website visitors without overwhelming them. You can further add to the effectiveness of infographics by animating them.
You can use animated images to provide greater levels of engagement or encourage users to click into specific sections of your infographic to expand it out for greater detail. This is an excellent way to convey added important information without presenting your viewers with an off-putting wall of text.
Scrolling interaction
Scrolling effects are designed to encourage website visitors to keep scrolling through your web pages. This results in them spending more time with your brand, building a stronger relationship, and increasing the chances that they'll respond to your calls to action.
Interactive scrolling allows you to better control how information is presented to visitors of your website. You can set images to transition as text is scrolled through, have textual information pop in as slideshows are navigated, or implement dissolve effects on elements as they're scrolled away from.
This allows you to control which elements of your website visitors will focus on at different times, helping you to shape the user experience to reflect your brand message and better direct users to perform the actions you desire.
Hover states
Hover effects are a commonly used web animation that applies changes to text or images when the cursor is held over them. Hover states can serve a variety of purposes, such as showing products from different angles when the user holds the mouse over them to highlighting hyperlinks within the text.
When implementing hover states, it's important to remember not to apply them to every element of a web page, as this can result in a distracting experience for the user, which can ultimately have a detrimental effect on user engagement and customer experience.
AR
Augmented reality (AR) is a recent addition to the web animation arsenal. While trickier to implement than the majority of web animations covered here, there's no denying that it provides an unrivaled level of immersion for website visitors.
AR enables website visitors to see how products would look in real life. This could mean virtually trying on clothes or seeing how furniture products such as sofas or tables would look in the customer's actual home.
It can also be used to provide other website functions, such as troubleshooting.
Slideshows, videos & galleries
Embedding slideshows, videos, and gallery features in your web pages gives you a way to visually represent information to your visitors, conveying large amounts of information without asking them to read a large wall of text.

Videos, in particular, can be used for a wide range of purposes, from creating awareness, educating the consumer or to increase audience engagement. They can be used as an efficient method of sharing tutorials and demos on how to use products, further highlighting their best features, as a product film, or a social media video utilizing an online video editor tool to create these different styles. They're also an engaging way to share customer testimonials.
Quizzes & surveys
Quizzes and surveys provide an interactive way to engage with your customers, helping them to learn more about your brand while simultaneously accruing valuable information about your visitors.
Take the example of a technology ecommerce site. You could present visitors with a short survey that asks what kind of products they're interested in and what features they're looking for in those products. This helps you to suggest relevant products to visitors, directing them to landing pages where they're most likely to make a purchase.
They're like a visual version of a telephony IVR system: you gather information from your users in order to direct them to where they need to be.
At the same time, it provides you with valuable information about your customer base and their wants and desires. This will help inform future choices on the products you stock and improve the levels of personalization you can offer in your marketing materials.
How to create an engaging and interactive experience for your users
There are several key points you should consider to ensure that web animation is implemented successfully on your website.
Keep it mobile-friendly
Recent data shows that the majority of web browsing is now done through mobile devices rather than on desktop computers. With this in mind, it's more important than ever that websites are optimized for a mobile browsing experience.
This includes ensuring that any web animations you use on your website function as well on mobile browsers as they do on desktop browsers. Otherwise, you could end up with animations that don't present as you expect them to and actually hinder the experience of your website visitors.
Think carefully about design and accessibility
You should ensure that any web animations you use are in line with your brand voice and don't distract from what you want your website to say.
Too many web animations can distract website users, causing them to navigate away in some circumstances. Ensure that the animations you use have a clear purpose and that you use them only where they will be most effective. 
You should also care about inclusive design and accessibility.
Prioritize easy navigation
Web animations shouldn't come at the expense of a good customer experience. Animations that highlight links and buttons may look flashy, but you need to ensure that they don't inhibit the speed at which users can navigate around your site.
Suppose a visitor has to wait for animations to finish playing before they can move on. In that case, they may feel frustrated and leave your website before they've even made it to the product page they were looking for.
Use animation to supplement content
Web animation can be a great way to relay information in a fun, engaging manner. By replacing lengthy paragraphs of text with animations such as interactive infographics or slideshows, you can inform your website visitors without the risk of boring them.
However, you should still make every effort to ensure that information is still easy to find on your website. Locking everything behind animations can be equally as frustrating for website users as presenting them with a wall of text.
Try to combine both visual and textual elements in order to present the best possible experience. For example, take a look at how this web page for Dialpad's Contact Centre AI incorporates expanding drop-down arrows in its FAQ section and banner. 
Users can quickly navigate to and expand the sections they wish to know more about without being immediately presented with a giant wall of text by having all the answers displayed at once.
Use web animation to build an engagingly interactive experience
When used correctly, web animations can help you to build an engaging experience for the visitors to your website.
Adding an extra layer of interactivity can help users feel more connected to your brand, relay information in a fun way, and gently persuade visitors to take the actions you want them to take.
Experiment with some of the web animations we've discussed today, and see how they can breathe new life into your website.