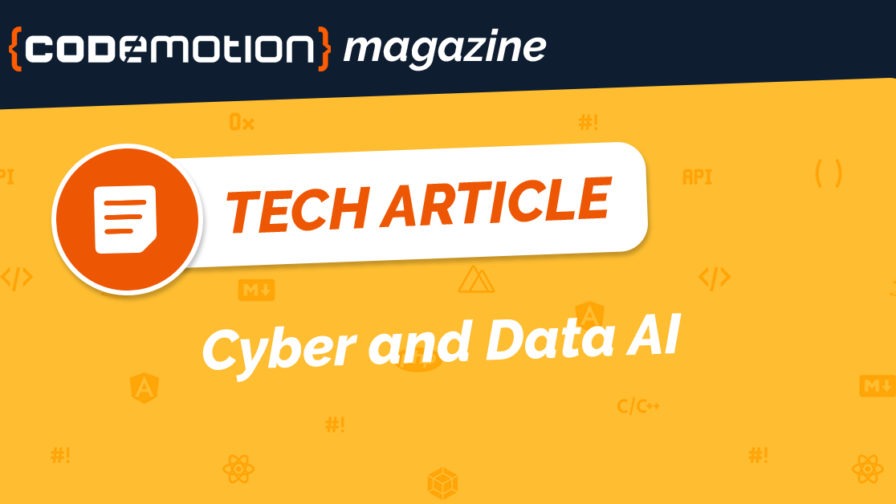 Artificial Intelligence is a very powerful tool that can be used to boost your capabilities and your business. It can be used to optimize existing patterns in data and processes, or to relentlessly explore proactive approaches to finding solutions for problems.
Process reengineering and cyber protection are two of the main fields of application of state-of-the-art techniques in machine learning, deep learning and other related technologies.
In both cases, more attention needs to be paid to the data and their renewed architecture.
Before deep-diving into the article, check this year's Data and AI Forum Italia event's programme, which will be hosted on May 18. Three sessions of 45 minutes each focus on data as a key element to digital transformation in corporate environments: data governance, the transition from legacy applications to modern ones, data protection, distributed data management and on edge, process mining, AI infusion.
AI leverages data towards business
The business of the future is upon us. In a recent survey, 83% of business executives indicated AI was a strategically important factor for business. AI and data modernization have become requirements of remaining competitive in many industry sectors: 72% of business leaders believe a competitor will use data and insights to revolutionize their business within the next three years.
The role of data is central to competitiveness in today's business world. The importance of quantitative aspects has been the focus of the last few years, leading us to collect huge datasets, often drawn from unstructured collection activity, grouped under the generic term "big data".
Artificial intelligence is the name we assign today to a new breed of software analysis tools. One of the sectors where AI-based tools have the strongest impact is in the classification of huge datasets to analyse more precisely, and sometimes develop brand-new categories that allow for better decisions.
Using big data to feed the AI engine has produced broadly disappointing outcomes, to date, due to the poor quality of previously collected data. The qualitative aspect of data has arisen, demanding that we collect data in new ways to ensure they feed the AI engine a perfect diet.
The collection of high-quality data is a central focus of business strategy today.
Furthermore, new analyses of clean data have highlighted the need for something different. A new approach to the overall architecture of information has the potential to boost the approach to a new generation of results.
Collecting new, clean data might not be the best choice, if the data is locked inside silos, or only accessible to a limited number of functions within the organization. The complete data supply chain needs to be redesigned in a more open way to derive maximum advantage from AI-based analysis tools.
The path to AI and business-ready data begins with new information architecture, working with fresh, clean data.
Process Mining, a critical juncture for AI
Process mining is the new frontier when it comes to gaining an advantage over the competition. Formal business activities are often "shadowed" by undetected behaviors from the explicit documentation of processes.
The incorrect information this creates prevents management from taking the correct decisions, leading to a catastrophic impact on the company's results and thus on its expected value.
A full range of questions about the irregularity of internal processes is constantly asked inside every large organization. Why do some of our orders take less time? Why are some cheaper to fulfill? Why do we order so many items of a certain kind?
The real question is where and why these irregularities happen.
IBM technology mines a company's processes in search of undetected behaviors, to create a new, correct business analysis. Organizations need to monitor processes, performance, and compliance constantly, in order to detect critical activities and deploy resources to identify bottlenecks.
To speed up progress along this path, IBM recently acquired the Italian company myInvenio. Process Analyst features automate process discovery, mapping, and analysis, and monitor all events and properties inside the existing business systems, comparing them with what is expected.
AI-based tools can prompt suggestions of areas for improvement – suggestions that will prove critical in predicting market trends and taking timely action.
AI boosts business by more than 10% today
The data+AI advantage leads easily to two-digit performance improvements. According to today's figures, advanced AI adopters attribute 10-12% points of revenue gains (or erosion offset) to correct usage of AI-based tools.
Companies report on average 6.3% points of direct revenue gains directly attributable to AI, which has offset revenue erosion for those hit hard by the pandemic or helped capitalize on new growth opportunities for those seeing greater demand
A 10% improvement in efficiency propels one organization to a leading position inside their market. These business improvements can be dramatically increased by working on information architecture and process mining: the difference between pioneers and those who lag behind in adoption will widen in the next few years. The time to make a change is today.
IBM DataOps means business-oriented analytics
Promoting data centrality is a key aspect of a modern approach to a business-oriented infrastructure. Data takes the lead in this approach, so a switch to a different value chain management is required – we might reasonably call this 'DataOps', taking a lead from DevOps modern approach to unified operations and development production cycles.
IBM DataOps (formerly Unified Governance and Integration) enables agile collaboration on data, promoting the speed and scalability of operations – and also analytics – throughout the data lifecycle.
DataOps (data operations) refers to the orchestration of people, processes, and technologies that provide reliable data in short order – data that can be used in business by data citizens, operations, applications, and artificial intelligence.
IBM DataOps' capabilities help to build a foundation for business-friendly analytics by providing market-leading technology that interacts with AI-enabled automation, with embedded governance, data protection, and a powerful knowledge catalog that allows users to continuously operationalize high-quality data across the enterprise.
The mainframe is still central in a cross-platform world
Today's enterprises are managed through cross-platform architectures, where the importance of orchestration is immediately clear. A huge section of strategy-related data is kept inside the mainframe: thanks to frequent updates with state-of-the-art approaches, this platform is achieving its best results ever.
Mainframes are still central to private Clouds, and we are now experiencing the coexistence of different worlds such as on-premises, public Clouds and mainframes, each representing the best choice for specific parts of the business.
The correct approach to leveraging our investment is therefore not a question of how to get rid of mainframes and migrate to different architectures, but rather how to make the most of each platform within a cross-platform environment.
IBM Cloud Pak for Data
Cloud Pak for Data is a bridge to AI analytics through clean data. It offers an integrated end-to-end platform for high-performance analytics that enables enterprises to achieve their data maturity goals. This solution allows critical data to remain protected by a private firewall, while still being accessible from cloud-based applications to generate new insights.
Using Kubernetes, Cloud Pak for Data customers can provision new infrastructure in minutes. The platform's in-memory database can incorporate more than 1 million events per second.
Cloud Pak for Data minimizes the time and expense required to create meaningful insights while expanding analytics capabilities. To successfully adopt machine learning and AI, organizations must be able to rely on meaningful and reliable information.
The disparate data must be in a consistent format and should be organized in a single access point for maximum value. With Cloud Pak for Data you can move from raw data to reliable data.
Cyber Protection: AI is the answer
Perhaps the most difficult conundrum today's organizations have to manage is the cyber protection of their assets. Cyberattacks are becoming more varied, faster, and stronger with every passing second. Conventional protection systems are no longer efficient as the only solution.
Hackers are clearly making significant use of AI tools to hide long enough to do their dirty job.
As a set of techniques, AI allows for the development of many tools to both attack and defend our digital rights or properties. Using an AI-based detection approach means moving from the passive scan cycle to an active scan cycle. Some proactive steps are required to prepare our systems for the best recovery possible, should the menace not be stopped before it attacks.
Contemporary ICT architectures are built upon a set of cross-platform criteria, allowing more platforms to co-exist in a single virtual environment. The overall security performs the same as in a many-ring chain: an attacker can easily exploit a single point of failure to penetrate the entire system.
Other than the direct impacts of data breaches, organizations face penalties such as non-compliance fines in the case of personal information loss. International regulatory standards also increase the complexity; many regional legislative frameworks, such as the General Data Protection Regulation (GDPR) in Europe, CCPA in California, and APPI in Japan, increase cyber incident costs even more.
Other international networks, such as the Payment Card Industry, have their own set of rules (PCI DSS) that need to be followed and harmonized globally.
IBM Guardium, the security architecture of choice
Taking care of a complex environment and staying on top of events that occur at high speed is the only way to cope with the conundrum of cyber protection.
IBM Guardium prevents leaks from databases, data warehouses, and Big Data environments such as Hadoop, ensures the integrity of information and automates compliance controls across heterogeneous environments. It protects structured and unstructured data in databases, big data environments, and file systems against threats, while also ensuring compliance.
Guardium provides a scalable platform that enables the continuous monitoring of structured and unstructured data traffic, as well as enforcement of policies on sensitive data access, enterprise-wide.
A secure, centralized audit repository combined with an integrated workflow automation platform streamlines compliance validation activities across a wide variety of mandates.
Guardium leverages integration with IT management and other security management solutions to provide comprehensive data protection across the enterprise.
IBM Guardium Data Protection for Databases
The increasing relevance of any kind of archive and data draws great attention to how IBM Guardium Data Protection for Databases works.
This component is set to monitor and audit all data activity, enforce security policies in real time, and accelerate compliance workflows and audit activities, readily adapting to changes in your heterogeneous data environment.
This security platform creates an agile and adaptive data protection environment that adjusts as new users, platforms, and types of data are added. It scales to any size of data protection effort with a flexible and tiered approach including seamless load balancing and self-monitoring.
The platform streamlines administration and deployment of data security and compliance with automated tasks in a business-centric user experience.
IBM Guardium Data Protection for Databases can be combined with all the components of the Guardium suites, such as Data Protection for Big Data, Data Encryption, Vulnerability Assessment, Multi-Cloud Data Protection or Encryption, and so on, to flexibly safeguard sensitive data across the business environment.
Any organization can easily identify the necessary level of protection in IBM Security Guardium's intelligent data protection platform.
Cyberprotection is a major need in today's economy, pushed forward by the digital transformation of our whole society. Achieving sufficient protection is rapidly becoming a complex task. Proactivity is where AI works best, thanks to its capability to extract unknown patterns from multi-dimensional data spaces.
The Event
All of these subjects will be discussed in depth during the Data and AI Forum Italia event that will be hosted on May 18. Three sessions of 45 minutes each will explore the subject in depth. The first and last sessions will be plenaries, while the central slot will offer six parallel events about how to modernize, secure, automate your IT, automate your business, predict data, and the use of AI in prediction.