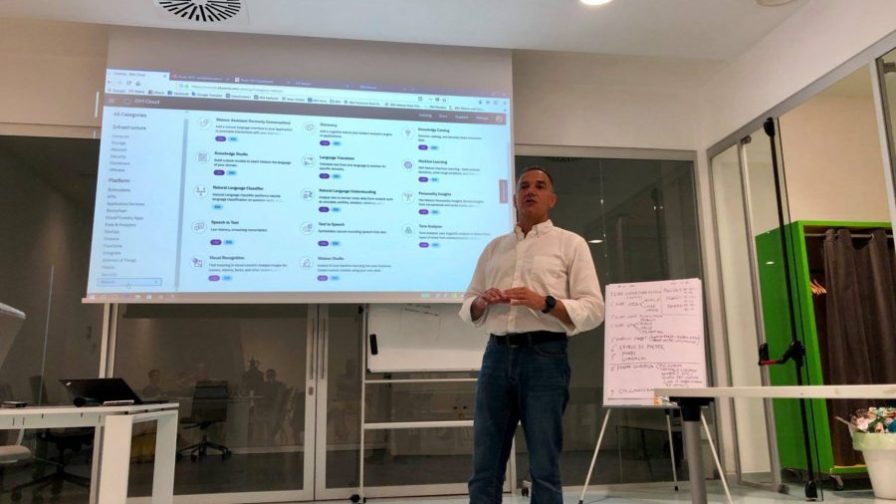 Interview with FERDINANDO GORGA
DataScience: The profession of the data scientist with IBM Watson tools
Presented to the IBM Cloud Italia community
On 30/05/2018
Hi Ferdinando, tell us about yourself!
I'm a computer scientist, it's always been my passion. My training started by enduring classical secondary school, with a great passion for technology and the sciences that led me to study computer science at university. At the same time I opened a small software company to earn some money during university.
After graduation I started to collaborate with the same faculty in the field of research on programming languages ​​and software engineering; then I started my job in the company: I was hired in Milan on an open contract, but for personal reasons I moved to Rome to join a consulting firm as project manager and functional analyst.
When rational software, whose founders had written useful books I'd studied for my thesis, arrived in Italy, I went into rational and started my career as a technical representative, first with issues and solutions in artificial engineering,then moving towards new technologies and towards mobile in order to end up working in the cloud area for the last three years. Today in IBM, I'm a technical representative for artificial intelligence. I have many passions: I'm still a mechanically minded person so I like motorcycles and I have two of them, I have two boats, I love nature and the sea, I'm an expert in photography and I'm a decent producer of quality extra virgin olive oil. Diversification is a tool for great enrichment: it's the salvation of my life and it's been useful in my daily work and with clients.
Would you change the area you work in? Do you like your job? Do you feel fulfilled doing your job?
I don't know if I can call myself fulfilled but I'm enthusiastic about my job, I like it a lot, I wouldn't change it, or perhaps if I got a better one, but without changing my scope. The part of this job that fits best with my personality is the opportunity to keep up to date, even if it takes a lot of effort. And it's also the opportunity to transfer values ​​that the company puts in products to customers, and to always be in a very advanced technological context with very stimulating people. All the context that pervades my work is enjoyable.
Why did you want to do this talk? In your opinion, what's this technology like?
In this talk I give an introduction to the profession of data scientists by showing how, with the IBM tools, you can begin to pick up the skills of data scientists even without having made significant or particular studies on the topic.
It also moves the steps from this need to share and to push people to open their eyes to the technologies necessary for client companies: until 10 years ago, the data generated in the IT world was more or less a polynomial form of the number of people dealing with information technology. Today there are more than 8 billion mobile phones around the world: it means that there are interactions with data and the world of computing in every second of our lives. A few years ago saw the initial development of the Internet of things: not only people who generate data, but also all the devices connected in greater numbers than humans and that proliferate in a different way from our logic: fielding a million Internet-connected devices can be done in half a day. This whole sea of ​​data makes it essential to have a key to reading: IBM has created a good solution to this called Watson Studio that allows anyone, not just the expert, to effect solutions that have the data in the centre. Today's Data Scientist is strongly connected to both the internet of things and the world of artificial intelligence, because on the basis of data it's possible to create predictive models, among the topics discussed during this session.
Do you plan to do more talks on this specific topic?
Yes: I can prepare tutorials even if my primary job is not, unfortunately, doing these talks, but when you create possibilities and opportunities, or when I am called upon to do them, I always do it with great pleasure because it's a time when, although it extends the working day, I meet people who can benefit from a chat on these issues.
What course of study would you recommend to those who now want to get into the world of programming, especially in connection with data science?
Nowadays school's much more important than before in some ways, because the world's much more complex. But it's also true that a lot of the information that school offers is knowledge that's available to anyone with a phone in their pocket. Clearly such a profound, philosophical and complex matter such as programming cannot only be tackled autonomously, but there's the need for a background that university can provide: here the first networks of colleagues and enthusiasts are created, who'll meet and who it's essential to keep in touch with over time. I'd recommend programming students and enthusiasts very closely follow the talks and the annual global conferences that all hi-tech companies normally do, and which give you the gift of understanding what computer technology will be developed. Computer science absorbs a lot of work, but this work has a high degree of disruption. There's no such thing as being able to do the same job for 10 or 20 years, so knowing which branch of information technology has more chances of profit and fruition is something that can't be taught, but can be suggested by the everyday context.
In your opinion, is it very useful for a developer to follow the various meetings available (meetups and #AperiTech), or is your own computer enough, without having to keep up with other people through networking?
In my opinion, everyone decides their own destiny. Generally it's easy to answer this question: it's absolutely necessary and beneficial. I'd say that it's almost pointless recommending it to the modern developer because their training comes from a perspective of integration and collaboration: there are so many groups where you can talk about anything. Just think of Linux itself, the most used operating system in the world, which originated from a shared project. Looking back over the last 20 years of the history of personal computer science, it's certainly the attitude of interacting with other people, of getting infected with other technologies, that's been its salvation! Computer science is no longer a single subject like it was 20 or 40 years ago: technology's producing a huge amount of things to learn, which can't be picked up just during study or through the usual channels. I'm in favour of this perspective of total communication and community integration.