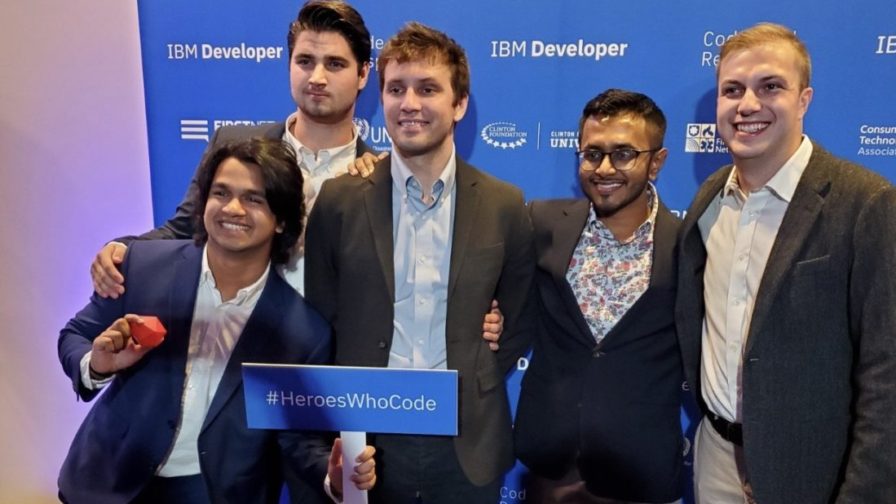 The winner of the 2018 Call for Code Global Challenge, Project OWL, is a hardware and software solution that uses Wi-Fi to bring simple communication to civilians that are disconnected from a global network because of natural disasters. OWL, an acronym for Organization, Whereabouts and Logistics is a mesh network solution providing offline communication infrastructures that can be set up quite easily in disaster areas, where traditional communications are offline.
The team behind this project came up with the idea after hurricane Maria had hit Puerto Rico. Project OWL was then successfully field-tested in Puerto Rico later that year as part of the Global Challenge, that supports the winning team to build further on their project.
What is truly inspiring is the fact that the founding team was made by very young developers, including Project OWL's current head of product development, Timo Wielink, a 20-year-old Dutch software engineer and developer.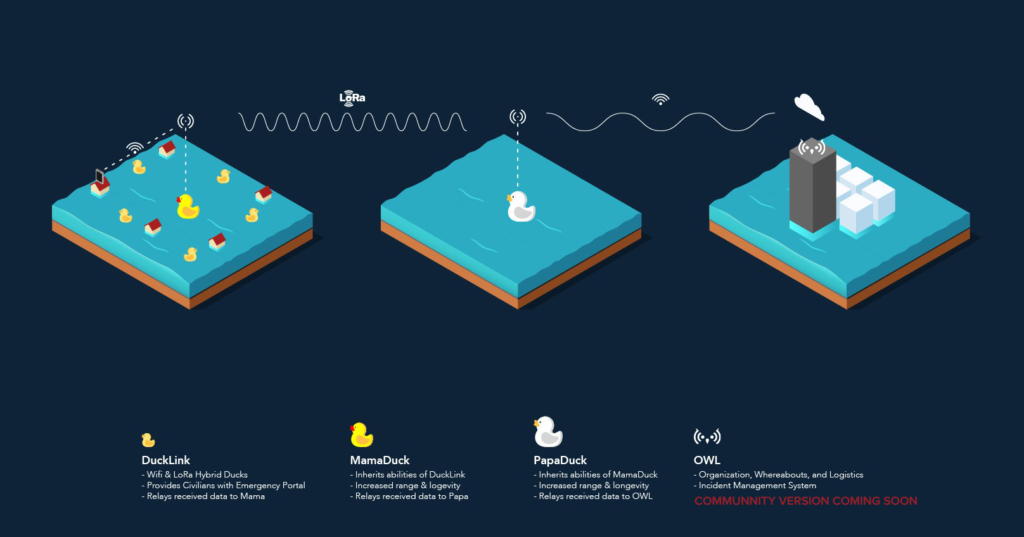 Global Challenge Hackathons, where competition leads to friendship
"I decided to join Project OWL because I knew Bryan Knouse, our CEO, Timo explains to us. I first met him at a hackathon in Boston. We had a very interesting talk, and we ended teaming up to build an application to submit for that competition. I was going to focus on design while he would focus on the back-end. We actually won the competition, so we decided to keep working together as a team in future competitions.
When Bryan Knouse decided to join the 2018 Global Challenge Call For Code, he made a team with some of the people he had met during other hackathons, including Nick Feuer, our current CTO.That's how Charlie Evans, Taraqur Rahman, and Magus Pereira also came on board. I was finishing my semester at college in Holland at that time, so I started helping them out and later on I joined the project full time. ".
No ugly duckling
Then Timo goes on: "Project OWL's name was inspired by nature. Everyone knows that owls are predators, but not everyone knows that some owls hunt for ducks. We saw parallelism between owls, who can have a wide-range view of their surroundings while flying, and ducks, who spend a considerable amount of their time in the water".
Project OWL is a hardware and software solution that brings connectivity back to those areas that got struck by a natural disaster. Its network is made of Ducklinks, small self-powered IoT devices. Ducklinks create a hybrid WiFi and LoRa network that any consumer electronics product can connect to automatically to create a web page where an isolated person can share information such as their name, position, immediate needs, and a short message. The information is then sent to First Responders.
To make this possible, Ducklinks communicate to a base hardware unit of the ClusterDuck network, the MamaDuck, which in turn connects to the PapaDuck. Each step of the network brings along an increase in the longevity and extension of the network. PapaDucks finally reach an infrastructure like local or emergency organizations and logistics.
The overall network infrastructure is supported by an OWL providing mapping and informational tools to maintain awareness and activity on the network.
Millions of things at the same time
"My role in Project OWL", says Timo, "is like in a typical startup: millions of things at the same time!", laughs Timo. "My main focus is product development. I am responsible for designing and prototyping our Duck Devices. This can include 3D modelling, software engineering, and manufacturing. Besides that, I do a lot of graphic design for our public website, Clusterduck Protocol and more".
The Clusterduck protocol is the communication software developed by Project OWL, then donated to the Linux Foundation to become a full-fledged open-source project. Where there is openness comes a community. "Currently, we can count on 400+ people from our open-source community, but we are still looking at growing both our team and community, depending on what opportunities we get over the next few months".
As the development progresses so the number of functions in OWL increases. "We gather all kinds of data with our Duck Devices. An example is our weather data in Puerto Rico. We collect temperature, humidity, pressure, and air quality to give very specific weather information for different parts of the island".
After the hurricane in Puerto Rico, in March 2019 a pilot project kicked off with IBM for a large-scale network, with over 60 ducks spread across 120 square miles. Currently, half of these ducks are still deployed and provide a backbone communications network for when the next natural disasters strikes.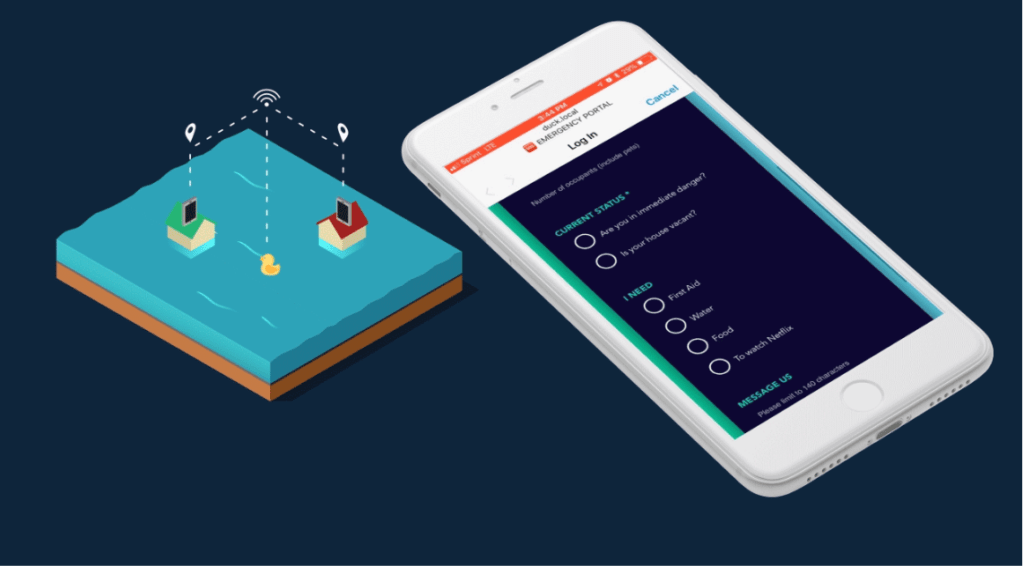 Looking for clients
Project OWL is like many other startups in the early stages when funding and growth are critical to success. So, although the team is willing to welcome venture capital investments, the team is growing their business focusing on Governmental and enterprise areas and are also exploring funding opportunities from Emergency Response and Energy areas around the world. A new Global Challenge!
"Let me draw a quick overlook of our immediate timeline", Timo points out. "I have at least three goals:
To improve and update the DuckLink devices: in the near future, we want to improve our hardware and software. Together with the open-source community, we are looking forward to improving the firmware and adding more capabilities so the Ducks can be used in more areas around the world. We are looking into different technologies to make more durable and sophisticated DuckLink devices;
To finish the Beta of a Data Management System with our open source community to use with the ClusterDuck Protocol;
To continue working with our community in Puerto Rico to expand our network on the ground."
The ClusterDuck Protocol
The DuckLink device is made out of a battery, charging system, antenna and an Arduino board based on the ESP32 microcontroller. The DuckLink includes WiFi and Bluetooth to connect to your devices. And it uses LoRa, a long range radio technology, to communicate between the Ducks.
Some attention is also being dedicated to the working frequencies because LoRa is not regulated in the same manner everywhere, and this involves working frequencies for legal and administrative issues.
The original project started with parts that were easy to find on the market. But over the last year Project OWL has improved and developed their Ducks to be handheld, waterproof, and durable for different scenarios they might be used in.
"The protocol is the firmware that runs on the Duck Devices and is there to give developers, civilians and first responders the possibility to build their own mesh network for testing and communication in the areas they need it most, Timo stressed out. The community is able to buy their own off the shelf parts and upload the protocol to their devices. With the open-source community, we want to keep developing this protocol to bring communication to areas where it is most needed".
Hans Boef, Call for Code lead Europe, told us: "What I liked the most about Project OWL's team was their focus on engineering the best possible solution to help people. They frequently met and partnered with other teams as well. This often happens among the Call for Code teams, but they paid greater attention to this aspect".
Hans Boef's expertise is in AI and IoT where he supports developers in their day-to-day coding challenges. "Next to my role as a developer advocate I'm the Call for Code lead for Europe, where I coordinate all our activities to help the teams in this challenge. What's new this year is the increased focus on mentors for every team. When you would like to start the Call for Code challenge and could use the support of a mentor or coach, we're available to connect you to one of our mentors. In the 2019 edition of Call for Code, the number of participants exceeded 180,000. Such an extraordinary result!".
Global Challenge: Your time has arrived!
Of course, these are strange and difficult times for everyone. IBM and Codemotion hope that this new Call For Code challenge will help find technological solutions to face and overcome these big challenges with the same effectiveness that was proven by the most recent winners, Project OWL and Prometeo (2019).
"This year we added a second challenge to the contest", confirms Hans. "I expect a lot of interest for the COVID-19 challenge and that's why we are preparing starter kits. That is some basic code to give to all participants the same start". Here they are:
"At the same time, there are many teams already working on our first proposal about global climate change", Hans Boef concludes, "and more will join later on because it's still a matter of the utmost importance for all mankind". For the Climate Change challenge you find the starter kits here. The 2020 Call for Code Global Challenge invites developers of all kinds to find a solution to cope with climate change and the Coronavirus (COVID-19) emergency. The best solutions come from teams of about 5 people of which only one or two members are developers/designers, while the others are experts in the main topic. So developers have the opportunity to work on real needs from the very beginning rather than starting from a general idea.