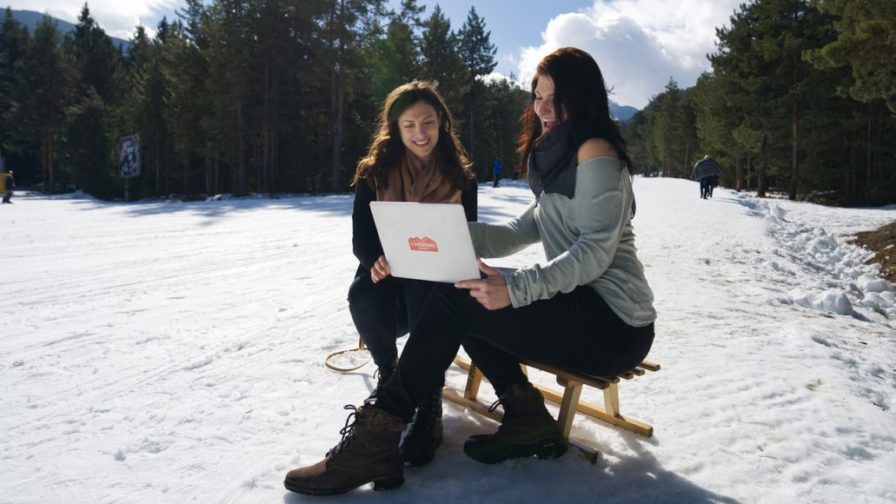 Being a professional developer certainly demands abstraction, passion and creative skills.
As artisans, we create ad-hoc products hypothetically usable by people all over the world, whether that is a web product or a company's internal software. It is a profession that needs a stress-free and peaceful mental environment and people who love to write code as a poet loves to write poetry.
This pandemic has taught us one thing: performance and quality of work often does not necessarily improve by working 9 to 5 in the office. Removing this requirement, the quality of life of the worker, and their physical and mental state improve, as they are not obliged to spend two hours per day commuting to the office, frequently in busy traffic or on crowded public transport. Away from the office, workers find themselves much closer to loved ones, with more free time, and therefore feel more serene and relaxed.
Pre-pandemic, although small, there was already a category of developers who worked 100% remotely while travelling: the digital nomads.
Who are these digital nomadic developers?
Developers by profession, these digital nomads have decided to adopt a more or less minimalist lifestyle, perhaps renting their house out, or selling their car, and have chosen to combine their passion for travel with coding by travelling the world and working remotely.
Most nomadic digital developers are between 25 and 40 years old. Whether in the short or long term, they have become tired of living their lives in a home-to-office routine – a cage that for many people can have a destructive psychological or physical effect on the person and on the work they do.
Digital nomads feel free and happy buying a plane ticket in place of a pair of expensive branded glasses, for example. They choose a lower-cost life, usually based on experience and physical and mental well-being, although this can vary.
You might meet nomadic digital developers on a bus that drives from Bangkok to Chiang Mai in 10 hours. Equally, they can be found co-working or co-living on a Bali beach, or dancing in some place in Medellín.
These travelling developers have decided to write code in locations where they may not not necessarily have two or three screens in front of them, or a footrest. Instead they embraced constant travel, exchanging their ergonomic chair for a hammock or a personal space at a table shared with other travelling workers.
Most work as freelancers, but many are also part- or full-time employees. Travelling as much as they can – perhaps six months of the year, or in some cases, constantly, they change city regularly – every week, or after a few months.
Immediately recognizable them in bars, they often wear noise-isolating headphones to produce code for a few hours, then take a break for a dip in the sea or a nice plate of fresh tropical fruit. After finishing work, they might join other digital nomads for a beer.
Often working in different time zones and in low cost places, their quality of life is improved by spending less and having more free hours to themselves in the sun.
The typical day of a digital nomad
A digital nomadic developer's typical day very often starts with the alarm clock around 9 a.m. in a hostel geared towards digital nomads, or a co-living bungalow overlooking an ocean.
Total freedom to manage your time makes it possible to sleep more or less as needed, depending on the activities planned the day before.
Sleeping until lunchtime is one option, as is a dawn wake up to go on an excursion, or putting on a swimsuit and spending a few hours on the beach with a book.
Lunch is usually low-cost local food, often fresh fish or Asian cuisine.
Digital nomads often organize their day in order to be available for any stand-up meetings or retrospectives. Most work from 4 to 6 hours a day, at other times perhaps 8 – 10, but the following day they may change city, state, or even country, or just take a day off.
When the day's work is done, digital nomads can be found in a Bangkok bar playing billiards or eating Tapas with Sangria on one of the Canary Islands.
What a nomadic digital developer is not
It's a common perception that anyone who is not in the office in front of a screen working eight hours a day is probably not doing anything.
However, this perception couldn't be further from the truth. In fact, those who have been digital nomads for some time, and not just to 'find themselves', are likely to have more skills than most when it comes to managing time, tasks and deliveries. For a digital nomadic developer, being good at time management, working towards goals and trying to meet deadlines in the best possible way are all highly important factors.
The mania and desire many superiors demonstrate for control and constant monitoring demotivates people from working towards an objective, following the classic tenets of smart working. The situation is even worse for a person who wants to work towards their objectives but is travelling. It can be difficult to give the impression of being a serious person to those unfamiliar with the digital nomad lifestyle, even as someone who does their job well, meets deadlines, and brings their goals to fruition.
The digital nomadic developer is not a person who wants to be on the beach at the expense of work and colleagues. The fact that they can have 4-5 hours a day completely free to be able to go to the beach or to visit a temple does not have a negative impact on their activities as a developer. On the contrary, being able to enjoy the day in a more relaxed way makes the mind much freer and more peaceful, resulting in better work better on projects and tasks.
Long-term life as a digital nomad
The developer on the move has chosen to broaden their network, their horizons and their job and life opportunities.
Very often, the path to becoming a digital nomad starts with working as a freelancer or finding a position outside your country of origin. As years pass, moving between coworking situations, hostels and other states, you can enlarge your work network enormously by meeting people from all over the world who do the same job, or important managers who also work on the road.
It's often possible to find much more time to work on innovative ideas and startups, either with other travellers or on your own. The low-cost life means you don't necessarily have to think about earning a lot of money, but can regard time as your wealth, so following your professional dreams and passions can be a reality.
There are many developers who start working as a freelancer in order to be able to live on the road and eventually become the CTO of a startup with quotas, and fixed salaries, and maybe even a house on the beach in which to spend part of the year or to rent out to make an income.
Being able to set aside more and more money each month and being able to spend as little or as much as you want also allows you to plan for your future by making passive and semi-passive income. There are many people who sell e-books, coach, teach courses, have YouTube channels, rent houses, and invest in banks, for example.
Earning money may not be the immediate goal of every digital nomad (travelling low cost, the bare minimum is enough), but they think of living in the "here and now" and planning for early retirement.
How to become a digital nomadic developer
The biggest difficulty to overcome is the mental block of quitting a permanent position, knowing that, in the coming months, they will find themselves in who knows which part of the world, working as a freelancer or on a full-time remote contract, without knowing how to organize their time and days in a new place.
It's important to enter into the state of mind that the professional developer is highly sought after in any country. If you realise that while travelling you will also have the opportunity to speak English every day and to broaden your work horizons all over the globe, the likelihood of never being able to find a developer position again is practically zero.
Get it into your head that this will be a life experience, perhaps repeated periodically or perennial, and that the main objective will be time rather than money, initially.
Taking back time and freedom is the main focus of a digital nomad – focusing on freedom, and not necessarily on a coveted career, millionaire wages, or working assiduously 10 hours a day, 7 days a week.
Working more and more will not necessarily serve to create a glorious career or to buy you a villa with a swimming pool. A developer's work is based on objectives rather than hours worked. Setting goals in both the short and long term is a very important factor for economic stability and consequently, creating wealth while (obviously!) working less.
Maybe one day you will meet a millionaire manager on a beach who wants to involve you in an idea or hire you at a very high cost. That villa with a pool you dreamed of? You might be able to buy it in a few years, working half the time on a beach compared to working fulltime in an office.
Before leaving, be sure you really want to do it. If you are not used to travelling alone, it's likely to take some time to get used to it.
Travelling alone does not mean being alone. You will always be in contact with colleagues and employers when you work. You will always be in contact with your friends and relatives, and every day you will meet people in hotels, hostels, pubs, and on beaches, – travellers like you, those who are working or just passing through, or maybe local people who want to chat with you in English.
If you are afraid of being alone, there are many applications that organise events, meetups, appointments, and chat meetings in almost any country you might go to.
Before leaving, especially if you want to become a freelance traveller, be sure to set aside enough money to last at least six-eight months: this will allow you to have the autonomy and security to still be able to live and travel when you do not have enough active income.
While building up this reserve, organize your future as a digital nomad. Look at the most interesting destinations for living well and spending little. Find co-working spaces and co-living accommodation with an internet connection.
Find out about visas, mandatory vaccines, quality of life and local customs.
You will not be a tourist, but a sort of fixed-term resident who has to live and work for a period of time in one or more cities, so do not go unprepared.
Travelling will open your mind and expand your horizons. You will feel free to travel and work when and how you want, you will be able to organise your time as you wish based on your work objectives, and you will feel very liberated.
Do not carry too many bags. The secret is to travel light. The ideal is a large backpack that can carry everything. If you need to buy something, you'll almost certainly be able to buy it without problems locally.
Becoming a digital nomadic developer will change your life – leaving the usual routine will eventually give you a feeling of freedom, discovery and adventure.
Working and living stress-free and with a free mind, you will forget about long-term planning and will switch into living in the 'here and now'.