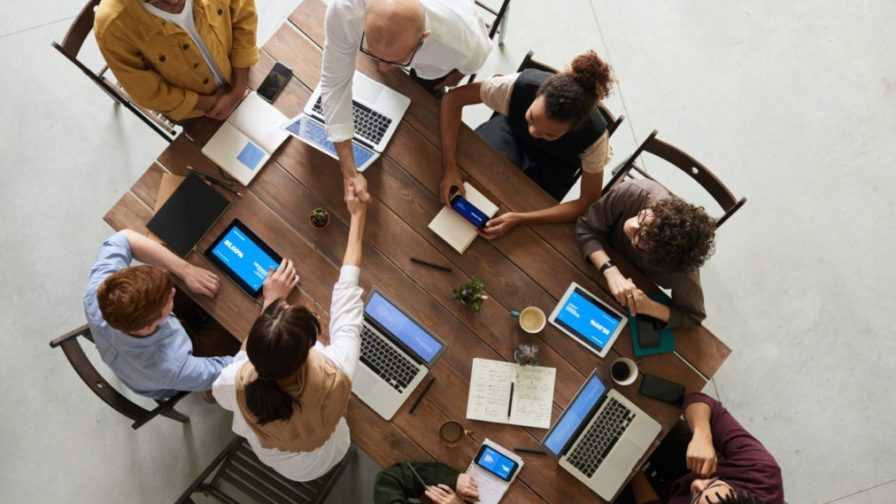 We're in a time where many companies have moved from the physical to virtual offices in response to COVID-19. Even if you've worked in a company with distributed teams, it's more often a combination of a central office and remote developers based in another country.
An entirely remote team can require new ways of communicating, challenges to building and relationships within the team, and connecting with your end-users. Thus, leadership in developer teams has never been more critical. You, as an aspiring CTO, must take this into account.
The transition from developer to manager
Whether their actual title was CTO, team lead, or engineering manager, most people have a tale to tell of working somewhere with a bad manager.
A team with a bad is characterised by low morale, high employee turnover, and feelings of disengagement. But being a good manager is not necessarily intrinsic.
A degree in computing science will treat you about group work, but won't necessarily teach you about interviewing and selecting new team members, being a healthy team culture or providing one-on-one feedback.
Most managers will have transferred from a role as a developer, QA tester, or another hands-on technical role to the position of manager, and the transition isn't always an easy one.
Pat Kua suggests that part of the challenge is the nexus between technical and interpersonal skills. Providing a strong technical direction involves establishing a technical vision, resolving technical disagreements and managing the technical quality of team deliverables.
However, it also includes people development: 1-to-1s with people focused on feedback and career development and organising activities to build psychological safety and foster trust.
Importantly, those in a leadership role are also responsible for meeting with stakeholders outside of the team such as other departmental managers, keeping a good information flow and essentially providing information between other parts of their company and their team as appropriate.
More empathy and greater connectivity are critical to good leadership
While we may not be able to meet face to face for some time, interpersonal skills are crucial as we interact more on a remote basis. The ability to read the social cues and emotions of others via video, slack and written communication is essential if people are to feel understood and connected.
It's equally important to consider how you build a sense of team cohesion when you might not be able to go out for a few beers. For many people, going to work is also about socialising and feeling connected with their colleagues.
While everyone wants work that is interesting, challenging, and rewarding, they also need fun!
Consider organising virtual events for fun such as gaming, wine tasting or some other kind of virtual event. The options are endless, and even brainstorming them with your team could be a great way to start conversations and get to know your team better.
Value psychological safety and shared values and ethics
Euan Finlay is Senior engineer at the Financial Times and experienced at managing distributed teams.
He notes, "There's a lot to be said for the value of psychological at work in distributed teams. I think it's the ability to show an employee oneself without fear of negative consequences of self-image, status, or career. For example, do your teams feel comfortable asking questions in public? Do they feel that they can provide honest feedback, or raise concerns that they might have?"
Great leadership help create strong psychological safety.
A culture of trust and safety is a very difficult thing to build. But it's also a difficult thing to share, particularly when new people join the team.
"People will learn and pick up culture by observing how people, other people on the team behave and react. And this is much harder for remote staff when you don't have that face to face. It's a good idea for everyone, not just remote teams to meet, discuss and agree on a shared set of team values that they believe are important."
In a time where skilled developers are highly in demand, workplaces with clear and compelling company values can be a deciding factor for why one developer choosing one role over another.
Many developers are looking for companies that align with their personal values regarding the ethics of the technology they build how the end-user will use it, and what a company stands for.
These values of your company need to be actually embedded within an organisation, not just written in a mission statement to appease investors and job applicants.
Thus, tech leadership needs to ensure such values are apparent in your own department or team, from diversity and inclusion in hiring to critical thought into the ethical questions of their product offering. These may evolve and change over time as companies evolve and grow in size and their stage of product development.
Remote work requires new communication styles by team leaders
Dan Persa is Engineering lead at Zalando, he recalls one of the hardest things about the transition to a leadership role:
"You will spend ALOT of time at meetings. According to Dan: "For an introvert like me in the first month, it was really hard to keep the pace. I was getting home with my energy drained, not wanting to speak with anybody for the whole evening. The good news is that with time I got used to having many meetings a day. I also got better at choosing the meetings I participate in, as well as the meetings I organise."
This is even more crucial with distributed teams, as many people are finding it hard to maintain the level of meetings they are accustomed to in-person when the only option is using Zoom or another virtual tool.
Many people – including you – may find virtual meetings far more draining, with greater challenges of focus and concentration. Thus, planning meetings with a clear purpose and definable end is crucial.
Alex Warren, Engineering Manager at AlphaSights, suggests that you should avoid meetings wherever possible, favouring collaborative documentation, emails and slack. He also stresses the importance of asynchronous communication.
"Asynchronous work is where people participate at different times. And they're not necessarily actively waiting for incoming messages and replies, they may go off and do something else in the meantime, and get back to you an hour later, a day later."
Want to launch a developer event despite the challenges of COVID-19?
If you want to know more about how modern technologies and tools can support you for – and during – the organisation of a virtual event, don't miss this article showcasing the best tools we used to host our online conferences since the COVID-19 outbreak.