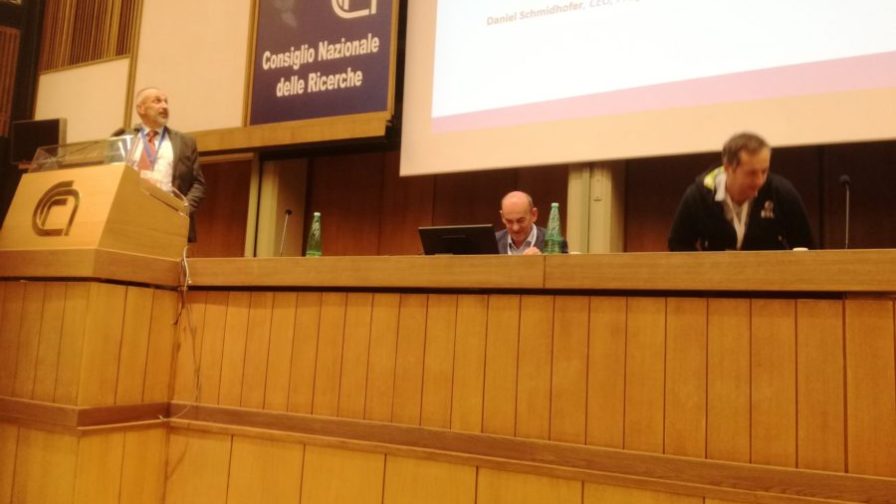 Media and Entertainment in the 5G era are an ecosystem of ecosystems ruled by one or more AIs that will choose the best videos, and e-sports contents. Mixed reality will change entertainment forever.
Trento University has recently jumped over Siena to become the best university in Italy. According to Censis researchers, in fact, international viewpoint and occupational results are at the highest level, enabling the best overall result in Italy. This little university, in the range of fewer than 20,000 students, is also paving the way for multimedia enhancements. It's no surprise that they have good knowledge and strong use cases on 5G changes to the media industry.
Let's start with VaaS, video-as-a-service
Francesco De Natale, Computer Science professor, University of Trento, introduced the evolving media landscape during the 2019 5G Italy event in Rome.
"5G is an enabling technology in communications; at the same time, it is a meta-enabling technology also for big data, near-real-time analytics, and VR/AR".
There are new exciting news for all 5G developers.
The basic element for today's business models is still, strongly, the video content. "Video accounts for 60% of all mobile bandwidth consumption today, and it is expected to grow to 80% in the next 4 to 5 years". Mature ecosystems built around video consumption will create big market opportunities.
The structure of new 5G wireless technology is very close to cloud computing one, so there is no surprise if video is expected to be 5G's killer application. This will be the business model after the launch of the service, while other models are being developed for new services.
5G will be the enabling factor for new services and new formats in content creation: users ask for ever-increasing quality and personalization of services in content consumption.
Three main characteristics will help meet QoE expectations: network slicing (guaranteed service level), bandwidth (higher quality, higher diversity), and latency (faster interaction). Thanks to the new level of service, 5G will empower other mainstream technologies: data science and AI (content/service personalization), IoT (smart environments, gaming), and VR/AR (immersive, hyper-realism) will become the pillars of the new mobile entertainment.
Lightweight broadcasting
Portable broadcast units are emerging as the new standard. We can see the main enabling factors and breakthroughs: huge bandwidth, coding (HEVC), UHD (4k, 5k) on mobile, with the help of network slicing, will allow for easier deployment. At the same time, multiple-camera streaming, both multiple-audio channels, will be at disposal at studio quality in full mobility.
This new approach needs to find a place in the new complex environment. "Contents are set inside an ecosystem, or a set of ecosystems, managed by an AI", summons Luca Balestrieri, Platform and Distribution Director, RAI. "We are not anymore experiencing disintermediation, but Content as a Service with extreme fluidity, guaranteed by the lowest latency, in all physical environments such as home, work, city".
Revolution! Sports in 5G
Sport and games will merge in a new model of reality, leveraging new technology and breakthroughs.
Thanks to 5G, gaming will be empowered by its enabling factors: massive machine communication, IoT, and low latency (< 25ms). Its breakthroughs add true realtime interaction to immersive VR/AR, moving towards a hyper-realistic experience.
The technological enabling factors are numerous and very challenging: camera networks, 360-degree vision, realtime access in both fixed and mobile connection, intense data analytics.
A real revolution will be offered by software publishers. Among the new breakthroughs we will see multi-view personalized access, realtime statistics, live replay, chat, VR/AR from home.
e-Sports: 5G will rule out PA mistakes
We are behind on e-sports in Italy, but we are ahead on the mobile for which the overall system is fine. If the infrastructure grows, so does use. Also if Italian rules don't consider it a great chance, 5G market penetration is a great opportunity to override this and make a great business.
"If you look for success, you have to start from the bottom, working with your community", explains Daniel Schmidhofer, Ceo, Progaming Italia. Most success games come from community-based changes to an original software: this is true for League of legend multiplayer online battle arena (MOBA) game in the three-dimensional isometric perspective, Dota (Defense from the ancients, inspired by Warcraft III), and Fortnite itself. Even Counter-strike is a modification of a previous game, Half-Life.
"The best games in circulation today have developed in this way, with game modes that come from users and not from software houses", is Schmidhofer's lesson. That's why Progaming are pushing e-sports in Italy, where the Public Administration doesn't see them as a lever for industry and working places.
"We work with software publishers, exposing APIs that make us available to interact with the game but also with specific information on scores and specific occasions". Data are used to increase players, streamers, and all business key points.
The publisher provides the APIs and we extract data and relevant links. Bees can also be developed by them (alone or with us), developed with us or by us, or standard APIs.
Inserting virtual cameras is another success keypoint. Fifa is also exploring the possibility of developing new types of football games, perhaps mixing real and mixed realities. Experimentation has no limits!