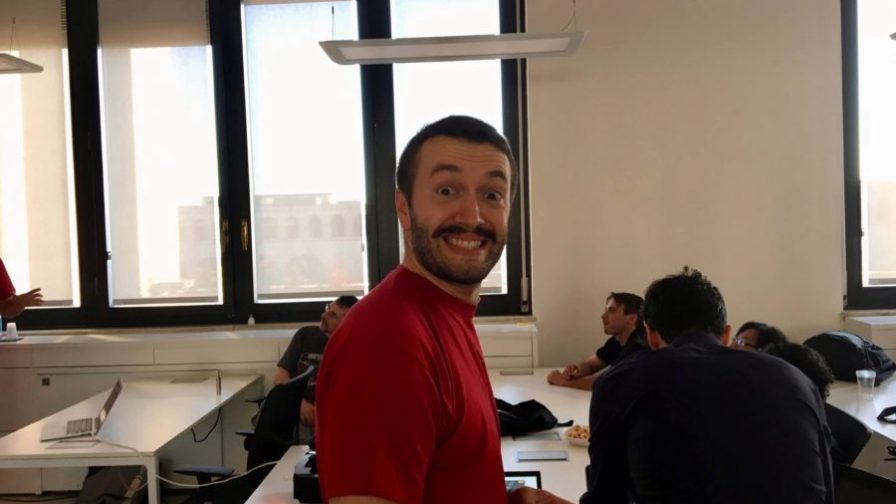 Hello Luca, could you tell us a little bit about yourself?
Hi everyone, I'm Luca Lanziani. I'm 35 and I studied computer engineering at Roma Tre University. In 2010, the year I graduated, I started my career as a software developer. I changed jobs several times, passing from the back-end to the front-end, and now I lead a team that develops infrastructure technologies that support the application. I have various hobbies besides computer science: music, motorcycles and sport. I've always been a member of communities and now I enjoy organising the RomaJS meetups.
What do you like about your job? Could you ever change it for a completely different job?
This is definitely the job I would like to do all my life because it's a passion that began when I was 12. I liked doing things from scratch and only programming gave me the ease with which I could do it. I would never change my job, although I do have another passion, which is teaching, and perhaps I'm a member of the community just to pass on my knowledge.
We all know that the tech world changes fast. Share with us some tips on how to stay up-to-date on the latest technologies.
I changed my method. Initially, I relied on magazines and books, because when I started on the internet it wasn't always there. With the internet available I think keeping up-to-date is quite simple; you have unlimited access to information. I haven't done online webinars because they require constant effort and too much time. I keep getting inspired mainly by books, in digital format these days.
Some time ago you gave a talk entitled: "Hack together – a basic Node.js interface for a smart outlet". How would you describe this talk and why did you do this specific talk?
I did this talk for two reasons. The first is that at RomaJS meetup it was natural to talk about a technology that could be linked to chatbots, and then because when I renovated my home I decided to use these smart devices that we've been talking about so much lately. It's a technology that's getting more and more popular now and I'm interested in it both on the professional and the personal level. Automation within homes is happening very slowly due to the high costs. But I think the cost will drop quickly, so I think that in the next five years there could be massively increased in demand. I chose JavaScript because it has several advantages: it's asynchronous, it knows how to respond to signals, it has the application library already integrated on the network. These features were perfectly suited to the task I wanted to carry out: these devices have a network interface, speak through a network protocol, are asynchronous and interact through signals.
Do you think that many people could be interested in this subject? Are you going to prepare more talks dedicated to this topic?
I'll certainly do more specific talks. This one was on a single electric power strip. And there's a lot to say about automation because you can do so many things. Regarding the use of JavaScript in this area, I think it's absolutely worth investigating because it fits perfectly with this task.
What advice would you give to people who would like to join the world of development?
Curiosity and creativity must never be lacking. If you're not curious, you'll never see new things. Technologies are moving at an impressive speed, they always evolve and if you're not curious you get left behind. Creativity, on the other hand, is important because there will always be problems to solve and it's not always easy to find the solution online, even if Google is our best friend. So in the cases of problems which haven't been solved by others, creativity is needed to find the solution without abandoning study, which always helps keep you up-to-date and better understand what kind of problems you're facing.