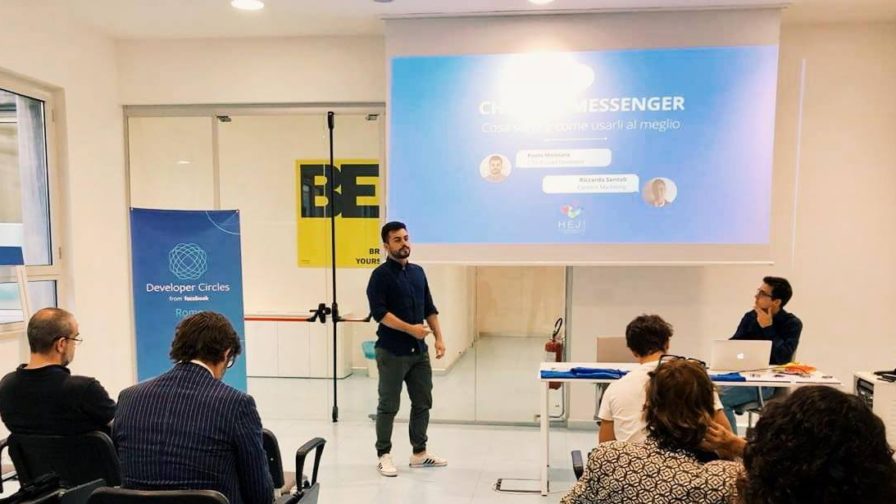 Hello Paolo, let's start with a simple question: could you tell us something about yourself?
I did my studies in computer engineering and I got in touch with AperiTech through the Facebook Developer Circle Rome community. I'm the CTO at Hej! which is a creative agency which deals with creating artificial intelligence and chatbots. I take care of the whole technical operative part: analysis, design and development. I'm a passionate gamer and I also enjoy virtual reality. I love swimming, I play tennis, I go to the gym regularly and I also like running.
Could you tell us about how you entered the tech world? Have you ever thought about changing your profession?
I started working in a web agency where I did JavaScript development as an intern. Then I threw myself into the world of startups, and on this occasion my true passion for technology and programming was born. After this two year experience as a CTO in Tutored, which I'm keen on not only for the technical part, but also for business development, my interest in artificial intelligence and chatbots began and I found this new job position. I think what I'm doing is the right thing for me. I love solving problems by applying my knowledge.
At one of the Aperitech meetups you gave a talk entitled "Facebook Messenger, what are the chatbots and what can they offer?". Could you tell us why you decided to present on this topic?
I got familiar with this technology and it's the opposite to what a traditional website was, something static where the user finds themselves, without knowing how to move around. The chatbot technology instead allows you to get a lot closer to the user, letting even big brands have more contact with users and, in a certain sense, dialogue with them and get information through the conversation. It's a very strong technology at the moment: we work through Facebook campaigns in which we advertise our chatbots, which have information inside that our client wants to get to their final customers.
Would you advise companies to move towards chatbots in order to improve user experience? Do you think we can expect some kind of evolution related to chatbots?
The company where I work deals mainly with Facebook. When I was faced with the challenge of creating a talk about what we do in the company and what Facebook can offer, I studied, together with another colleague, a presentation explaining the potential of chatbots and how they can be used. I'm sure there will be others, when there are significant changes.
In your opinion, what is the best way for a developer to stay up-to-date? Is it better to be an active member of a community, participate in tech events, or do you think it's more effective to follow webinars without interacting with the community?
I'm more oriented towards the talks than towards the webinars. Through the talks, people get to know each other, they increase their knowledge and become curious about the subject. After following the talk, you can be ready to study in depth some issues and then work on it.