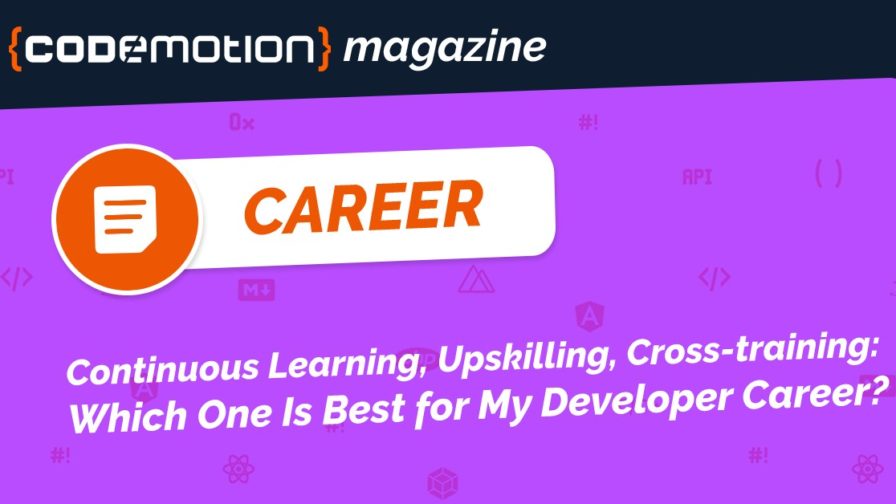 Nowadays, any developer can attest that technology is evolving at a rapid pace. Over the years, skill gaps are growing. There is a need for developers to cross-train, upskill and engage in lifelong learning if they are willing to transform their career and emotional intelligence.
We have crafted this article in partnership with Adecco to guide junior and mid-developers and make sure that no one is left behind on their career path. Learning new development skills is fundamental, but not a simple task at all.
Furthermore, different countries have their tech skills requirements which are often related to their level of technological advancement. For instance, in Italy, Adecco recommends developers to learn skills that are in higher demand, such as front-end developers, mobile developers, user experience designers, back-end developers, cloud architects, and engineers.
Luckily, there are learning methodologies you can leverage to increase your learning capabilities. As a developer, when you upskill, you build on your existing skills in a particular domain to a higher level of proficiency.
Constant learning, upskill, and cross-learning have become popular ways to develop your capabilities and optimize resource utilization in the tech world.
These learning methodologies are effective whether you are a junior, a mid or even a senior developer. Watch Dan Persa's as he walks you through his journey of switching roles, from a Senior Software Engineer to an Engineering Lead. He will also share his experiences, learnings and challenges during his first year as a lead. He'll share his mistakes, learnings and early wins.
Differences between continuous learning, upskill & cross-learning
Constant learning refers to the practice of acquiring new knowledge and competencies on an ongoing basis to expand your skill sets
To upskill is to develop more advanced skills and knowledge either through training or additional education
Cross-learning refers to training to be proficient at different but related skills, jobs or tasks so that you can become professionally well rounded.
What is continuous studying?
Continuous studying is the constant expansion of knowledge and skill-sets through learning. It forms a critical part of your personal and professional development in the attempt to avoid career stagnation and attain your full potential.
Why is continuous studying important?
Learning is a continuous process that keeps one's body and mind active. Constant learning is vital to our existence. It is a crucial tool for every career and organization.
Learning new skills helps people to adapt to any changes and keeps you relevant. Below are some reasons continuous studying is essential.
Nowadays, regular changes are happening in the world of technology. Therefore, for developers not to be left behind and function effectively, they need to continue studying to keep at par with emerging trends and adapt their skill-set where necessary. That ensures you remain relevant in the industry and valuable to your employer.
When you are always learning, your performance keeps on improving. You develop new skills and knowledge that increases competence in your job. Furthermore, improved work performance influences future promotion and better incentives.
Competence boosts your confidence
When you are constantly learning new skills, it gives you a feeling of accomplishment, fostering your confidence in your capabilities. Also, it makes you feel more prepared to take on challenges and explore new ideas.
Continuous studying helps you unveil new ideas and develop innovative solutions to your daily problems as you carry along with your work.
When you engage in constant learning and broaden your skills, that also boosts your profile; updating new skills and certifications on your resume will make you stand out during an interview. Even if you don't add any credentials, you can edit the skills and competencies gained on your resume, which will go a long way when looking for a job or even a promotion.
Also, continued learning leads to continuous improvement, which promotes your career growth. Hence, you will start receiving recommendations from managers and even colleagues when you want to switch jobs.
Benefits of constant learning for developers
Programming is an ever evolving industry where tools keep on changing and different languages become popular every day. Therefore, for developers to remain competitive within the sector and avoid becoming obsolete, they need constant learning.
That will help you grow through expanding your skill-set. Below are some benefits of constant education for developers.
Constant learning and professional development
One of the major benefits of continuous studying for developers is that it helps in professional development. Since software development is a rapidly changing industry, investing in a constant learning culture adapts software developers for continuous delivery by overcoming the skills and knowledge gap that may happen over time.
Failure to stay up to date with industry trends and modern skills, even after graduation, can leave you behind. However, when you keep on learning, you acquire skills and knowledge that make you a more valuable employee and contributor in the workplace, which results in career growth.
Continuous studying also allows developers to adapt to change, improve their problem-solving skills, and attain their full potential.
The continual learning model is a visual comparison between traditional and constant learning. This model helps the user to learn from a stream of data. It is the human ability to gain skills continually and transfer knowledge.
This model uses data in a production environment and keeps the model based on a new action. The models help individuals to have self-initiative and take on challenges.
Nonetheless, once you have completed your training, you must choose a continual learning model which gets you the best performance.
Continuous studying environment
For developers to stay competitive in today's global marketplace, it means that they need to be innovative, ever-changing and adaptive. To achieve that, you need to have the necessary knowledge and skills, which is only attainable through learning.
When you adopt a continuous studying culture, it makes you more productive and helps you mould your career advancement. From seeking out new training to connecting with more experienced professionals on LinkedIn, embracing a learning culture will be great for your personal and professional development.
Continuous learning opportunities
Continued learning has helped developers keep up with fast-paced changes as it offers endless opportunities to approach these changes. It also gives different perspectives on what you already know.
Lifelong learning also allows developers to unveil new ideas and develop innovative solutions to modern problems and conflicts they encounter as they deliver their services.
Microlearning
Software developers should try microlearning too. Microlearning is a holistic approach to education focusing on small learning units with sufficient information to assist learners attain their goals.
This learning procedure is commonly valuable for instructional design and the eLearning realm. The approach improves focus, supports long-term retention of information, creates engagement, and reduces development costs by 50%.
Why is upskilling so important?
In the fast-paced world of today, upskilling has become an essential concept. For professionals to be at par with the emerging trends in the industry and keep pace with technological advancements, skill enhancement becomes inevitable.
Nowadays, organizations are investing heavily to upskill their employees to increase employee productivity and remain competitive. Below are some of the reasons why up-skill is very important.
It makes you versatile and boosts employability
One of the significant benefits of learning new skills is that it boosts your employability. Organizations like to employ professionals that are both versatile and well trained. When you have a series of skill sets, it shows initiative to your employer, making it more likely for you to get more opportunities.
Increases upward mobility
To upskill yourself also increases upward mobility. When you learn new skills, it improves the quality of your work. Hence, when it comes to time for raises or promotion at your workplace, you are most likely to stand out since you will have some added training under your belt.
Improves future job security
Learning new career skills also provides more future job security. Upskill helps in improving your experience and gaining knowledge in your area of expertise. That enables you to become productive in the workplace and increase your performance. Therefore, if a company is downsizing and deciding who will leave or stay, upskilling yourself can help you. Employers mostly lookout for performance and technical skills possessed in making their decision.
Discover new career paths and passions
When you up-skill, you may end up discovering new career paths that will interest you. That allows you to switch job roles. Also, when you upskill yourself it helps unveil new passions that can be ideal for personal and career development.
Difference between upskill and reskill
The terms upskill and reskill relate to the learning of new skills. However, these terms imply a completely different meaning.
Upskill refers to the process of learning additional, new skills for one to be better equipped in their field of expertise and optimize their performance. While reskilling is learning a new skill set to enable one to do a different job.
Upskilling benefits for developers
Let's face it. Learning new skills for developers is no longer a nice perk but a must to stay competitive. The roles and responsibilities of software developers are changing. Nowadays, your duties involve not only writing code all day. Complex solving problems and keeping at par with new tools and methodologies is a part of it too.
Therefore, as a developer, upskilling will help you stay competitive, improve your performance, and keep you up to date with the emerging trends in the industries, including the current programming languages and frameworks.
In addition, a more robust skill set improves job security, boots morale and leads to effective deliveries, making your clients happy.
Upskill methods
There are many timely, cost-effective and even free methods you can use to upskill. Here are our top five ways you can upskill yourself.
#1. Volunteering
Volunteering is one of the great methods you can use to learn new skills-sets to sharpen your expertise. That is especially important for recent graduates who are job hunting. When you volunteer, you get a chance to adapt to an unfamiliar environment, use the skills you have and gain new insights. In the process, you meet new people, some with great experience, and you get to learn new approaches.
#2. Take online courses relevant to your expertise
One of the favourite ways software developers use to acquire new skills is by enrolling in online courses. These courses are usually short-term and are vital to your career in ensuring your skills are current and marketable amidst changing markets and competition.
Online courses involve using various learning tools – including free YouTube courses – and you get control over the pace and schedule of the training. Also, it is a convenient method of learning since you can access the training from anywhere and get the option of choosing the course you need.
#3. Attend virtual events, conferences, and webinars
Attending live virtual events is another great way you can use to upskill. Nowadays, tech companies such as Codemotion – yeah, you got me! – have transitioned to virtual events, giving you a chance to attend as many events as you may wish to learn from the experts and build your know-how without requiring you to travel.
From productivity seminars and graduate recruitment events to webinars, you can attend many virtual events that can help you learn one or two new skills to add to your skill-set.
#4. Explore online resources
There are many learning resources online that you can use for sharpening or adding on to your expertise. From online articles, YouTube videos, podcasts to tutorials, you can easily find complete information from experts that will broaden your skill-set.
#5. Find a mentor
Finding a qualified mentor in your area of expertise also helps you to learn. If you are a developer, you should look for a more experienced person in the industry; someone who can answer your queries or explain to you a problematic question from a practical perspective.
Interacting with such a person can help you gain so much knowledge and skills to broaden your know-how. Usually, developer communities are a great place to start. Sorry to brag again here, but Codemotion has gathered hundreds of tech communities across Europe that you should definitely check out before you leave.
Find your knowledge gap-areas to up your developer's skills
If you plan to upskill as a developer, you start by identifying your current skill gaps and working on them. The knowledge/skill gap refers to the difference between what employers in the industry want and the workforce's skills.
Some of the critical skills software developers possess are problem-solving skills, programming languages, teamwork skills, accuracy, and attention to detail.
But you should also always know current industry trends and new technologies and identify what you are not familiar with. Once you identify your knowledge gap, you can start filling the gap by selecting the upskill method that is most beneficial for you.
What is Cross-training?
Cross-training is also known as multi-skill training. It is the practice of learning to work on other roles or tasks that may or may not be related to your current expertise. That equips you with the skills necessary to perform various job functions.
Are you too specialized to cross-train?
Cross-train can help you grow your developer career regardless of your skill level. Although having one area of specialization makes a developer deliver quality performance, it is still good to dabble in other roles.
Being cross-trained provides you with an opportunity to grow your career while expanding your skill sets. It also boosts your versatility, allowing you to gain diversified work experience. Therefore, it will increase your chances of employability if you are job hunting.
And if you are working, it boosts your job security since it increases your value to the organization.
Multi-skill training benefits for developers
Being cross-trained offers lots of benefits to developers, and it makes you a better software developer overall. Below are some of the benefits of learning different skill-sets for developers.
Cross-learning to gain different skill-sets offers flexibility. When you learn new skills, you can quickly fill in roles outside your area of specialization.
It grooms you for promotions, management and other responsibilities
Being cross-trained allows you to expand your skills and knowledge of a job since it entails working on a new project, allowing you to gain new skills necessary for specialization or promotion.
The action gives you the technical know-how required for managing a team in your workplace. During the process, you get a chance to focus on other managerial skills, such as problem-solving skills and communication skills.
When you cross-train, it increases job security in your workplace. With new skills, you can perform more tasks rather than working just within your area of specialization. Hence, you are more valuable to the company and it reduces your chances of being laid off.
Learning a new skill may help you identify a specialization that might interest you or that you have never thought of until you tried it out.
Why is multi-skill training crucial in today's development environment?
Cross-learning is one of the best tools for enhancing flexibility and performance in today's development environment. Working outside your specialities enables you to become more empathetic. When you work on a different role within the development environment, you better understand the challenge others face, fostering a culture of collaboration.
Also, having developers cross-trained improves their core skill-set and morale through engagement. In addition, it brings along workforce flexibility, which ensures productivity is maintained even if there is a workforce shortage.
How to choose your cross-train path
Choosing the best cross-learning is paramount. The following are some of the tips you can use to select a cross-train path that suits you.
When you want to create a cross-train path, you must identify your long-term and short-term goals.
When undergoing training, it is essential to take quality training that will benefit you in the future. Ensure the training path you choose will be effective in helping you master your role.
Be ready to undertake the certification test. After each section of any learning path, a test has the aim to ensure you grasp the key concepts of each training session. Also, the test shows how ready you are to use the information you have learned in practice.
Once you complete your training, it is advisable to gauge your level of satisfaction with the training.
What is best for your developer's career?
As a developer, learning should be a lifelong activity. As we've seen, it is essential to reskill, upskill and engage in lifelong learning for you to stay relevant.
If you experience these training processes frequently, you will benefit in several ways; talent retention, adopting new technologies trends, boosting your morale, and fostering agility.
The best way to advance your career is to never stop learning.
Continuous learning should be part of your job if you intend to remain relevant on the job market. If you lack self-initiative, look for structured learning opportunities and for professional help from IT job recruiting agencies like Adecco, who have their own Academy.
Fon instance, Adecco's Academy helps Italian developers with their continuous learning process through careful screening and dedicated training on several areas, from project management and Agile methodology to the most in-demand technologies and programming languages.
Before you go, one last word of advice for you. Hone your soft skills because they can make a big difference between hire and fire. To learn more, watch the video below on the top 10+1 essential (soft) skills for every developer.