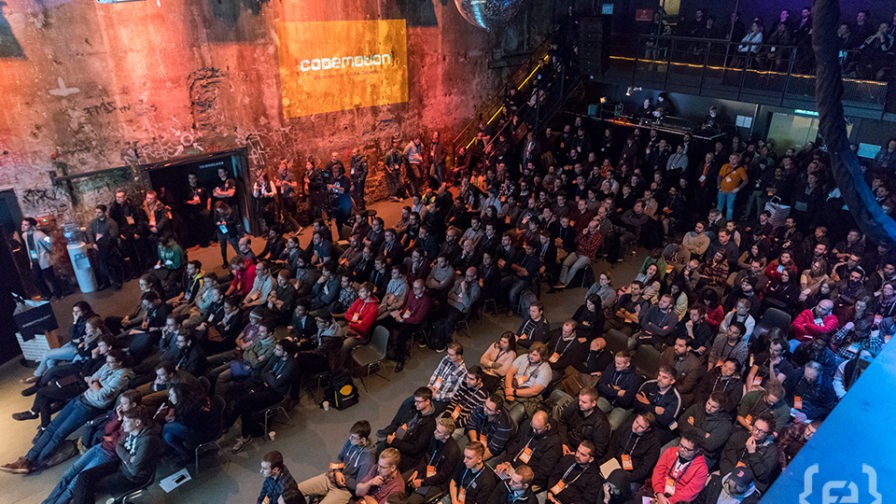 The sixth edition of Codemotion Berlin is complete! This year we returned to the Berlin Kulturbrauerei for the two-day event with six parallel tracks encompassing 16 topics. We have more than 1200 participants, attending talks covering topics such as Devops, Blockchain, AI/Machine Learning, Inspirational, GameDev, IoT Big Data, Front-end, Cloud, Cybersecurity, Serverless, Software Architecture, AR/MR/VR, Design, UX, and IT careers.
Codemotion Berlin serves as a catalyst for savvy IT professionals, eager Developers, smart Tech Communities and disruptive Startups to easily improve the strategies, relationships, and expertise to accelerate their tech careers and personal growth rapidly.
It's always impressive to see a conference agenda that is relevant to all regardless of an attendee's programming language, skillset, job or career stage. Codemotion Berlin manages to really offer something for everyone.
This year's talks included a keynote by Chatterbug's CEO and founder Scott Chacon – best known as GitHub founder – about his journey as an entrepreneur and why all his team members are learning to speak a new language. Google Developer Expert Dr. Aygul Zagidullina sharing how they went from their first steps into STEM on up to being named as one of the next 100 Top Influencers of the European Digital Industry. Adrienne Tacke shared tips for conducting human code reviews and how to develop a team working agreement, while Ellen Körbes offered step by step guidelines to implement a neural network from scratch. Toptal's Felipe Bernades coded something for fun due to boredom resulting in an animated poem to his significant other!
Maybe the cutest code at #CodemotionBerlin19 is this animated poem from @felip_bernardes. Check us out in Kino Stage 6! pic.twitter.com/plp9SMlwIW

— Codemotion Berlin (@CodemoBerlin) November 13, 2019
All in all, we had over 70 top speakers from leading Tech Companies such as GitHub, JetBrains, Uber, Amazon, Unity, Google, and many others! We were blown away by the number of speaker submissions we received for this year's conference. We'll be sharing a number of the presentations on our YouTube channel and sharing deeper dives in the conference themes in the near future.
We hosted a panel facilitated by current conference speakers themselves to encourage people to apply to speak at next year's conference, even it's your first time. They shared their tips to get speaker roles at conferences and strategies for creating great presentations, inspiring many to apply for next year. Highly accessible Codelabs on Unity and IBM offered attendees the chance to get their hands on something new, while others enjoying our coding competitions.
Unlike some conferences, Codemotion creates a space that is very much about inclusion through building community and connections and creating a space for valuable learnings, and self-reflection. We continued our focus on diversity and inclusion with presentations from speaking discussing how different services handle gender in interfaces and how you can make space in your team for difference. Our complimentary CTO meeting for CTOs, CIOs and IT Managers provided a space for professionals to speak freely with like minded people about their roles as leader and mentor of a team and strategies for supported and engaging team members while driving company goals.
Evident throughout Codemotion Berlin was the desire for attendees to connect regardless of career stage, job title, location or language. Taking this further, our recently launched community platform offers an opportunity to continue networking at a local level whether you're wanting to find local opportunities to connect with others or promote your own community group. We'll be promoting this further in upcoming months: stay tunes!
We were joined by tech companies such as Google, IBM, Oracle, Microsoft and Cisco, who choose Codemotion to showcase their products and services and meet the best developers in Europe. Our community area provided a space for attendees to approach community managers across a number of interest areas.
As conference and community organisers we always welcome feedback, suggestions for improvement, and ideas for next year's conference. Reach out to us via our website or Facebook page.