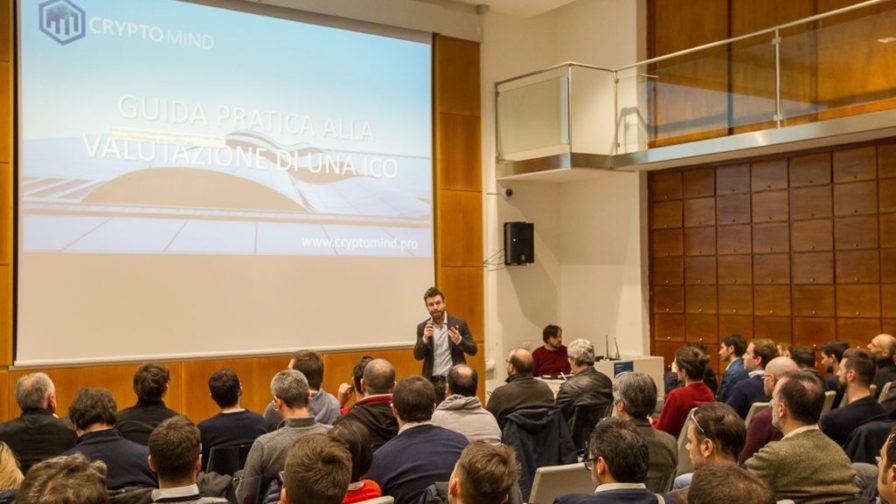 Hello Valerio. You recently delivered a talk entitled: "Practical guide to the evaluation of an ICO" during one of the meetups. Could you tell us more about yourself?
I'm a registered financial adviser and I have a passion for the world of finance. I like technology but I'm also a sportsman (martial arts, running, mountain biking and skiing). I graduated in law and economics, both at LUISS (Libera Università Internazionale degli Studi Sociali "Guido Carli" in Rome).
I've been passionate about cryptocurrencies (especially Bitcoin) for a year now and I started studying it to try to understand how this phantom Bitcoin worked and what was behind it. And I discovered, by studying so much, that Bitcoin is the internet of decentralised digital value that allows you to transfer what you want to whoever you want, when you want and without asking anyone's permission.
This Bitcoin is a much bigger revolution than it may seem, because it manages to achieve consensus in an asynchronous network. Given my interest in the world of finance, I thought about if there could be a way to make money. One calculation is what the cryptocurrencies are worth, and one calculation is the price they could have based on the market. So what I did is analyse the parameters through which people decide to invest in an ICO (Initial Coin Offering). Notwithstanding that for me the ICOs are a legitimate means of crowdfunding at the abstract level, in the sense that it allows you to raise capital to develop an idea regardless of whether the idea is good or not.
I went to study the characteristics that an average person assesses when they decide to invest in an ICO, having very limited skills, meanwhile evaluating the idea behind the project, the development team working on the project (who they are, their academic and professional curricula), the type of project partnership, what kind of letters of understanding the clients have signed (including non-binding) for the project, what competitors there are. There are many levels of scam, from the straightforward "take the money and run" to those which are a bit more "veiled". It's necessary then to study the token metric or the token parameters, for example the maximum capital collected, the minimum capital that must be collected to start the project, which part of the capital raised must be invested in what (marketing, legal costs, the team's prerogative). Another element of evaluation is analysing the roadmap (from what exists, if they have a working prototype).
On a personal level, I'm passionate about Bitcoin and, while I thought before that Blockchain was the future, now I think that Blockchain on its own doesn't work but that it needs an economic incentive.
Let's focus on your talk: is it a topic that you felt like explaining to those entering the world of cryptocurrency? Or did the community members ask you to talk about it?
Half and half. This was the kind of talk that best matched my skills; not being a pure computer scientist I would have risked going off topic if I made too technical an intervention. Instead, I was able to integrate my financial skills on some parameters to be evaluated, in order to decide whether to invest or not.
What I'm providing is not financial advice but common sense rules to be applied when assessing investment in ICO. At a time when traditional finance, including Goldman Sachs, Nyse, Mitsubishi Bank, IBM and Nasdaq, is deciding to enter this world because of what it earns as a percentage of the volumes, in my modest opinion we'll have a speculative bubble within a couple of years, but perhaps even sooner given the speed of the market. The farsighted will be able to make a decent profit, but many are going to come out very badly.
One last question: any tip for those who want to follow your career in the financial sector and in the cryptocurrency world?
Being a financial consultant is quite commercial: you must certainly have financial skills, but you have to deal with customers and so there is communication, a lot of negotiation, sales. I saw the world of cryptocurrencies as a crazy opportunity, first because it's difficult to slow down or stop Bitcoin and then because in Italy there are only a few of us who understand how it works and this helps to make a name in the industry. If you're smart, you like technology and you know how to study, you can make a quick jump.
First you have to understand, then you have to choose whether or not to believe it. It's a dangerous, extremely volatile sector and making a career out of it can be a gamble. I'm convinced that this environment goes in cycles and the next cycle, in my opinion, will be a big speculative bubble. I threw myself into it.
To give one piece of advice, I see it as risky because if you have the right profile and you're smart, with the right contacts, within a few years you can change your life. Many people have done it, some by luck, some through knowledge. It also depends on how much you study: to train for a career you have to study a lot. So the advice I want to give is to try: it's a great opportunity in the short term, but you'll have to make it happen within the next two years, the time of the speculative bubble.