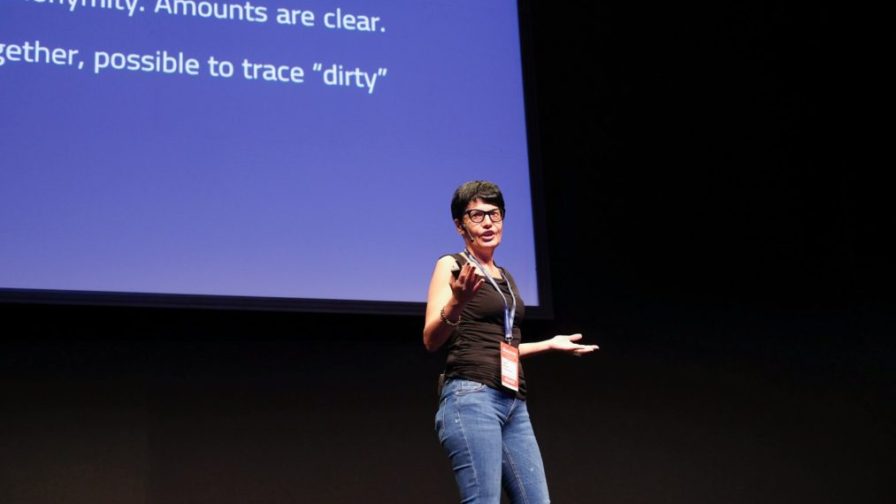 Who wants to know more about what's behind Bitcoin and Blockchain, from a technological point of view, should definitely refer to Simona Macellari.
In the last few years, we all heard about Crypto currency and new database solutions (as the Blockchain one), but it is very hard to understand what they really mean.
Simona Macellari, head of Blockchain Lab and Associate Partner of The Innovation Lab, guides us into the complicated reality hidden behind Bitcoin and Blockchain.
First of all, let's clarify something: Blockchain is not the only technology behind Bitcoin. We actually have four different technologies behind Bitcoins which are: Peer to Peer, Cryptography, Blockchain and Proof of Work. It is important to stress this point as due to the fast development of this reality, new players come into play and without Cryptography, for example, no transaction could be safely done and no privacy could be guaranteed.

Why is privacy important? It's your right to disclose what you want, because you
don't want to be censored based on your ideas, your taste, your health. This is the
route on which Bitcoin was born


As of today, we can consider Bitcoin and Crypto coins in general, as the answer to the statement of Milton Friedman in the nineties: "I think that the internet is going to be one of the major forces for reducing the role of government. The one thing that's missing, but that will be soon developed, is a reliable ecash, a method whereby on the internet you can transfer funds from A to B without A knowing B or B knowing A." In 2008 Satoshi Nakamoto solved this issue inventing the Bitcoins.
Although this new, ecash currency, allows us to have online transactions, there are still few (big) problems which need to addressed: Scalability, Privacy and Fungibility. In her impressive presentation, Simona Macellari analyses each one of these aspects and presents also some of the Networks which found a way to fill some of these gaps:
Lighting Network > which allows all kinds of Bitcoins and crypto's transactions within nanoseconds outside of the Blockchain
Schnorr Signature > which also improves privacy aggregating the signature's numbers so to make it impossible to distinguish between single signature and multisignatures transactions
CoinJoin > transaction's aggregator which reduces the space used in the Blockchain decreasing transaction's fees and increasing anonymity
Mast > also decrease the amount of space used in the Blockchain without disclosing clauses and characteristic of the contract.

The tech behind Bitcoin is evolving at a fast pace. It's an evolution that is in the open air – most of the time you can see it on Twitter.
An exchange of ideas on complex crypto and an aggregation of minds
The Open source world of Bitcoin is changing quickly and improving a lot, thanks to the amazing minds operating behind it. Simona's prediction is that within two to three years main technical issues will be solved. Legal ones though might take longer due to the parties involved.
But what does she thinks about the women's role in this technological industry? When asked, she claimed that although women's roles are increasing more and more, it shouldn't be a matter of gender, but rather a matter of merit!