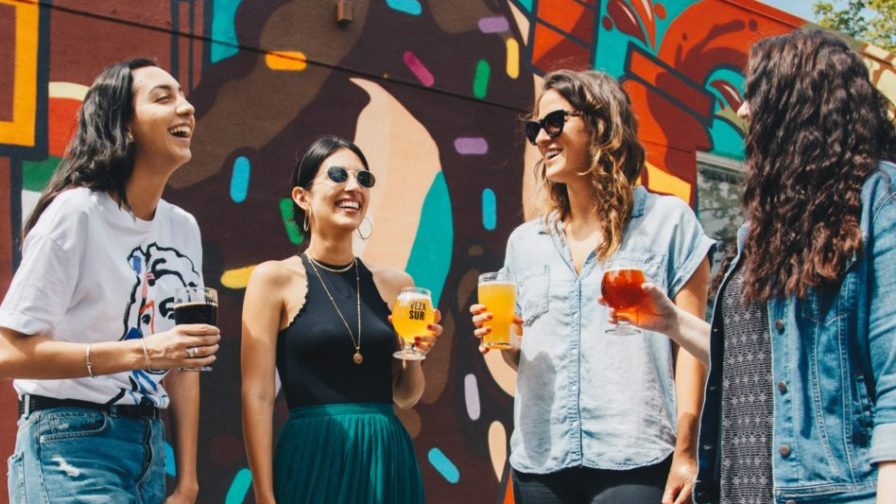 In 2013 Lizzie Dyson and Georgie Bottomley, both UX (User Experience) professionals, loved their jobs but there was always a doubt about where the other women in the industry were. They noticed that across the industry there was a real lack of women both at mid-level and more senior roles within the industry. They had no roles models. They established Ladies that UX and held their first meeting in August 2013 in Manchester, UK.
Ladies that UX creates a space for women from all levels to engage and talk about their experiences, both positive and negative, and get the support and inspiration that they are looking for. In a sector with a high proportion of men in it, Ladies that UX is all about giving women the chance to meet up to support each other, push the UX boundaries, and promote female skill and talent.
It's grown to a truly international community with a growing number of local groups based in cities worldwide. Each city runs slightly different events, and each group decides what they want to get out of their get-togethers. The atmosphere is relaxed and informal, and if you are faced with a particular UX challenge, you'll find plenty of willing problem-solvers. We recently spoke with Lucija Sicenica, one of the organisers of Ladies that UX in Berlin. She also works as an Experience Researcher at GameDuel.
How do you build the Ladies that UX Community?
Ladies that UX Berlin has run monthly meetups for over three years as well as summer events, attracting 80 to 100 women at every meetup. And it's a really nice community. The organisers always make sure people are welcomed and start each event with food and drinks " So people already start chatting with each other and networking."
Lucija notes that it's not just about the learning that happens but also the support of being around other women in tech. "It's about even just the experience of attending and how they felt there. We try to keep it super easygoing and also nice. We run our events after work, so we want them to have this relaxing after work experience. And so far it really works for us. We don't want to be like super academic. Something like that they can get somewhere else, but we want to keep the community going and we kind of connect people in a really chilled way."
"We think that if we give them a good experience, even if maybe the talks weren't what they expected or although we have great speakers, we always thank all of them for sharing everything in the community.
Part of creating a great event is about making people feel welcome and comfortable and also get something out of attending. As Lucija explains:
"I think for us it's more about how it feels to attend the meetups. We have different kinds of talks. Our idea is actually to offer the platform for everyone. We are happy also to have juniors as speakers so they can have the space to develop professionally. It's a challenge for them. And we let people present what they are, what they feel comfortable presenting. So whatever they feel they were working on, just come present, share with the community, have Q and A, maybe we'll get some feedback.
Gain support from the wider tech community
Ladies that UX Berlin is fortunate to have support from the tech scene in Berlin and attract a variety of different sponsors – that offer financial and in-kind support like offering their offices to host events: "So we also see the different offices and this brings us, the designers, closer to Berlin's startup ecosystem. So our members they actually see what's in the scene. Like what's actually possible, what are the options, what are the opportunities they have here?"
For those new to organising, Lucija recommends "Get in touch with someone who's already organizing meetups, maybe to get an idea of what makes events run well, attend some yourself so you get some ideas before you do the event itself because people are going to come for the experience."
What makes a good community organiser at Ladies that UX?
Lucija notes that a good community organiser needs patience. Another critical skill is organisation – "I think you have to have organizational skills or you'll be gaining them through the role. You also need really strong communication skills. It's good to be accountable and to have a vision about what the needs and interests are of your community, and how you want to develop your community. Because this, especially with community growth, will help you to stay true to the values that you set in the beginning."
She detailed:
"We went through one phase where we went from one organizational structure to another other. At some point, we wanted to involve more community members on board. So that they will also be part of the organizational team. And since we always do that on a voluntary basis, it took us a while to actually make this process work. It took us a long time, in the beginning, to get things organised."
Lucija explained "We made an effort to identify the skills of interested volunteers as well as what they were interested in learning. It took a while and its a process that is not without stress. But it's awesome to see this dedication from the people that really want to be involved in the organization. Once we figured it out, everything runs so smoothly. But it's a process. You need to be really patient and it's fine. It's okay to fail in between. But we still managed to have the um, constant growth when it comes to our membership.
Building lasting connections
One of the values of Ladies that UX is helping women build lasting connections, as Lucija explained "In the end, we enable a lot of friendships. We are all approachable. We go for beers together and we support each other not only in our job roles but outside also. We have so much positive feedback and for some women, the community is really also a life changer. It meant that some women pivoted from an interest in UIX to finding a new career and a whole community to connect with."
Read more about women in tech:
Empowering women in tech
How to fight the gender gap in tech