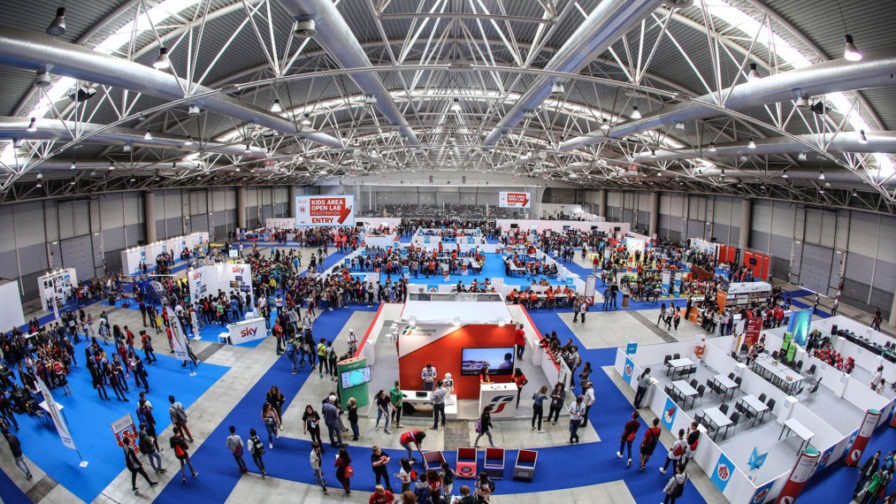 The international maker movement is getting a second chance to follow Dale Dougherty's vision about the Makers movement. After a sudden bankruptcy of Maker Faire and Maker Media, and Dale's comeback with his own money, it's very interesting to check in often to this news.
Some of the most credited shows have not been performed this year: it is not the case for the European Maker Faire hosted in Rome by Innovacamera. This show turns seven and is really in the pink.
The transformation of the European Maker Faire in Rome can be said to be complete with the 2019 edition. Established as a maker's fair and then initially declined in the name of improbable collations of 3D prints and controllers based on Arduino, the event got underway in its seven years of life.
Maker Faire made a standard-bearer of other proposals that are gradually being reworked, to become a true exhibition of professional innovation that is easily understood even by the casual visitor.
There is a close contact between philosophy and making, according to Luciano Floridi, Professor of Philosophy and Information Ethics at the University of Oxford: "you need a good taste for the right problems", ad the prominent Italian closed his presentation at Re:Making the Future, the opening conference to the 2019 European Maker Faire.
Floridi is confident that philosophy can teach this good taste and we are ready to believe him.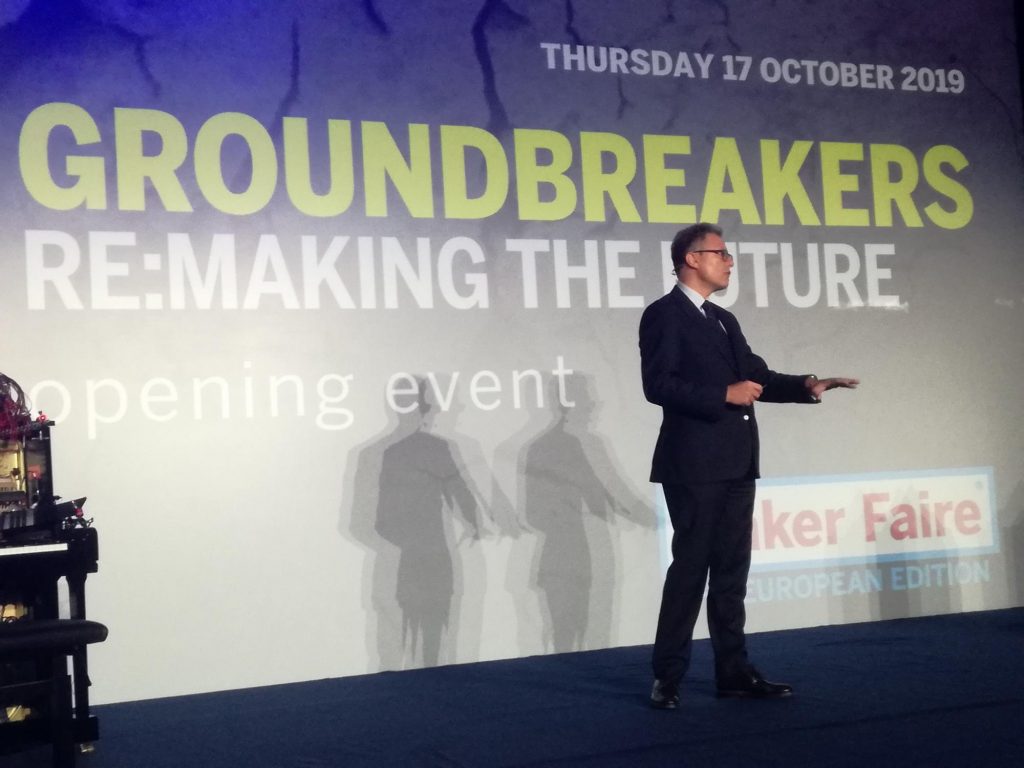 Luciano Floridi, Professor of Philosophy and Information Ethics at the University of Oxford: "you need good taste for the right problems".
Two areas looked most important in the 2019 edition: Space and Education. Software development was fundamental in both areas, with different relevance to today's professional coders. Let's look.
Codemotion Kids labs and Discienza tutorials
Pavillon 5 hosted the "Kids and Education" area, a learning experience dedicated to the young makers.
Codemotion mastered dozens of hand-on labs dedicated to a large selection of subjects, all managed with a problem-solving approach. There were the coding challenges (problem solving through a coding approach), the robot maze and the explorer robot, the interactive augmented-reality making, and the science-fiction Droid Creator choreography!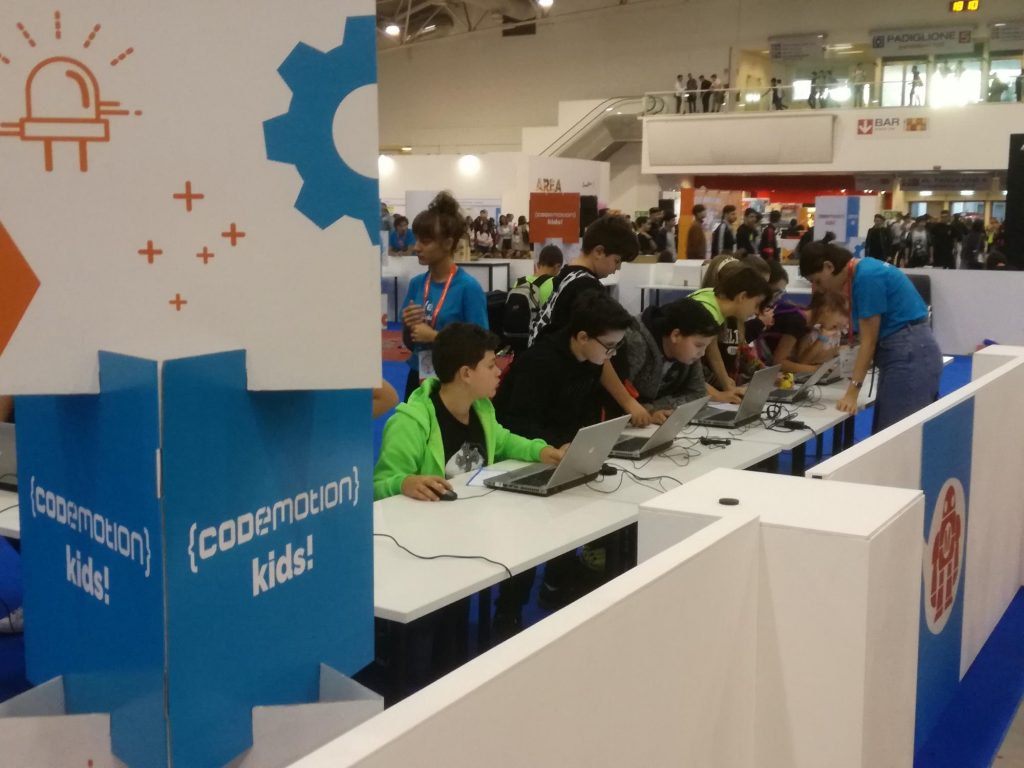 Young software scientists at the hands-on labs hosted by Codemotion at the MFR2019
Inside Pavillon 7 people could discover Edtech, a new approach to education according to the well-known Discienza approach. "Spark – Light on EdTech" provided a complete overview of opportunities and new trends and increase one's professional skills. The objective is to create a strategic network that allows a direct exchange of best practices between trainers, researchers, companies, students and more generally among the key figures in the world of education.
Over twenty presentations of about ten minutes each have covered, among all subjects, the maker approach (movement, cultural heritage, design), the space technology and the coding with clarity and simplicity (Programming the future, Teaching machines). Representatives of the European Space Agency and the Dubai Institute of Design and Innovation have also collaborated on the success of this area.
Space coding inside ESA
Going deep with space exploration, ESA – the European Space Agency – offers huge opportunities to space-enthusiast programming professionals. ESA can be also defined as an ordinary big tech company working in non-ordinary environments where problem solving is the main skill required. We had a chat with Leonardo Turchi, working at Space Training Team, European Astronaut Centre – the centre managed by Loredana Bessone.
https://www.youtube.com/watch?v=U1SMPkVCG3o
Software development in the space sector is increasingly moving from simple and resilient technologies to resilient and scalable technologies.
A space agency like ESA follows many research and exploration programs. They range from human and robotic exploration, passing through telecommunication and navigation systems, to the study of the earth. "With the recent advent of broadband, there is also the need to have software-defined network infrastructures also using satellites", says Leonardo.
In this scenario, there is a constant need to have effective control and management systems. Each project has many components and therefore requires a great deal of expertise, even only within the software framework.
It then goes on to the need to have a control software, an interface system to a communication protocol, a database, the on-board software, the scientific software and finally the public disclosure portals.
Therefore, the required profile will never be only one, as each component will need specific expertise.
Some special needs could arise. "To maintain long-standing missions you still need C++, even Fortran in some cases! However, in other mission types, newer languages like C# and Python are needed. If we talk about development for accessing scientific data or just open access portals, the list focuses on web technologies like Node.js, .NET but also Java. Real-time experience is often required for onboard systems".
One of the most complex parts is the bottom-up design of a system. Here, an engineering approach is required to ensure the correct integration of components and scalability for several years.
Each individual component is then carried out by people who have as much multilateral knowledge as possible, but with the peak of experience in a specific matter.
Therefore, multilateral skills are obviously appreciated. An example may be the full stack developer, "obviously at a fairly high level, as normally required by big tech companies!": Leonardo confirms that space coding is at its highest peak.
"On the contrary, there are also extremely specific areas where AI systems are developed for autonomous navigation, obstacle recognition, collision avoidance, etc. In this case, there is a need for focused skills".
Caves of Pangaea steel
The Space Training Teams also follows two particular programs such as CAVES and PANGAEA, where several interesting things are going on. "Let's mention a distributed system for field-to-ground communication (see EFB), and ML projects for automatic mineral recognition".
In this case, the challenge is to understand, design and test many different components: ad hoc routing algorithms, HW/SW bridges to interface sensors with a distributed DB and many others, coping with on-field needs and feedback.
"Although we operate in very little ordinary environments, we must always guarantee the highest possible level of service. An example? Let's transfer data in those environments where there is no network!"
Software and hardware environments in space are very, very challenging. "So in addition to competence, the first good skill that I would like to mention is problem-solving. Then flexibility, teamwork and perseverance … and a good dose of passion for space!"
If you want to know about how modern technologies and tools can support you for – and during – the organisation of a virtual event, don't miss this article showcasing the best tools we used to host our online conferences since the COVID-19 outbreak.