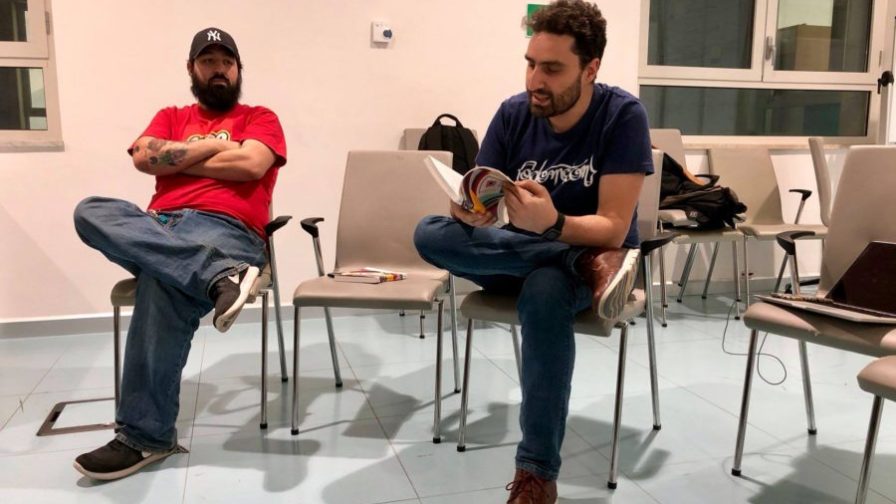 Hello Giuseppe, first of all… tell us something about yourself!
Hi, I'm Giuseppe Sorrentino, at the moment I work as Scram Master at others.com in the Rome office, that means that I deal with the Agile process management of two development teams. It's a very demanding job requiring dealing with people as well as processes, so it's also very interesting. As an everyday tool, we use Jira to track the development of each team's process, then we also use physical boards to visualize the teams' workflow. My main passions are UX, the User Experience and Agile, I try to mix these two worlds. I've had the opportunity to speak often at Agile Talks AperiTech between 2017 and 2018, but I also organize the UX Book Club, which is another community connected to the world of user experience.
How did your adventure with the world of Agile start?
I had no idea that I wanted to do this job. I started in the world of design, both academically and professionally. Once I was having problems managing a development team, and it was how I discovered the world of Agile, so I asked myself the question "How can I manage a development team in the best possible way?" or rather "How do I approach the development team so they understand our needs and get more out of the resources we have?"
Does the Agile world continue to evolve or is it very static?
I don't think there's anything very static in the IT world at the moment. The Agile world is always very much in fermentation, where you have to strive to keep up with the times. The frameworks and methods have been the same for many years, what changes is how they are applied. We need to stay up to date with the new schools of thought that are emerging.
In the Agile world, you constantly need to stay current with everything that is happening, so how can you stay up to date?
I try to stay up to date as much as possible, the sources I use the most are blogs like InfoQ where you can find many interesting articles. Another very important source of information for me is LinkedIn. I have created a network of people who I follow and who share content that I consider interesting. In addition, in the Agile world, there are many certification institutes publishing updated content.
Speaking now about the talk that you gave at AperiTech meetup, you introduced UX research and design techniques. Would you like to say something more about it?
The basic idea of the talk was to present UX methods and techniques that can be imported in a startup context. I wanted to show how a user research cycle could be integrated into the Lean Startup model and present techniques that could be used with minimal resources. As for the techniques, Usability Studies, Card Sorting and remote research techniques were all mentioned in the talk, although the talk specifically ended with a workshop where participants could use a wiredframe, made available to carry out a small search for usability.
The talk was set up thanks to a request from the community but also from the organizer of Agile Talks, who was looking for someone who could talk about Lean Startup, and I jumped at the opportunity to give my speech. In the talk, the most important message was that when using techniques such as Lean Startup, it is of vital importance to put the end users at the center of the process. One of the problems, in my opinion, is that very often these users are placed in the process in an unstructured way, i.e. contact techniques are used like chats, or a normal chat that is important yet not structured enough to collect information in the correct way. In the future, I'd like to repeat this talk in some other context, on the other hand, there are many other aspects of UX and Agile that I'd like to talk about, especially the aspects where these two worlds meet.
Do you have any personal projects that you're currently working on?
I think we all have opportunities, let's say, for personal work beyond the sphere of work. I have projects that I would like to carry out, including one on the data scientist, which relates to the possibility of understanding the context in which users use their navigation data.
A tip that you would like to give to those who would like to get started with the Agile?
If you want to get started with the Agile, in my opinion, you have to be very passionate about interacting with people. The best way to get started is to use your environment to start applying small Agile principles, gradually applying them more and more until you create a well-rooted Agile culture.