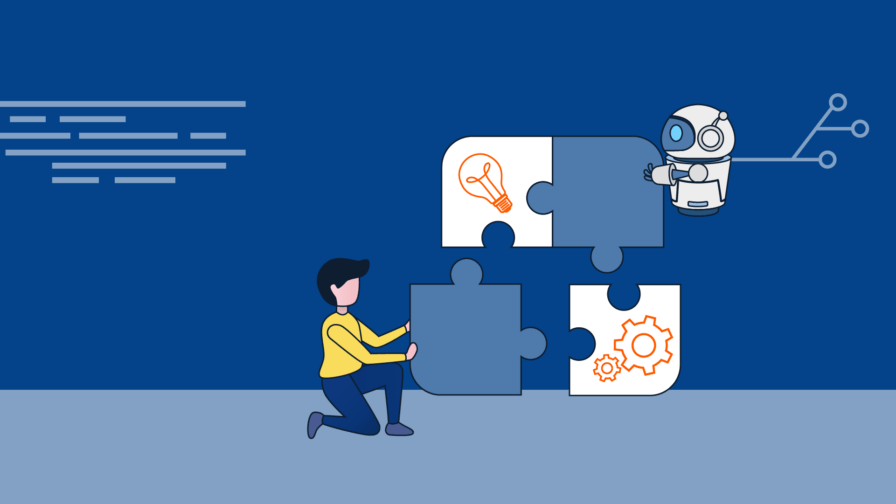 Do you need some insights into how developers view and use AI Coding Tools? If so, the results of Codemotion's recent survey may be of interest to you! We asked the members of our tech community their thoughts on AI coding tools – which tools they prefer, what challenges they face, and how specific skills can help them succeed. Read on to learn more about our findings and see where you stand on these questions!
The Big Bang of AI Coding Tools
The world continues to embrace Artificial Intelligence, and software development is no exception: in fact, it is one of the most impacted industries. To understand the current state of these coding tools, we recently conducted an extensive survey within our Codemotion developer database, which garnered an impressive 311 responses.
The results were eye-opening, revealing a lot about the current use of AI coding tools and their effectiveness in the development process. Without giving too much away, our survey indicated that AI coding tools, though still in their early stages, are making strides in the world of development and warrant further exploration.
These findings are valuable for any dev looking to incorporate AI tools into their coding environment, or any tech professional in search of insights for navigating this new paradigm. Learn more in the infographic below!

The results
There is no doubt that AI coding tools have become an essential asset for developers across the board. According to our survey, over 60% of the 311 developers questioned revealed that they are currently using these kinds of code creation tools, showcasing the ever-growing demand for such programs.
These "assistants" not only provide a much-needed helping hand to developers but are also becoming increasingly sophisticated, able to understand natural language and process data at lightning speeds. Given these impressive capabilities, it's safe to say that AI coding tools are here to stay forever in the industry, revolutionizing how we develop software and pushing the boundaries of what is possible.
Will AI Coding Tools replace developers?
As AI technology continues to advance, there has been talk of whether or not AI coding tools will eventually replace developers altogether. While it is true that AI coding tools can assist developers in tasks such as debugging and coding simple algorithms, it is unlikely that they will completely replace human developers. Coding requires not only technical skills, but also creativity, critical thinking, and problem-solving abilities. These are all qualities that currently cannot be replicated by machines, as they require a level of human intuition and understanding of complex context. Rather than replacing developers, AI coding tools will likely be used alongside human developers to enhance their productivity and efficiency, allowing them to focus on more complex and challenging tasks that require a human touch.
The Codemotion survey revealed that many devs in our community believe that AI coding tools will never replace developers (46%). However, the rest of the respondents seem to believe that AI will be capable of replacing a least some kinds of developer-related jobs in the near future.
Which is the best coding tool today?
With our survey, we also wanted to determine which coding tool is currently leading the pack. With so many options available, it can be daunting to select the best tool for the job. The results of the survey are in and they reveal some interesting insights.
When it comes to choosing a favorite coding assistant, ChatGPT is the favorite among the Codemotion community devs, while GitHub Copilot comes second. OpenAI Codex, Tabnine, and AlphaCode also have some adepts.
The benefits
The Codemotion Survey has revealed some exciting benefits that come with the use of AI coding tools. Most respondents agree that one of the most prominent advantages is the ability to save time, as these tools automate many repetitive tasks that can take up a lot of a developer's time.
Additionally, they allow for a more productive workflow by reducing the need for manual input and streamlining the coding process. Another benefit highlighted is increased inspiration, as these tools often offer new and innovative ways to approach coding challenges.
The downsides
Our survey has listed some drawbacks that should be taken into consideration when using this type of technology.
One of these weaknesses is low accuracy, which means that the code generated by AI tools can sometimes contain errors that need to be manually corrected. Additionally, coding tools lack the creativity that human programmers possess, which could limit their potential applications.
Copyright issues and cybersecurity concerns are also critical factors to consider, considering that AI-generated code could infringe legal rights or be vulnerable to hacking attempts. While AI coding tools bring benefits like speeding up the development process, it is important to be aware of these weaknesses to avoid negative consequences.
Conclusions
Fostering a collaborative environment when it comes to building AI tools is crucial in making sure they remain secure and up-to-date. While AI coding tools have many benefits, developers must not forget that their efficacy relies heavily on proper maintenance and continual feedback from the development community. The best way to ensure a safe and healthy experience with these new technologies is to keep in mind both the upsides and downsides of using them, stay updated on the latest trends in AI coding tools, share your insights regularly online, and continue learning best practices. With these steps, we can ensure a secure, ethical, and efficient future for AI coding tools.