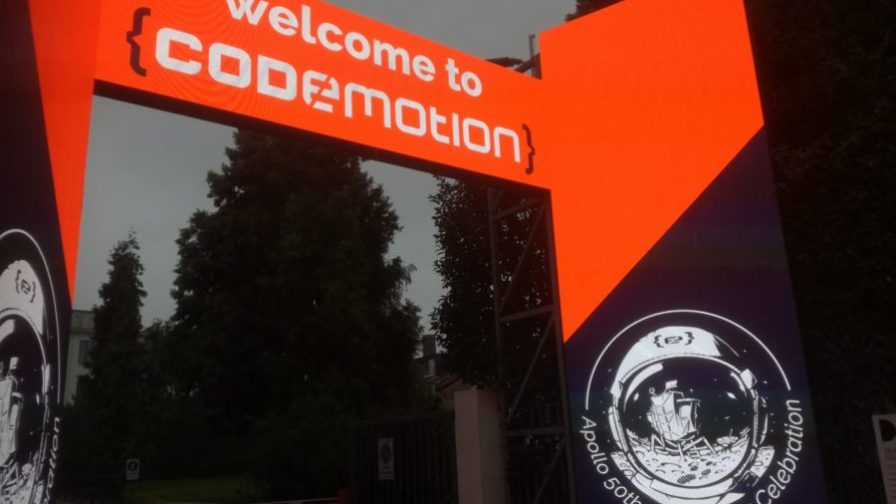 After two full days of networking and coding, with 7 parallel tracks and many great speakers, Codemotion Madrid 2019 is over. And it was the best Codemotion ever held in Madrid!
It's in the numbers. This year, more than 2000 developers attended our event, to learn more about a wide range of topics: from Front-End, Javascript frameworks and UX Design, to Back-End technologies including Containers, Serverless applications, DevOp, and Microservices.
We also registered a growing interest in new technologies such as AR/VR and machine learning/AI.
And it's our communities' and attendees' opinion, as well. And this is really what matters the most to us! We gathered so many positive feedbacks both in person and through the social networks that we immediately forgot how tired we were.
And believe us, we were! Building such a wide and varied agenda was not an easy task, but we are delighted to have received so many positive comments.
Of course, a key part in our success was played by the speakers who made all this possible by contributing to their high expertise to Codemotion Madrid 2019 agenda. To name just a few, Dave Farley delivered a keynote about software engineering (and why we often "misuse" this concept – check his interview here).
Another very interesting keynotes were presented by Arun Gupta on best practices in using AWS technologies, Chad Arimura from Oracle and Liz Fong-Jones from Honeycomb.io.
1⃣PEOPLE
2⃣VISION
3⃣CAPITAL#codemotionmadrid19 pic.twitter.com/22Dh9slEK4

— Oracle España (@oracle_es) September 24, 2019
Indeed, attendees were enthusiast about the whole agenda, and many talks were particularly appreciated by the audience. For instance, Mark Heckler from Pivotal Inc. introduced pipelines in the context of reactive programming. We also had the opportunity to have Justin Cormack from Docker, explaining all you need to know in terms of container security.
General advice about running @Docker containers in production: don't run them with root privileges #CodemotionMadrid19 @CodemoMadrid @justincormack pic.twitter.com/gb9RRPp1sY

— Alfredo (@agarcia) September 24, 2019
Since being a developer is not just a matter of coding, Codemotion Madrid was not only about technologies. Among the many inspirational talks, topics also included soft skills to improve the daily work within IT, as well as ethics and tech mediation. These are particularly helpful for all those developers who wish to grow in their careers.
Thank you @CodemoMadrid for a fantastic event! I'm glad I could share my insights on #Ethics and #techmediation of #voiceassistants even though it was a bit scary talking to tech developers instead of academics ? More to come! #CodemotionMadrid19 #voicefirst pic.twitter.com/RiFPCRcpO0

— Olya Kudina (@OlyaKudina) September 25, 2019
As you know, at Codemotion we put a particular focus on diversity in tech. In Madrid, we had four different talks about this topic, and we are enthusiastic about the interest with which our attendees took part to them.
Most importantly, Codemotion Madrid 2019 talks were a chance for confrontation, with very successful Q&A sessions after each speech that have often turned into open discussion. Needless to say that most dialogues kept going even after the end of the talks, resulting in an opportunity for many to talk directly with the speakers and for networking opportunities, also inspiring and engaging a wide range of communities.
Finally, we wish to thank our sponsors, who fully understood and shared the spirit of Codemotion.
Looking forward to doing it all over again!
If you want to know about how modern technologies and tools can support you for – and during – the organisation of a virtual event, don't miss this article showcasing the best tools we used to host our online conferences since the COVID-19 outbreak.