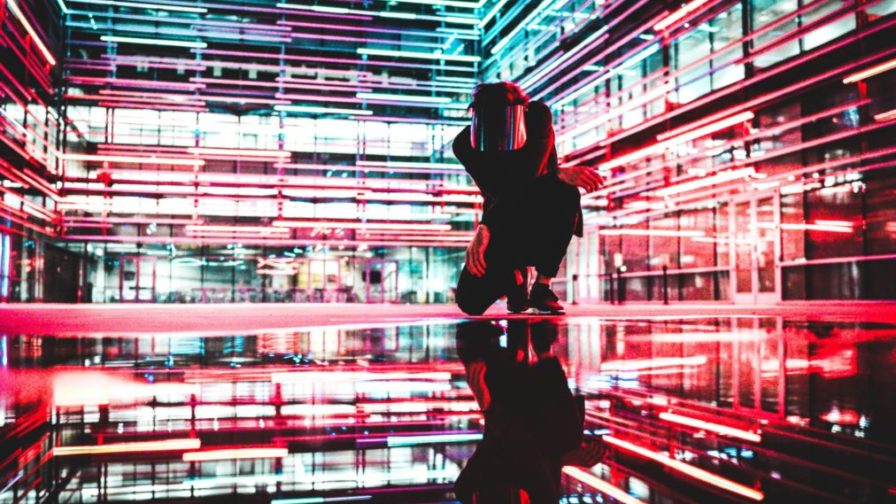 IBM recently hosted Think Digital 2020, a series of fascinating talks, presentations and interviews all facilitated remotely during the COVID-19 stay at home order. The two-day event was an opportunity to discuss the state of business and the role of critical technologies, such as AI and Cloud, as clients accelerate recovery, bring innovation and shape digital transformation in the wake of COVID-19. Codemotion attended the event, and we're sharing some insights from some of the fantastic sessions. 
Dr Jane McGonigal presented a talk "Games to prepare for your future". The talk was so popular it was screened twice during the event.
Jane spoke about 2020 as evidence of the need for us to possess the ability to anticipate hard to predict futures – "From 2020 all need to get better at expecting the unexpected."
She notes that it's "Easy to prepare for futures similar to today, but its the weird stuff that takes you off guard and will be the most disrupting and the most challenging." She asked the audience if six months ago, could you imagine:
Virtually all children will stop going to school
25% of jobs are considered non-essential and disappear overnight
The borders are closed
A fun exercise you can try at work or with friends
Pick a topic
List 100 things that are true about it today (no fact is too small)
Imagine a future in which any of these 'facts' are no longer true. How? Why?
Flip these realities – ridicule, subvert and write down what the new facts would be.
Pick one and try to make sense of it, explore this new idea as if it were a VR world you could already visit.
Jane gave the example of shoes: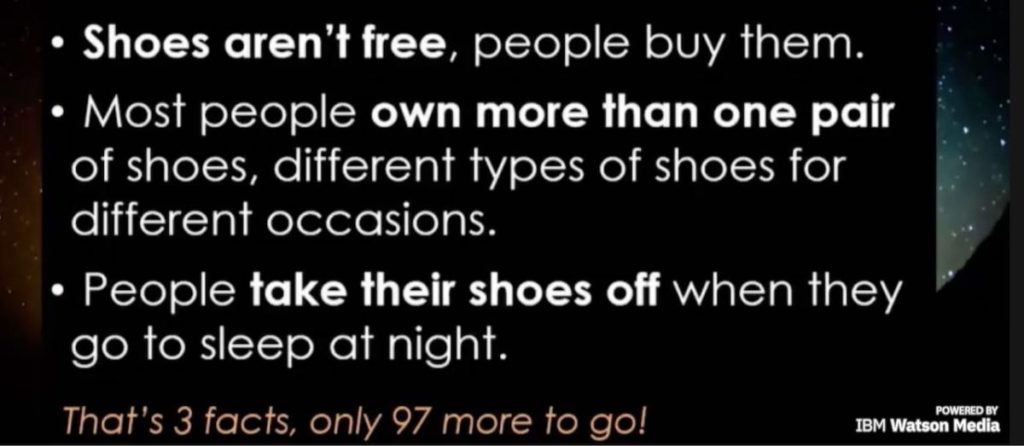 Then she asked, what if these facts or realities are no longer true? For example, if you think about shoes, their relevance is less evidence for those of us staying at home. What if shoes were free? There's plenty of use cases where sensors are being inserted in shoes to track gait, footfall, location, and whether an older person falls. What if this data was traded for free shoes?
Then, when you consider climate change, many of us may do with less. Those of us who are live in environments with summer wildfires like California and much of Australia may get used to sleeping with our shoes on.
Innovation and technology subvert and expand our notion of reality
COVID-19 creates a reality where many things about our previous reality are no longer true, such as the value of shoes:
Jane also spoke further about many things that would seem unforeseeable years ago (or even five years ago) are now made possible due to science, technology and a mindset of innovation beyond existing reality. These include that it's now possible for a child to have three biological parents through a three-parent technique to conceive a baby by combining an egg, sperm and some donor DNA.
The current generation of children are the first generation who can expect to live on another planet in their lifetime: "What are the social and psychological effects for believing that we could do this?"
China opened it's Mars simulation base in 2019. Located in the desert, it provides an opportunity for visitors to immerse themselves in the environment and try to solve problems they might face on Mars, such as planting potatoes on Mars for food supply and solar power generation.
"What would life be like for those who see life on Mars as a possibility? What about gene editing techniques to enable future generations to live on Mars?"
About Jane
Jane McGonigal believes game designers are on a humanitarian mission—and her #1 goal in life is to see a game developer win a Nobel Peace Prize.
She is best known as the inventor and co-founder of SuperBetter, a game that has helped more than a million players tackle real-life health challenges such as depression, anxiety, chronic pain, and traumatic brain injury. SuperBetter's effectiveness in treating depression and concussion recovery has been validated in a clinical trial and randomized controlled studies and is used by professional athletes, children's hospitals, substance recovery clinics and campus health centres worldwide. Since 2018, the SuperBetter app has been evaluated independently in multiple peer-reviewed scientific articles as the most effective app currently in the app store for treating depression and anxiety, and chronic pain, and for having the best evidence-based design for health behaviour change.
She's also an author and two-time TED speaker, lecturer at the annual World Economic Forum in Davos on topics such as games and education, games and healthcare, the engagement economy, games to change the world.
Jane is also a future forecaster. She is the Director of Games Research & Development at the Institute for the Future. Her research focuses on how games are transforming the way we lead our real lives, and how they can be used to increase our resilience and wellbeing. Her latest future forecasting project is the Ethical OS. It's a set of gameful tools to anticipate the unintended consequences of new technologies, so we can avoid social harms and protect humanity's long-term wellbeing. Ethical OS has been downloaded more than 25,000 times and is currently in use by mayors, universities, start-up incubators, and leading Silicon Valley companies in a global, collaborative effort to make a better future – and not get blindsided by the tech we create.